COVID-19 Research Briefs: Anti-Androgens And COVID-19, Possible Cytotoxic T Cell Therapy For COVID-19, Immune Evasion By Evolving ORF8 Protein In SARS-CoV-2
COVID-19 Research Briefs

:
1. Anti-Androgens For COVID-19
A team of scientist led by Dr Andy Goren, MD from
Applied Biology
and Dr Flavio A. Cadegiani, MD, MSc, PhD from Corpometria Institute in Brazil while studying the genetics of the androgen receptor discovered a possible breakthrough treatment for COVID-19.Their study elucidates the possible role of androgens in controlling the infectivity of SARS-CoV-2 in human lung cells.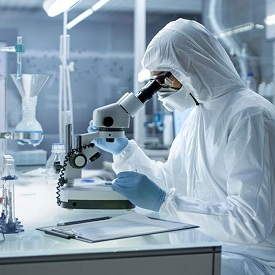 The study findings were published in the journal: Dermatologic Therapy
https://onlinelibrary.wiley.com/doi/full/10.1111/dth.13365
Dr Goren told Thailand Medical News, "Our earlier discovery potentially links SARS-CoV-2 infectivity to androgens, the same hormones implicated in male pattern baldness and prostate cancer; thus, anti-androgens originally developed for prostate cancer may prove a breakthrough therapy for COVID-19.
One of the most promising anti-androgens is proxalutamide
, a next generation anti-androgen."
The research on the effects of proxalutamide on COVID-19 has received national IRB approval and will be conducted in Brasilia, Brazil, in non-hospitalized patients with mild-to-moderate COVID-19 disease. Recruitment of volunteers should start this week.
Dr Cadegiani, "We are excited to commence this study that could potentially benefit millions of patients and change the course of COVID-19."
Details of the clinical trial study can be found at: (
https://clinicaltrials.gov/ct2/show/NCT04446429?term=NCT04446429&draw=2&rank=1
).
The trial approval was received on September 17th, 2020 from the IRB of the National Board of Ethics Committee (CONEP), from the Brazilian Ministry of Health, under the name "The Proxa-AndroCoV Trial", number (CAAE) 36700
2. Possible Cytotoxic T Cell Therapy For COVID-19
Researchers from MD Anderson Cancer Centre are exploring the usage of Cytotoxic T cell therapy to treat patients with COVID-19 despite a potential hurdle.
The protocol involves treating critically ill COVID-19 patients with T-lymphocytes obtained from donors who successfully fought off the new coronavirus virus. But steroids, which are being increasingly used to treat these patients, are toxic to lymphocytes, likely canceling out any beneficial effects of the immunotherapy.
However the researchers have found a way to take donor T cells that target the SARS-CoV-2 coronavirus and make them resistant to the deadly effects of steroids.
The study findings are publis hed on a preprint server and have yet to be peer reviewed.
https://www.biorxiv.org/content/10.1101/2020.09.15.298547v1
Adoptive cell therapy with viral-specific T cells has been successfully used to treat life-threatening viral infections in the past, supporting the application of this approach against COVID-19.
The study team used SARS-CoV-2 T-cells from the peripheral blood of COVID-19-recovered donors and non-exposed controls using different culture conditions. They observed that the choice of cytokines modulates the expansion, phenotype and hierarchy of antigenic recognition by SARS-CoV-2 T-cells. Culture with IL-2/4/7 but not other cytokine-driven conditions resulted in >1000 fold expansion in SARS-CoV-2 T-cells with a retained phenotype, function and hierarchy of antigenic recognition when compared to baseline (pre-expansion) samples. Expanded CTLs were directed against structural SARS-CoV-2 proteins, including the receptor-binding domain of Spike. SARS-CoV-2 T-cells could not be efficiently expanded from the peripheral blood of non-exposed controls. Since corticosteroids are used for the management of severe COVID-19, the
study team developed an efficient strategy to inactivate the glucocorticoid receptor gene (NR3C1) in SARS-CoV-2 CTLs using CRISPR-Cas9 gene editing
.
Co-author Dr Katy Rezvani of The University of Texas MD Anderson Cancer Center told Thailand Medical news, "We are currently working on developing clinical trials to determine safety and efficacy."
3. More Immune Evasion By Evolving ORF8 Protein In SARS-CoV-2
Researchers from University of California, Berkeley have found that the ORF8 in the SARS-CoV-2 genome structure is rapidly evolving and since the protein has been identified with human host evasion, the implications are worrisome.
The study findings are published on a preprint server and have yet to be peer-reviewed.
https://www.biorxiv.org/content/10.1101/2020.08.27.270637v1
The molecular basis for the severity and rapid spread of the COVID-19 disease caused by SARSCoV-2 is largely unknown.
The ORF8 is a rapidly evolving accessory protein that has been proposed to interfere with immune responses. The crystal structure of SARS-CoV-2 ORF8 was determined at 2.04 Å resolution by x-ray crystallography. The structure reveals a ~60 residue core similar to SARS-CoV ORF7a with the addition of two dimerization interfaces unique to SARS-CoV-2 ORF8. A covalent disulfide-linked dimer is formed through an N-terminal sequence specific to SARS-CoV-2, while a separate non-covalent interface is formed by another SARS-CoV-2-specific sequence, 73YIDI76. Together the presence of these interfaces shows how SARS-CoV-2 ORF8 can form unique large-scale assemblies not possible for SARS-CoV, potentially mediating unique immune suppression and evasion activities.
Phylogenetic analysis of SARS-CoV-2 strains revealed two predominant isoforms of ORF8 in already in circulation, containing eitherLeu84 and Ser84.
There are also a variety of other mutations taking place on the ORF8 protein and researchers are warning that attention needs to paid to this particular protein.
For more
COVID-19 Research Briefs
, keep on logging to Thailand Medical News.