Covid-19 Drug Research: Another Drug Candidate To Stop "Cytokine Storms" In Covid-19 Patients, Sarilumab Goes Into Clinical Trial
Covid-19 Drug Research
: Sarilumab or Kevzara, a human monoclonal antibody that was jointly developed Regeneron and Sanofi and is able to inhibit the production of a cytokine called interleukin-6 (IL-6), which has been observed in cases of pneumonia in some Covid-19 patients will be used in the first approved clinical trial in New York for Covid-19 patients.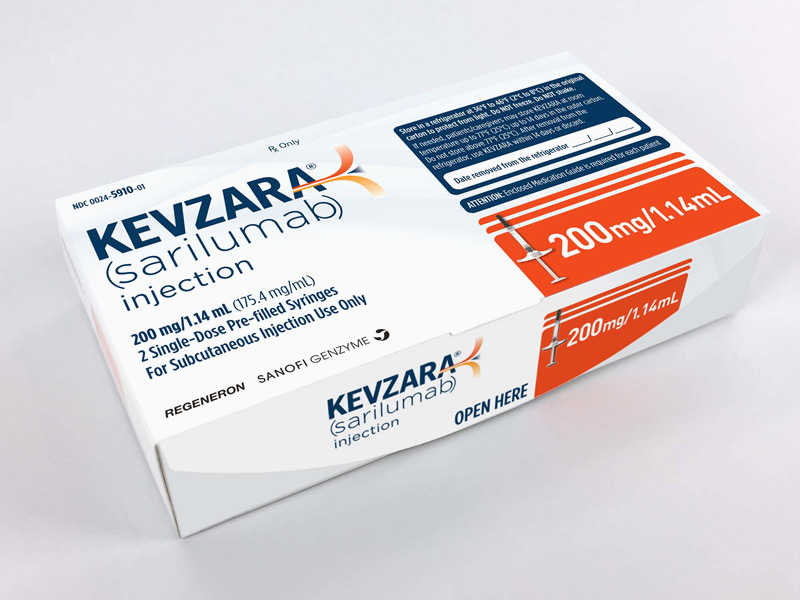 Cytokines are small proteins that are released in cell signaling and mediate immunity, inflation, and other cell responses. If the cytokines are out of control, that is when complications, like pneumonia, may develop.
Past Covid-19 studies from China that shows the effects of IL-6 in Covid-19 patients.
https://doi.org/10.1101/2020.03.01.20029769
and
https://doi.org/10.1101/2020.02.29.20029520
The New York based Feinstein Institutes for Medical Research is conducting the first controlled trial of approximately 400 severe or critical patients being hospitalized.
Both the pharmaceutical companies issued a joint statement saying that IL-6 may play a role in driving the overactive inflammatory response in the lungs of patients who are severely or critically ill with COVID-19
The clinical trial will begin at medical centers in New York, one of the epicenters of the US COVID-19 outbreak, and will assess the safety and efficacy of adding Kevzara to usual supportive care, compared to supportive care plus placebo.
The new multi-center, double-blind, Phase 2/3 trial has an adaptive design with two parts and is anticipated to enroll up to 400 patients. The first part will recruit patients with severe Covid-19 infection across approximately 16 American sites, and will evaluate the impact of Kevzara on fever and patients' need for supplemental oxygen. The second, larger part of the trial will evaluate the improvement in longer-term outcomes including preventing death and reducing the need for mechanical ventilation, supplemental oxygen and/or hospitalization.
Dr George D. Yancopoulos, Co-founder, President and Chief Scientific Officer of Regeneron told Thailand Medical News, "To initiate this trial quickly, so that the results may inform evidence-based treatment of this ongoing pandemic, Regeneron and Sanofi have worked closely with the US FDA and the Biomedical Advanced Research and Development Authority, also known as BARDA. Data from China suggest that the IL-6 pathway may play an important role in the overactive inflammatory response in the lungs of patients with COVID-19. Despite this encouraging finding, it's imperative to conduct a properly designed, randomized trial to understand the true impact. In addition to our Kevzara program, Regeneron is also rapidly advancing a novel antibody cocktail for the prevention and treatment of COVID-19, which we hope to have available for human testing this summer. "
He further added, "Both of these programs are made possible by our unprecedented end-to-end antibody discovery, development and manufacturing technologies, starting with the proprietary VelocImmune human antibody mouse, an d incorporating our associated rapid manufacturing technologies designed to select and produce the best neutralizing antibodies. Collectively, these technologies expedite a typically years-long process into a matter of months. This same technology was applied to the Ebola virus, where our therapy, REGN-EB3, was shown to dramatically improve survival in infected patients last year."
Medical researchers have preliminary evidence that IL-6 may play a key role in driving the inflammatory immune response that causes acute respiratory distress syndrome (ARDS) in patients critically ill from COVID-19. Initial non-peer reviewed results from a single-arm, 21-patient Chinese trial found COVID-19 patients experienced rapidly reduced fevers and 75% of patients (15 out of 20) reduced their need for supplemental oxygen within days of receiving a different IL-6 receptor antibody (tocilizumab). Based on these results, China recently updated its COVID-19 treatment guidelines and approved the use of that IL-6 inhibitor to treat patients with severe or critical disease.
The pathogenesis of progressive COVID-19 disease is still being investigated, but it appears that advanced disease states, with hypoxemic pneumonia is associated with a marked pro-inflammatory state or 'cytokine storm' phenotype.
For the latest on
Covid-19 Drug Research
, keep on logging on to
Thailand Medical News
.
Please help support our site and our initiatives to propel and aid research by making a donation to help sustain the site. Donations are accepted via paypal
:
https://www.thailandmedical.news/p/sponsorship