Coronavirus News: Study Finds That Serum Amyloid A (SAA) Linked To COVID-19 Inflammation And Disease Severity.
Coronavirus News
: Italian researchers from the University of Sassari along with Australian experts from Flinders University have in a new study found that a body biochemical call Serum Amyloid A or SAA is linked to COVID-19 inflammation and disease severity.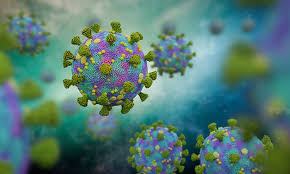 Serum amyloid A
(SAA) proteins are a family of apolipoproteins associated with high-density lipoprotein (HDL) in plasma. Different isoforms of SAA are expressed constitutively (constitutive SAAs) at different levels or in response to inflammatory stimuli (acute phase SAAs). These proteins are produced predominantly by the liver. Acute-phase serum amyloid A proteins (A-SAAs) are secreted during the acute phase of inflammation. These proteins have several roles, including the transport of cholesterol to the liver for secretion into the bile, the recruitment of immune cells to inflammatory sites, and the induction of enzymes that degrade extracellular matrix. A-SAAs are implicated in several chronic inflammatory diseases, such as amyloidosis, atherosclerosis, and rheumatoid arthritis. Serum amyloid A (SAA) is also an acute phase marker that responds rapidly. Similar to CRP, levels of acute-phase SAA increase within hours after inflammatory stimulus, and the magnitude of increase may be greater than that of CRP. Relatively trivial inflammatory stimuli can lead to SAA responses. It has been suggested that SAA levels correlate better with disease activity in early inflammatory joint disease than do ESR and CRP. Although largely produced by hepatocytes, more recent studies show that SAA is produced by adipocytes as well, and its serum concentration is associated with body mass index.
An excessive inflammatory response in patients with coronavirus disease 2019 (COVID-19) is associated with high disease severity and mortality. Specific acute phase reactants might be useful for risk stratification. A systematic review and meta-analysis was conducted of studies on serum amyloid A (SAA) in patients with COVID-19.
The study team searched the PubMed, Web of Science, and Scopus databases, covering the period January 2020 to December 2020, for studies reporting SAA concentrations, COVID-19 severity, and survival status.
In all nineteen studies involving 5617 COVID-19 patients were included in the meta-analysis. Pooled results showed that SAA concentrations were significantly higher in patients with severe disease and non-survivors (standard mean difference (SMD) 1.20, 95% confidence interval 0.91–1.49, P < 0.001). Extreme between-study heterogeneity was observed (I2 = 92.4%, P < 0.001). In the sensitivity analysis, the effect size was not significantly affected when each study was removed in turn (range 1.10–1.29). The Begg test (P = 0.030), but not the Egger test (P = 0.385), revealed the presence of publication bias. Pooled SMD values were significantly and positively associated with sex (t = 2.20, P = 0.047) and aspartate aminotransferase (t = 3.44, P = 0.014).
The study findings showed that SAA concentrations were significantly and positive ly associated with higher COVID-19 severity and mortality. This acute phase reactant might assist with risk stratification and monitoring in this group.
The study findings were published in the peer reviewed International Journal of Infectious Diseases.
https://www.ijidonline.com/article/S1201-9712(21)00243-5/fulltext
It has been observed that varying severity of COVID-19 symptoms in patients is reflected by levels of a chemical biomarker in their body which scientists say could be used to better manage treatments and other interventions, including vaccinations.
The study team examined levels of a chemical called serum amyloid A (SAA), a protein synthesized in the liver which can spike up to 1,000-fold within the first 24-48 hours of an infection.
It was found that an increase in SAA can further perpetuate
i
nflammation and cause clot abnormalities and organ damage, researchers say, concluding SAA levels are associated with higher COVID-19 severity and mortality.
The study team focused on the latest research including 19 studies of more than 5,600 COVID-19 patients for specific markers to predict disease severity and progression.
Senior corresponding author Professor of Clinical Pharmacology Dr Arduino Mangoni, from Flinders University in South Australia told Thailand Medical News, "Our analyses showed that COVID-19 patients with severe disease or who eventually died had significantly higher levels of SAA when compared to patients with mild COVID-19. Patients with severe forms of coronavirus disease 2019 have excessive inflammation, alterations in clot formation, and significant damage in several organs, particularly the lung, the kidney, the heart, and the liver."
Considering the key role of inflammation in COVID-19, markers that reflect a state of excessive inflammation might be particularly useful for risk stratification and effective management.
Dr Mangoni further added, "This chemical may help, together with other patient characteristics, in predicting which COVID-19 patients are likely to deteriorate and require aggressive management."
There are currently few effective therapies to treat COVID-19 in the community and in hospital.
Hence In this context, the use of specific markers to predict disease severity and would facilitate the early identification of patients requiring aggressive management and monitoring and assist with the judicious use of health care resources.
The correlation between SAA and COVID-19 severity and mortality focused on data collected from 5,617 patients hospitalized with COVID-10 with different degrees of severity and survival status, along with current literature.
For the latest
coronavirus news
, keep on logging to Thailand Medical News.