Cabinet Minister And Medical Experts Sounds Alert That More People Are Being Hospitalized In UK As A Result Of Disease Severity Caused By Omicron!
UK COVID-19 News
: Contrary to stupid premature statements made by so called ignorant 'experts' and garbage mainstream media, The Omicron is not turning to be a variant that causes only mild symptoms as UK Cabinet Minister Nadhim Zahawi who is also the Secretary of State for Education of the United Kingdom issued alerts in the last few hours that more British citizens are being hospitalized as a result of infection with the Omicron variant in the last few days as a result of developing disease severity.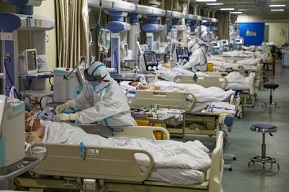 His alert and warnings were also echoed by Dr Susan Hopkins, the chief medical adviser for the UK Health Security Agency, who said they are getting reports of more individuals going into hospital over the last few days as a result of developing moderate to severe disease conditions after getting infected with the Omicron variant.
Many other experts and scientists are also warning that the fallacy that is being spread by ignorant experts and mainstream media that Omicron only causes mild symptoms is nonsensical and that reports from South Africa that has a primitive healthcare system and non-proper reporting system should not be taken seriously, Furthermore, many of their so called experts can be easily bought over by those controlling the COVID-19 narratives in America and Europe for small amounts of monies! In coming weeks, the true magnitude of the Omicron variant will be seen.
Thailand Medical News would also further like to add that the Omicron variant is still mutating and evolving and at the moment, it is not just the two Omicron variants ie BA.1 and BA.2 that is in circulation.
https://www.thailandmedical.news/news/breaking-scientists-discover-that-two-forms-of-omicron-ba-1-and-the-new-ba-2-which-is-a-stealth-version-that-cannot-be-detected-by-pcr-tests
Rather there are now another 5 more main Omicron variants that have been recently identified with mutation changes on them! Scientist are still studying and classifying them. (Thailand Medical News will be providing more updates on this.)
It should also be noted that variants are also affected by human host genes and in some cases a specific host mutant gene that is predominant either within a certain ethnic group or even geolocation can trigger mutations and a new variant with a different pathogenesis pattern, especially if the mutation is triggered in the ORF 10 of the SARS-CoV-2.
https://www.thailandmedical.news/news/breaking-study-reveals-various-orf10-protein-mutations-in-different-countries-and-regions-that-specify-different-sars-cov-2-pathogenicity-modes
The United Kingdom reported 1,239 new Omicron infections in the last 24 hours, bringing the total as of Sunday to 3,137 confirmed cases of the Omicron variant in the UK. However, the real amounts could be far much as higher as there are only limited genomic sequencings being done to confirm which variant is present in a positive COVID-19 case.
According to the latest &lt ;span style="font-size:16px">UK COVID-19 News, 48,854 new COVID-19 cases were reported in the last 24 hours and 52 deaths within 28 days of a positive test were reported across the UK as of Sunday 12 December.
UK cabinet minister Nadhim Zahawi also said the new Omicron variant now accounts for a third of cases in London.
Scientists from the London School of Hygiene and Tropical Medicine (LSHTM) have warned that the UK will face a substantial wave of Omicron infections without further restrictions beyond the Plan B measures announced last week.
These additional measures include recommending people work from home if they can, expanding mask-wearing rules and introducing COVID passes for entry to some venues with parliament to vote on the changes on Tuesday.
Strangely individuals in England with two or more jabs who are close contacts of COVID-19 cases will be told to take daily lateral flow tests for seven days from Tuesday. It means people in close contact with suspected or confirmed Omicron variant cases no longer need to self-isolate!
When asked by media if he could guarantee all schools would be open in January 2022, Mr Zahawi said he would do "everything in my power" to ensure all of them stayed open and protected but he stopped short of giving a guarantee.
He said there was no plan at the moment to vaccinate primary school age children against COVID.
Chief medical adviser for the UK Health Security Agency, Dr Susan Hopkins, said that she expected to see an increase in the number of people in hospital with Omicron infection.
She added there had not been a report of a death from the variant in the UK yet, although she pointed out that it had only been identified two weeks ago. It is two weeks after infection that you would expect to see people admitted to hospital, with deaths coming after that.
She added that it is "inevitable" that there was going to be a big wave of infections but what was not clear was the impact that would have on hospitals.
She warned that the sheer weight of numbers of people being infected with Omicron means it will find the unvaccinated or people who have had a poor immune response to the vaccine.
She added, "This is a big wave coming straight at us, if we see even half the severity that we saw with Delta then we are facing a very large number of hospitalizations and potential deaths."
Cabinet Minister Mr Zahawi said that even if Omicron was less severe than other variants, due its infectiousness, "a small percentage of a very large population will put many people in hospital".
Though she described the current measures as "sensible", Dr Hopkins said more measures may be needed and said the government had "very difficult" decisions ahead.
Dr Chris Hopson, chief executive of NHS Providers ie the association of NHS trusts, described staff as "completely flat out and beyond full stretch" with it already being "busier than before at this time of year", even before the peak of the Omicron variant.
Sir Keir Starmer, the Labour leader said he was "very concerned about the new variant" and confirmed that his party would back the government's measures to slow the spread of Omicron.
However, he accused the government of a "failure to plan" and being "behind the curve" with the booster programme.
It should be noted however that new studies are indicating that even third or so-called booster shots might not offer complete protection against the Omicron variant.
https://www.thailandmedical.news/news/breaking-china-s-study-reveals-that-vaccine-protection-from-third-dose-might-also-be-compromised-by-omicron-variant
The Welsh health minister, Eluned Morgan said new COVID restrictions were likely "in the next few weeks" in order to deal with the Omicron variant.
She warned there "will come a point" where it is likely the Welsh government will advise people against attending Christmas parties.
It is already being projected that by the 19
th
of December, the United Kingdom should start see a glimpse of how far bad the situation is going to be in coming weeks and we at Thailand Medical News predicts that from now to the start of spring in late March 2022, at least another 40,000 Brits will die from the new surges in the most optimistic projection.
We are making a special appeal to all readers to please help to sustain this site and also all our research and community initiatives by making a donation. Your help means a lot and helps saves lives directly and indirectly and we are in dire need of funds now for some of these urgent new projects. Please do help. Thank You. (We also apologize for disturbing readers with this urgent appeal)
https://www.thailandmedical.news/p/sponsorship
For the latest
UK COVID-19 News
, keep logging to Thailand Medical News.