BREAKING! Finally Truth Emerging About Efficacy Of COVID-19 Vaccines! U.S. CDC SAYS 5,800 Vaccinated Became Infected, Many Severe and 74Died!
Despite an extensive PR campaign and paying off researchers and even research institutions, media and social medial platforms to boost about the efficacy of the
COVID-19 vaccines
, emerging data is now showing that the vaccines do not have the efficacy that was claimed by manipulated studies.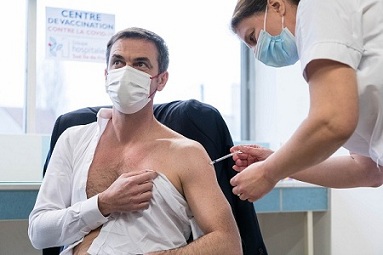 The U.S. CDC said that individuals who have been vaccinated against coronavirus have become infected anyway. This was disclosed during an interview with CNN.
https://edition.cnn.com/2021/04/14/health/breakthrough-infections-covid-vaccines-cdc/index.html?utm_source=EndCoronavirus.org+Newsletter&utm_campaign=55eba180fa-&utm_medium=email&utm_term=0_37415d5d3c-55eba180fa-378127589
According to the U.S. CDC, to date about 5,900 individuals had become infected with the SARS-CoV-2 coronavirus despite being fully vaccinated (ie receiving both doses) and many also developed severe conditions requiring hospitalization, defying claims by vaccine manufacturers, government officials and 'paid off' doctors that the vaccines prevents disease severity.
To date about 74 of those fully vaccinated died after contracting the SARS-CoV-2 coronavirus.
The numbers of those fully vaccinated getting infected, developing COVID-19 disease severity and dying will continue to rise as more incidences of infections start to occur.
Although the numbers currently represent only a small fraction of the 77 million people fully vaccinated in the U.S., it is expected that these numbers will climb drastically in coming months as the SARS-CoV-2 virus mutates and evolves with more variants emerging and becoming dominant in circulation.
To date, this is the CDC's first public accounting of breakthrough cases based on available data that was compiled three weeks ago.
The agency is searching for patterns based on patient age and gender, location, type of vaccine, variants and other factors.
The U.S. CDC told CNN, "Vaccine breakthrough infections were reported among all people of all ages eligible for vaccination. However, a little over 40% of the infections were in people 60 or more years of age. Most, 65%, were female and 29% of the so-called breakthrough infections were asymptomatic. We are monitoring reported cases for clustering by patient demographics, geographic location, time since vaccination, vaccine type or lot number, and SARS-CoV-2 lineage."
The U.S.CDC is recommending individuals who have been fully vaccinated to keep taking precautions in public places, like wearing a mask, staying at least six feet apart from others, avoiding crowds and poorly ventilated spaces, and washing their hands often.
Many questions are now emerging about these COVID-19 vaccines. Are they placebos or nocebos? Whats the point of having vaccines if they cannot stop the spread of the virus or even disease severity?
Vaccine manufacturers are quick to respond that it's the new variants that are causing issues and that they are tweaking the vaccines and that the population might need a third or even fourth dose of the vaccines and even more later as the virus continues to evolve! (This despite churning out studies claiming that their vaccines work against the current variants of concern or VOCs)
Please donate to help support our site and all our initiatives.
https://www.thailandmedical.news/p/sponsorship
Thailand Medical News will be providing more
Vaccine News
updates soon.