BREAKING! Covid-19 Drug Research: Tocilizumab (Actemra) By Roche Emerging As The Best Drug Candidate For Treating Covid-19 So Far While Others Are Simply Misleading
Covid-19 Drug Research
: The global medical industry has in the past months evolved into a 'Wild Wild West' or 'circus' with more unprecedented and unprofessional medical practices being conducted as a result of the Covid-19 crisis. Experimental drugs that have not been properly evaluated are being adopted as main treatment protocols in certain countries merely based on certain none properly clinically studied recommendations by China. To a certain extent it is also being suspected that China has not been properly forthcoming and that a lot of data and research studies that were being supplied had been 'adulterated' to suit their commercial needs and diplomatic superiority.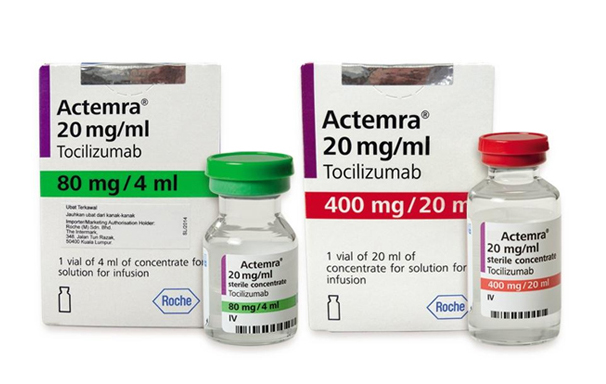 For instant, take Avigan or Favipiravir, an antiviral drug that was developed to treat influenza by Toyoma Chemicals in Japan. It was never fully embraced by the medical community due to its known teratogenicity and embryotoxicity effects and although there were many more better suited antivirals to test, use and assess, China quickly adopted Favipiravir despite no proper supporting studies or real formal clinical trial evaluations simply because it could procur a generic licence for the drug and also control raw material supplies to the main Japanese company, indirectly totally controlling the drug supply and using it as a diplomatic and commercial leverage tool. It influenced preprint studies and then gave away small amounts (between 1000 to 5000 doses) to desperate countries as a 'goodwill' while negotiating deals with foreign governments for further orders. It was speculated that in certain corrupted governments, kick-backs were also assured for such massive orders using tax payers' monies.
South Korea was one of the few countries that rejected the use of Favipiravir.
https://en.yna.co.kr/view/AEN20200316002400320
But there are certain South-East Asian countries with corrupted governments and ignorant local healthcare professional that embrace everything China tells them. In one particular such country, some of its intellectually challenged medical professionals will only advocate that test kits and drug protocols from China are the gold standard for Covid-19 diagnostics and treatments and are not open to any other alternatives or better proven drugs protocols, test kits or medical equipment. That country has also made fake claims of having found a cure for the Covid-19 earlier and has a person whose qualifications are no better than a construction worker as its Health Minister!
Many of the other drug candidates have also despite being promoted have not been very promising.
In fact most of the antivirals used have been reported to be cardiotoxic, hepatoxic and even renal toxic.
https://www.thailandmedical.news/news/covid-19-clinical-care-guidelines-to-prevent-drug-induced-prolongation-of-qtc-that-often-results-in-sudden-cardiac-death-in-covid-19-patients
However a drug called Tocilizumab was first found to be effective in China but was never promoted by the Chinese as it could get a generic license.
https://www.chinaxiv.org/abs/202003.00026
Studies found that in Covid-19 in patients facing severe conditions leading to sepsis, organ failure and death, it was the 'cytokine storms' of the body's immune system that was causing the problems with increased inflammation even in the lungs.
It was found by controlling or inhibiting the release of a protein called IL-6, many patients went into quicker recovery. Almost 95% percent of patients treated that way recovered faster.
Tocilizumab, also known as atlizumab, is an immunosuppressive drug, mainly for the treatment of rheumatoid arthritis (RA) and systemic juvenile idiopathic arthritis, a severe form of arthritis in children. It is a humanized monoclonal antibody against the interleukin-6 receptor (IL-6R). Interleukin 6 (IL-6) is a cytokine that plays an important role in immune response and is implicated in the pathogenesis of many diseases, such as autoimmune diseases, multiple myeloma and prostate cancer.
Tocilizumab is commercially known as Actemra and is patented and manufactured by Swiss based pharmaceutical giant Roche that also owns Genentech.
Roche is adopting a very professional approach of not releasing too much data or news about the drug and its efficacy till it completes its third phase clinical trial is just about to start. Its phase one and phase two trials were extremely promising with almost 95% of patients recovering but it has keep all data private while the US FDA had approved its phase three trials.
Last week, the US FDA approved the randomized, double-blind, placebo-controlled phase III clinical trial to evaluate the safety and efficacy of intravenous (IV) tocilizumab (Actemra) plus standard of care in hospitalized adult patients with severe coronavirus disease 2019 (COVID-19) pneumonia.
The clinical trial, called COVACTA, is being conducted in collaboration with the Biomedical Advanced Research and Development Authority (BARDA) to evaluate tocilizumab combined with standard of care versus placebo plus standard of care.
Roche and Genentech has already provided 10,000 vials of tocilizumab to the US Strategic National Stockpile for future use at the direction of the US Department of Health and Human Services to further support the COVID-19 response efforts.
Dr Alexander Hardy, CEO of Genentech told Thailand Medical News, "We thank the FDA for rapidly expediting the approval of this clinical trial to evaluate Actemra in critically ill patients suffering from pneumonia following coronavirus infection and we're moving forward to enroll as quickly as possible. Conducting this clinical trial in partnership with BARDA and providing Actemra to support the national stockpile, through the efforts of Secretary Azar and HHS, are important examples of how the US government, the biotechnology industry, and healthcare communities are working together in response to this public health crisis."
COVACTA is the first global clinical trial in this setting. Enrollment is anticipated to start as early as April 2020, with a target accrual of 330 patients across the US and other countries.
The main primary and secondary endpoints of the phase III study include clinical status, mortality, mechanical ventilation, and intensive care unit (ICU) variables. Researchers will follow patients for 60 days post-randomization, and an interim analysis will be conducted to look for early evidence of efficacy.
To date, several independent clinical trials have already begun globally to evaluate the efficacy and safety of tocilizumab for the treatment of patients with COVID-19 pneumonia; however, there are still no well-controlled studies and limited published evidence on the safety or efficacy of tocilizumab in the treatment of patients suffering from COVID-19.
Tocilizumab alters the way a patient's immune system works and delicate care constant monitoring have to utilized while using the drug, as wrong usage can actually make the conditions worse.
Common side effects observed in patients treated with tocilizumab include:
Upper respiratory tract infections
Headache
Hypertension
Injection site reactions
Tocilizumab is also known to cause serious side effects, including:
Tears of the stomach or intestines
Liver problems (hepatotoxicity)
Changes in blood test results, including low neutrophil and platelet counts, and increases in certain liver function test levels and blood cholesterol levels
An increased risk of certain cancers by changing the way a patient's immune system works
Hepatitis B infection
Serious allergic reactions, including death
Nervous system problems
Tocilizumab is already approved by the FDA for the treatment of cytokine release syndrome (CRS) that is severe or life-threatening. The agent is used in adults and children aged 2 years and older who have CRS caused by CAR T-cell therapy.
Furthermore, tocilizumab also has FDA approved indications for rheumatoid arthritis, giant cell arteritis, polyarticular juvenile idiopathic arthritis, and systematic juvenile idiopathic arthritis.
In the clinical trials, a dose of 800 mg via IV is being advocated for use every 12 hours in patients with severe Covid-19 conditions.
Should the phase three trial proceed smoothly, it will be the first drug to get US FDA approval to treat Covid-19.
Roche has already started scaling up production,and drug prices could come down and also with governments subsidies, the drug could become affordable for all.
Countries like Italy and Spain besides the US and China have already began using it as an experimental drug and under compassionate use.
For the latest news on
Covid-19 Drug Research
and developments, kindly keep on logging to
Thailand Medical News
Thailand Medical News
will also be publishing articles on other cheaper alternative drug candidates that are undergoing clinical trials and also TCM and herbal remedies for mild Covid-19 cases in which new medical and scientific research studies have shown a certain degree of effectiveness. Some of these TCM and herbal remedies are cheap and easily accessible by the masses and does not need medical supervision as it has no side effects. However individuals will still have to see a local doctor should they fee that they might have contracted the Covid-19 disease as a precaution.
An Urgent Appeal: Please help support this website and also our initiatives in propelling research and developments by making a donation via paypal. Your gestures are greatly appreciated
.
https://www.thailandmedical.news/p/sponsorship
Additional references:
https://www.roche.com/media/releases/med-cor-2020-03-24.htm
COVID-19 infection induces readily detectable morphological and inflammation-related phenotypic changes in peripheral blood monocytes, the severity of which correlate with patient outcome
Dan Zhang, Rui Guo, Lei Lei, Hongjuan Liu, Yawen Wang, Yili Wang, Tongxin Dai, Tianxiao Zhang, Yanjun Lai,
medRxiv 2020.03.24.20042655; doi:
https://doi.org/10.1101/2020.03.24.20042655
Immunopathological characteristics of coronavirus disease 2019 cases in Guangzhou, China
Yaling Shi, Mingkai Tan, Xing Chen, Yanxia Liu, Jide Huang, Jingyi Ou, Xilong Deng
medRxiv 2020.03.12.20034736; doi:
https://doi.org/10.1101/2020.03.12.20034736
Potential Factors for Prediction of Disease Severity of COVID-19 Patients
huizheng zhang, xiaoying wang, zongqiang fu, ming luo, zhen zhang, ke zhang, ying he, dongyong wan,
medRxiv 2020.03.20.20039818; doi:
https://doi.org/10.1101/2020.03.20.20039818
Immune phenotyping based on neutrophil-to-lymphocyte ratio and IgG predicts disease severity and outcome for patients with COVID-19
Bicheng Zhang, Xiaoyang Zhou, Chengliang Zhu, Fan Feng, Yanru Qiu, Jia Feng, Qingzhu Jia, Qibin Song,
medRxiv 2020.03.12.20035048; doi:
https://doi.org/10.1101/2020.03.12.20035048
The potential role of IL-6 in monitoring severe case of coronavirus disease 2019
Tao Liu, Jieying Zhang, Yuhui Yang, Hong Ma, Zhengyu Li, Jiaoyue Zhang, Ji Cheng, Xiaoyun Zhang,
medRxiv 2020.03.01.20029769; doi:
https://doi.org/10.1101/2020.03.01.20029769
Detectable serum SARS-CoV-2 viral load (RNAaemia) is closely associated with drastically elevated interleukin 6 (IL-6) level in critically ill COVID-19 patients
Xiaohua Chen, Binghong Zhao, Yueming Qu, Yurou Chen, Jie Xiong, Yong Feng, Dong Men, Qianchuan Huang,
medRxiv 2020.02.29.20029520; doi:
https://doi.org/10.1101/2020.02.29.20029520
Reduction and Functional Exhaustion of T Cells in Patients with Coronavirus Disease 2019 (COVID-19)
Bo Diao, Chenhui Wang, Yingjun Tan, Xiewan Chen, Ying Liu, Lifeng Ning, Li Chen, Min Li, Yueping Liu
medRxiv 2020.02.18.20024364; doi:
https://doi.org/10.1101/2020.02.18.20024364
Longitudinal characteristics of lymphocyte responses and cytokine profiles in the peripheral blood of SARS-CoV-2 infected patients
Jing Liu, Sumeng Li, Jia Liu, Boyun Liang, Xiaobei Wang, Hua Wang, Wei Li, Qiaoxia Tong, Jianhua Yi, Lei Zhao,
medRxiv 2020.02.16.20023671; doi:
https://doi.org/10.1101/2020.02.16.20023671
Correlation Analysis Between Disease Severity and Inflammation-related Parameters in Patients with COVID-19 Pneumonia
Jing Gong, Hui Dong, Song Qing Xia, Yi Zhao Huang, Dingkun Wang, Yan Zhao, Wenhua Liu, Shenghao Tu, Mingmin Zhang, Qi Wang, Fuer Lu
medRxiv 2020.02.25.20025643; doi:
https://doi.org/10.1101/2020.02.25.20025643
Immune Cell Profiling of COVID-19 Patients in the Recovery Stage by Single-Cell Sequencing
Wen Wen, Wenru Su, Hao Tang, Wenqing Le, Xiaopeng Zhang, Yingfeng Zheng, XiuXing Liu, Lihui Xie, Jianmin Li,
medRxiv 2020.03.23.20039362; doi:
https://doi.org/10.1101/2020.03.23.20039362
The definition and risks of Cytokine Release Syndrome-Like in 11 COVID-19-Infected Pneumonia critically ill patients: Disease Characteristics and Retrospective Analysis
Wenjun Wang Jr., Jianxing He, puyi Lie, liyan Huang, Sipei Wu, yongping lin, xiaoqing liu
medRxiv 2020.02.26.20026989; doi:
https://doi.org/10.1101/2020.02.26.20026989
Outcome reporting from protocols of clinical trials of Coronavirus Disease 2019 (COVID-19): a review
Ruijin Qiu, Xuxu Wei, Mengzhu Zhao, Changming Zhong, Chen Zhao, Jiayuan Hu, Min Li, Ya Huang, Songjie Han,
medRxiv 2020.03.04.20031401; doi:
https://doi.org/10.1101/2020.03.04.20031401
Prognostic value of C-reactive protein in patients with COVID-19
Xiaomin Luo, Wei Zhou, Xiaojie Yan, Tangxi Guo, Benchao Wang, Hongxia Xia, Lu Ye, Jun Xiong, Zongping Jiang,
medRxiv 2020.03.21.20040360; doi:
https://doi.org/10.1101/2020.03.21.20040360
Analysis clinical features of COVID-19 infection in secondary epidemic area and report potential biomarkers in evaluation
Weiping Ji, Gautam Bishnu, Zhenzhai Cai, Xian Shen
medRxiv 2020.03.10.20033613; doi:
https://doi.org/10.1101/2020.03.10.20033613