Adult attention deficit hyperactivity disorder (ADHD) is a diagnosis that is primarily clinical, based upon the DSM-IV criteria.
This set of criteria requires that current symptoms suggest this diagnosis, along with impaired functioning in at least two spheres, out of home, school or work, and social interactions.
Thus a history of being unable to function normally in the psychosocial sphere is itself a strong indicator of the disorder.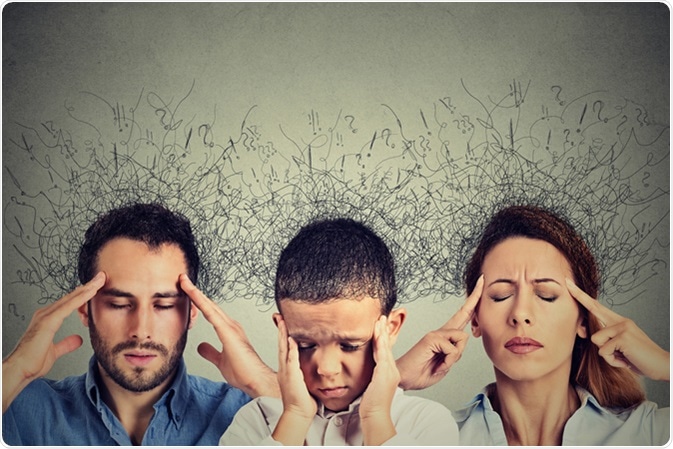 Image Credit: Pathdoc / Shutterstock
Clinical Assessment
The first and most important step is to take a thorough clinical history to elicit current symptoms accurately. This may require additional or clarifying information about the patient's childhood, from siblings or parents, to confirm the time of onset of the symptoms in childhood.
Along with this, other testing modalities may be utilized. The first includes the use of symptom rating tools, such as the Conner's Adult ADHD Rating Scale, which depends on clinical assessment.
Self-reported behavioral rating scales are also available such as the Copeland Symptom Checklist for Adult ADHD, which lets the patient assign up to three points for each of several symptoms relating to cognitive, emotional and social functions.
Another is the Wender Utah Rating Scale, which has the patient fill out the form to recollect childhood symptoms of ADHD; the Brown Adult ADHD Scale for cognitive symptoms alone, and the Pilot Adult ADHD Self-Report Scale containing the 18 items listed in the DSM-IV, but has an appropriate use of adult language and situations corrected for adult use.

Laboratory Studies

While no laboratory test can diagnose adult ADHD, it is necessary to obtain a baseline liver function testing result and a complete blood count before commencing pharmacotherapy, as well as serial measurements to follow up the patient on drug therapy.
Hyperthyroidism is a condition to be excluded. Furthermore, stimulants should be avoided or given with care to prevent precipitating convulsions if there is a history of seizures. A full neurological workup with neuroimaging is indicated only if there are signs of neurological illness or history of trauma to the brain.
Neuropsychological Testing
Neuropsychological studies are necessary in the evaluation of learning disability or if the history of childhood onset is doubtful.
The most common tests in this area include continuous performance testing (CPT) which normally points to abnormal attention in ADHD adults. Other affected areas include working memory deficits, perceptual-motor speed, verbal learning, and semantic clustering.
CPTs were first used in radar operators but showed potential in the case of ADHD patients because they could pick up poor impulse control and attention.
The childhood measures were applied to adult patients, however, which led to a lower sensitivity in this population, especially with reference to less severe cases. The greatest deficiency has been in the lack of ability to measure hyperkinetic movements.
A combination of CPT with actometry and motion-tracking systems was thus evolved to include the third crucial component of adult ADHD, namely, hyperactivity, along with impulsivity and inattention.
Higher movement frequency is present in adult ADHD; this is important as several studies have shown hyperactivity to be the most specific symptom of adult ADHD, while inattention is the most sensitive.
The combined measures as in the Weighed Core Symptoms scale provides the highest predictive value (over 90%) to help to discriminate between this condition and others which also present with impulsive behavior and/or a low attention span, increasing the accuracy of the diagnosis.
This makes this testing category a useful add-on to clinical assessment of ADHD in adults.
References