Infections with Nipah virus can affect both humans and animal reservoirs. The presence of Nipah virus is confirmed using several levels of testing, which primarily includes viral isolation, serology and nucleic acid amplification (the latter is also known as molecular diagnostics).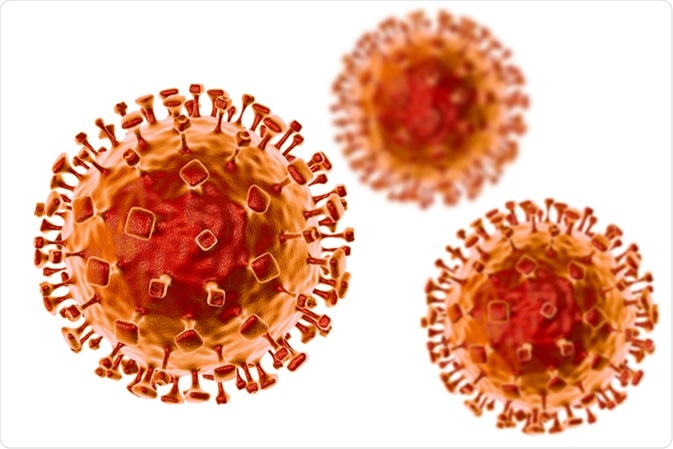 Nipah virus, newly emerging zoonotic infection with acute respiratory syndrome and severe encephalitis, 3D illustration. Image Credit: Kateryna Kon / Shutterstock
Isolation
Biosafety level (BSL)-4 laboratories are required for the isolation and propagation of the Nipah virus due to its intense deadliness. Primary isolation may be carried out using suspected samples for confirmation of infection in BSL-3 labs if stringent precautions as specified are complied with, to ensure the safety of the operators.
However, if the specimen is positive for viral DNA by immunofluorescence testing of infected cells fixed with acetone, the culture fluid must be transferred at once to a BSL-4 laboratory.
Several high-security laboratories fulfilling BSL-4 criteria have come up to deal with Nipah outbreaks in developing countries in view of its potential to become a fatal outbreak. These include:
The OIE Reference Laboratory for Henipaviruses at Geelong for animal research in the Asia–Pacific region
National Institute of Virology, ICMR, at Pune (India) and the High Security Animal Disease Laboratory, Bhopal (India) for human and animal virus isolation facilities
ICDDRB and IEDCR in collaboration with Centers for Disease Control and Prevention (CDC), USA
Serology
Several methods are in use for serologic diagnosis.
Viral antigen capture ELISA (enzyme-linked immunosorbent assay) can process samples at high throughput while being cost-effective, and is a good choice for sample screening. On the other hand, monoclonal antibody-based antigen capture ELISA enables viral detection, but it may also distinguish Nipah from Hendravirus, another highly pathogenic virus in the same family.
These methods are based upon the use of cell lysate antigens which are obtained from centers like the above, and can be performed only in BSL-4 laboratories.

In addition, there is a novel antigen-capture sandwich ELISA technique based on rabbit polyclonal antibody to NiV-G protein DNA vaccine, which is likely to help in the rapid diagnosis of new NiV which cannot be detected by conventional PCR methods. Moreover, a novel serum neutralization technique is based on the use of pseudotype particles.To get around this issue, alternative antigens have been developed in the form of recombinant proteins, such as the recombinant N protein ELISA.
Methods of Nucleic Acid Amplification
Infection with Nipah virus can also be detected using molecular diagnosis with tests such as real-time or otherwise reverse transcriptase polymerase chain reaction (RT-PCR), and duplex nested RT-PCR. The results are confirmed by sequence of the products of DNA amplification.
Collection of Samples, Multiple Testing and Antibody Patterns
A patient with a clinical history suspicious of Nipah infection should be tested with multiple tests. During the early phase, virus isolation and real-time RT-PCR tests are carried out on swabs taken from the throat and nose, cerebrospinal fluid, urine and blood. In the later stages, IgM and IgG detection using serological testing (ELISA) is done. If the patient dies before these tests are performed, samples of autopsy tissue may have to be taken for immunohistochemical testing to confirm the presence of the virus.
When we use serology for the diagnosis of Nipah infection, IgM antibodies are detectable during the first five days of symptomatic illness in approximately 66% of patients.
In patients who survived, by 2 weeks IgM and IgG were universally positive.
By 2-3 months of onset, IgM levels started to fall and became negative in all survivors by 2 years, while
IgG positivity remained unchanged in all patients at 2 years.
Thus, a patient who is initially NiV negative by antibody testing may develop detectable levels of IgM antibodies by 2 weeks or more after the onset of illness.
Treatment
Being a novel virus with frequent mutations, no specific treatment is available at the moment for Nipah virus infection. Supportive care is mandatory to optimize survival. Person-to-person transmission is documented in recent outbreaks, which mandates the use of standard precautions and barrier nursing methods when treating or diagnosing a suspected or confirmed case of Nipah infection. This is important in that almost half of patients in one outbreak were found to have contracted the virus nosocomially.
Ribavirin has been the only antiviral drug to date to show effectiveness against Nipah virus, but more studies are required to confirm this finding which is based largely on in vitro studies, with few human studies.
Another drug being tested is a purine nucleoside analog already approved in Japan for the treatment of new influenza virus strains, but has been shown to be active against Hendra and Nipah viruses in vitro.
Another method being investigated is passive immunization using human monoclonal antibody raised against the G-glycoprotein of the Nipah virus, which has shown significant benefit in studies.