WARNING! COVID-19 Latest: Researchers Warn Of Epidemic Of Post-COVID-19 Kidney Disease And Study Shows Many Will Die or Never Recover From AKI
COVID-19 Latest
: Researchers from Icahn School of Medicine-Mount Sinai are warning the manifestation of AKI or acute kidney injury is on the exponential rise in hospitalized COVID-19 patients and a high proportion are dying as a result or will never recover from it even after being discharged.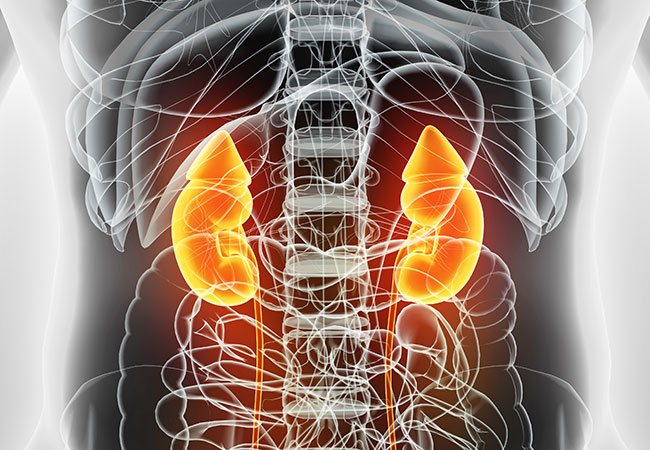 The research findings are published in Journal of the American Society of Nephrology.
https://jasn.asnjournals.org/content/early/2020/09/02/ASN.2020050615
The study provides more evidence that indicates that the development of acute kidney injury (AKI) in patients hospitalized with COVID-19 is associated not only with dramatically higher than usual mortality rates but also that a significant proportion of patients with AKI do not recover kidney function by the time they are discharged.
Co-researcher Dr Lili Chan, MD, of the Icahn School of Medicine at Mount Sinai-New York told Thailand Medical News, "This is the first study in the United States to report the persistence of kidney dysfunction and lack of recovery in survivors of COVID-19–associated acute kidney injury or AKI and this is in marked contrast to other forms of AKI where over 80% of patients recover their renal function by 10 days."
The latest study is a retrospective, observational cohort study of 3993 hospitalized patients with COVID-19 in a New York City health system. Significantly AKI occurred in 1835 (46%) patients.
Senior author Girish Nadkarni, MD, a nephrologist commented, "We may be facing an epidemic of post-COVID-19 kidney disease and that, in turn, could mean much greater numbers of patients who require kidney dialysis and even transplants."
The study team warns that nephrologists will need to prepare for a significant uptick in patients with chronic kidney disease as a result of exposure to the SARS-CoV-2 virus that causes COVID-19.
Dr Nadkarni added, "These findings may help centers with resource planning and preparing for the increased load resulting from survivors of COVID-19–associated AKI who do not experience recovery of kidney function."
To date, AKI among hospitalized patients with COVID-19 in the United States is not well described according to the study team.
Hence the team analyzed data from five major hospitals in the Mount Sinai Health System (MSHS) between February 27 and May 30 of this year, during which 3993 patients were hospitalized within the system for COVID-19. The MSHS has a patient population of racially and ethnically diverse citizens from New York.
Acute kidney injury or AKI was defined utilizing the Kidney Disease: Improving Global Outcomes (KDIGO) criteria.
Significantly, the study results showed that AKI occurred in 46% of the overall cohort of patients, 19% of whom required dialysis.
Alarmingly however, among those patients who required admission to the intensive care unit (ICU), over three quarters (76%) developed AKI and almost one third of ICU patients required dialysis.
The team explained, & quot;The median time from hospital admission until AKI diagnoses was 1 day and the median time from AKI diagnosis to dialysis was 3 days."
Interestingly, the proportion of patients with stages 1, 2, or 3 AKI among those admitted to hospital were 39%, 19%, and 42%, respectively.
Whereas in patients requiring admission to ICU, 28% had stage 1 AKI, 17% had stage 2, and 56% had stage 3.
It was observed that among those who required dialysis for AKI, the median peak serum creatinine was 8.2 mg/dL compared with 2.2 mg/dL for those who did not require dialysis.
The study team also observed that almost two thirds of patients (65%) had recovered from their kidney injury by the time they left hospital but 35% had acute kidney disease. Of this latter group, on follow-up, 36% had recovered from it.
Also, of those patients who had recovered from AKI by hospital discharge, 14% went on to develop acute kidney disease at the time of follow-up.
Importantly it was found that more than 30% of patients who had required dialysis at some point during their hospital care required dialysis again within 72 hours of being discharged.
Significantly, predictors of severe AKI included male sex (adjusted odds ratio [aOR], 1.46), potassium levels on admission (aOR, 1.7), and pre-existing chronic kidney disease (CKD) (aOR, 2.8).
Dr Nadkarni also added that most compellingly, "in-hospital mortality in patients who experienced AKI was 50% [versus] 8% in patients without AKI (P < .001)."
Also observed was that among those who required ICU care, 42% of patients with AKI died compared with 7% of those in ICU who did not develop AKI, while in patients cared for outside of ICU, 62% with AKI died compared with only 13% of those who did not develop AKI.
The study team also emphasize that after adjusting for demographics, comorbidities, and laboratory values, the aOR for death was 11.4 times higher for ICU patients with AKI compared to ICU patients without AKI.
From the study findings, in all patients who developed AKI, the aOR for mortality was 9.2 compared to patients who did not develop AKI.
It was seen that the risk of death rose with increasing stage of AKI, and patients with stage 3 AKI who required dialysis were at highest risk of death.
Dr Nadkarni cautioned, "The sheer number of AKI cases and the overwhelming need for dialysis that we are seeing in the context of COVID-19 is unprecedented. These study findings bring clinical evidence to the hypothesis of lingering organ dysfunction among patients recovering from COVID-19 and serve as a reminder to hospitals around the country to be very strategic in the allocation of resources to care for patients who experience AKI."
Dr Nadkarni further added "We are grappling with a great deal of uncertainty as to how the SARS-CoV-2 coronavirus will impact the kidneys in the long haul. We may be facing an epidemic of post-COVID-19 kidney disease, and that, in turn, could mean much greater numbers of patients who require kidney dialysis and even transplants."
To date, more and more emerging studies are showing that even 'recovered' COVID-19 patients who initially only had mild symptoms or were asymptomatic besides those who were hospitalized, are materializing various heart and kidney conditions and it is highly recommended that all 'recovered' individuals follow up for heart and kidney health screenings.
For more
COVID-19 Latest
research or developments, keep on logging to Thailand Medical News.