Ventricular Tachycardia, Fatal Irregular Heart Beat Treatable With Radiation Therapy
Medical researchers from Washington University have successfully treated patients suffering from a potentially deadly irregular rapid heart rhythm called ventricular tachycardia with a single high dose of radiation aimed at the heart according to results of a phase one/two study. The radiation used is similar to those used to treat cancer.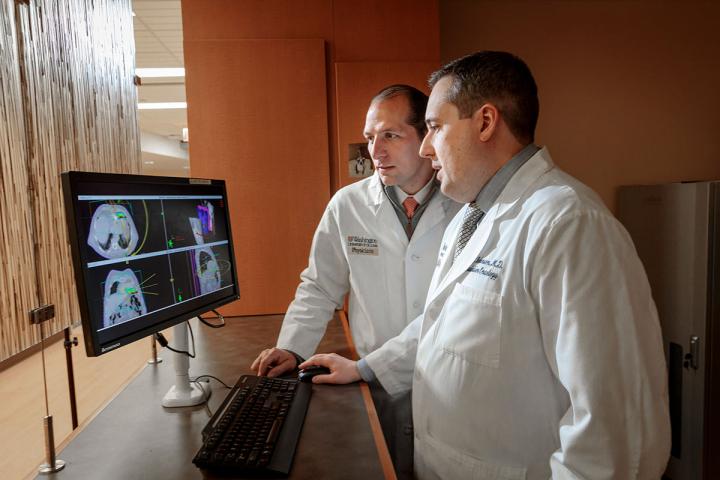 Radiation oncologist Dr Clifford Robinson and cardiologist Dr. Phillip Cuculich, of Washington
University School of Medicine, have developed a noninvasive radiation therapy approach to t
reating ventricular tachycardia
. Credit: Matt Miller
Associate Professor Dr Clifford G. Robinson commented in a phone interview with
Thailand Medical News
"Radiation therapy is a last line of defense for these patients, who are often too sick to undergo additional traditional therapies to control heart arrhythmias.It provides hope for patients with dangerous rhythms who have run out of treatment options."
What happens in ventricular tachycardia (VT), is that the lower chambers of the heart beat extremely fast and goes out of sync with the upper chambers, interfering with blood flow and increasing the risk of sudden cardiac death. Patients with VT often are implanted with defibrillators that shock the heart back into a normal rhythm. In an effort to stop the episodes, patients often are treated with catheter ablation procedures, in which a catheter is inserted into the heart and used to create scars in the part of the damaged heart muscle that is causing the electrical signals to misfire. But catheter ablation is invasive, requires many hours under general anesthesia and often is not a permanent solution. The rapid heart rhythm returns in about 60 per cent such patients.
The new protocol is a noninvasive outpatient procedure that involves the use of electrocardiograms and computed tomography scans of a patient's heart to locate the origin of the arrhythmia. The 3D visual imaging and electrical maps of the heart then guide the noninvasive radiation therapy. Health professionals can target the problem area of the heart with a single high-dose beam of radiation that often takes less than a few minutes to administer and requires no anesthesia or hospitalization.The protocol has no physical stress on the patients and they can go home right after treatment.
The initial phase one/two trial included 19 patients with ventricular tachycardia who had not responded to other therapies. Associate Professor Dr Robinson and his team concluded that the reduction in tachycardia episo des persists in about 80% of patients for at least 24 months following the single treatment. At 12 months after therapy, overall survival was 72%, and at 24 months survival was 52%. These reduction rates are encouraging given the condition of the patients, who are too sick to undergo any more catheter ablation procedures. Patients however need to be constantly monitored for signs of cardiac injury, which is always a possibility following radiation therapy.
Radiation therapy protocol is the last option and only should be pursued when all other treatments have been exhausted. For such patients, the results of the trial suggests their tachycardia is likely to improve, leading to a reduced need for medications with adverse side effects and to an improved quality of life, at least over the first twenty four months following radiation. The team is planning more clinical trials and also exploring new techniques to refine the procedure to avoid any cardiac injury.
Reference:
Robinson CG, et al. Longer-term results from a phase I/II study of EP-guided noninvasive cardiac radioablation for treatment of ventricular tachycardia (ENCORE-VT). ASTRO Annual Meeting. Sept. 2019.