Vascepa Set To Steal Market Share From Statins.
Vascepa ( Icosapent Ethyl) by Amarin Group Of Companies, (New Jersey, US) is the only EPA prescription Omega-3 clinically proven to lower very high triglycerides in adults by 33%, without raising bad cholesterol (LDL-C). Unlike VASCEPA, common Omega Oil and fish oil supplements are not pure EPA and most also contain DHA which can raise bad cholesterol.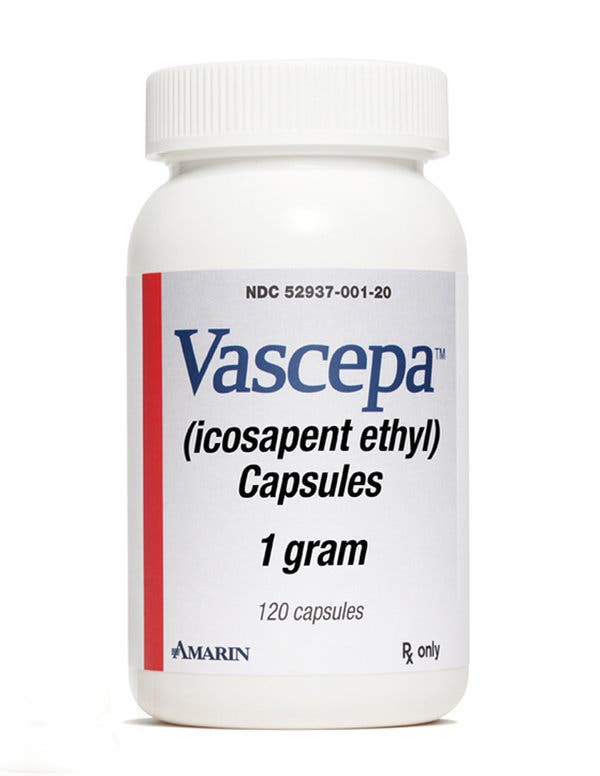 The product is already US FDA approved and in the EU but now due to new clinical trial results and studies especially its benefits in Cardiovascular Health, the US FDA is fast-tracking review of the drug's label expansion, which analysts say will see major sales on the horizon.
The FDA put Vascepa under priority review this week, speeding what could be the first approval to reduce the risk of Cardiovascular (CV) disease in patients previously treated with statins for high LDL cholesterol with elevated persistent triglycerides. The US FDA decision deadline is set for Sept. 30, four months earlier than planned, Amarin Corporation said.
Vascepa's strong showing in the phase 3 Reduce-It trial, data from which rolled out in September, could lead to a peak share price of $35 in the next year. Vascepa's Reduce-It data, filed with the FDA in March, showed Vascepa lowered the risk of a major adverse CV event by 26% in previously untreated patients compared with placebo, and by 30% in statin-treated patients at a median follow-up of 4.9 years.
The general sentiment is that an (advisory committee) could be a positive for Vascepa, for example by emphasizing that (Reduce-It) is a validation of Vascepa and not of triglyceride-lowering medications.
With Vascepa on the express lane to approval, Wall Street is showing increased confidence in Amarin, with analysts increasingly impressed by the drug's sales promise. On Wednesday, Amarin's share prices jumped from $17.01 per share to $19.64 on the heels of the FDA news, an eye-popping 15.5% increase.
There are also speculations that an Indian Singaporean Group is extensively buying up stocks for possible board seats and control.
By the first week of May 2019, Vascepa's total prescriptions had jumped 67.1% over the previous year, with new scripts growing by an even larger 77.8%. In a survey of 50 physicians, Doctors already favored prescribing the drug, with only 23% saying they would wait for a label expansion. That support and a label expansion could lead to a significant boost in Vascepa's sales in 2019, potentially even taking them past Amarin's forecast of roughly $350 million.
With everything coming up aces for Vascepa, Amarin has had to fight off challengers and charlatans over its trial results. Earlier this month, Amarin settled with two fish-oil supplement makers it claimed piggy-backed Vascepa's trial data to promote their own products fish oil supplements. After the settlements, Amarin Corporation said it has lawyers on call, in case more supplement makers decided to take a run at the drug's data or use any trademarks, copyrights or patents.