Vaccine News: Three COVID-19 Vaccinated Democrat Representatives Test Positive After Capitol Fiasco, Demonstrating Vaccine Efficacy!
Vaccine News
: At least three Democratic members of the House of Representatives despite having been vaccinated with the Pzifer/BioNtech vaccine were tested positive after the violent intrusion of Capitol by Trump supporters who were instigated to do so by the President himself! The three house representatives despite being masked themselves had to shelter for hours in tight proximity with Republican representatives who were maskless.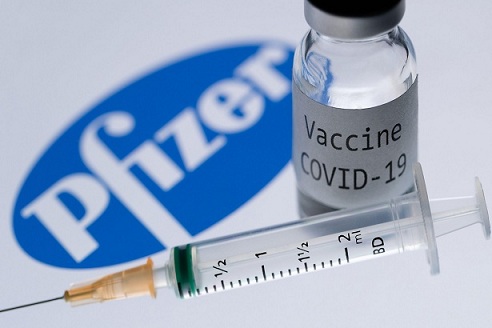 The incident raises lots of questions…are not the COVID-19 vaccines meant to prevent infections? And if they cannot what is the purpose of these vaccines? Another Scam? May be Dr Anthony Fauci, the WHO, The U.S CDC, the Muslim Turkish owner of BioNtech, Dr Eric Topol (Editor In Chief Of Medscape) and all the other advocates of the COVID-19 vaccines can answer this question. Maybe President Trump himself could help answer, as he was behind Operation Warp Speed and threw billions of dollars of tax payers monies at these vaccine developers but yet the American government still have to buy these vaccines. (Not sure how much he, his family and cronies made while his supporters are still broke!).
The incident also serves as a warning sign to many. Just because one got a COVID-19 vaccine doesn't mean you're invulnerable to the COVID-19 disease
.
As more Americans begin the process of vaccination, how much protection each dose seriously provides in the real world is being put to the test and emerging results such as in the case of these incidents, are disappointing!
The three Democratic members of the House of Representatives found out the hard way how hopeless these COVID-19 vaccines are! They were sheltering for hours with Republican colleagues who refused to wear masks during the Capitol riots on January 6 and later tested positive for SARS-CoV-2, the virus that causes Covid-19.
Their experience suggests that the vaccine and masks may not be enough to protect someone in the face of hours of possible exposure.
Democrat Representative Bonnie Watson Coleman (D-NJ) reported on January 11 that she tested positive for SARS-CoV-2 and began experiencing symptoms, though she'd already received one dose of the Pfizer/BioNTech vaccine on December 29. Watson Coleman, who's 75 and a cancer survivor, said she may have been exposed at the US Capitol during the riots as she sheltered with other representatives who refused to wear face masks.
A spokesperson for Watson Coleman in an email to media, "She is
always
masked and that included the time she spent in the Capitol in lockdown."
Rep. Pramila Jayapal (D-WA), another Congress member who was in the same lockdown area on Wednesday with maskless colleagues, announced Monday night she had also tested positive. She received the COVID-19 vaccine by Pfizer on January 4.
Yet on Tuesday, a third Democratic lawmaker, Rep. Brad Schneider of Illinois, who was also vaccinated on January 4, said he tested positive for the virus but was not experiencing any symptoms.
He added on Twitter, "Today, I am now in strict isolation, worried that I have risked my wife's health and angry at the selfishness and arrogance of the anti-maskers who put their own contempt and disregard for decency ahead of the health and safety of their colleagues and our staff."
The COVID-19 vaccines that have been approved by the U.S. FDA under the Trump administration are claimed to be are highly effective, but the new cluster in Congress is a reminder that they're not perfect and far for being effective.
The Moderna vaccine and the Pfizer/BioNTech vaccine are both claiming reported to be around 95 percent effective at preventing COVID-19 illness after two doses.
Many questions have arose about these vaccine trials and the published findings and also the need for transparency.
https://www.thailandmedical.news/news/vaccine-news-british-medical-journal-associate-editor-finds-more-worrying-discrepancies-in-covid-19-vaccine-study-reports
Testing positive for the virus does not necessarily mean that an individual will experience the disease and show symptoms. But it might mean that they can still transmit the virus to others.
It should be noted that the possibility of getting infected even after beginning an inoculation regimen was evident during clinical trials of COVID-19 vaccines.
Interestingly in Pfizer and BioNTech's application for an emergency use authorization from the Food and Drug Administration, they reported 178 COVID-19 cases among participants in their phase 3 clinical trial, with nine cases in the group that received the vaccine. The majority of those nine cases were between the first and second doses. Moderna's phase 3 trial showed a similar pattern, with 185 Covid-19 cases in the placebo group and 11 cases in the group that received the vaccine, most within two weeks of the first dose.
It should be noted (since there's a lot of misinformation circulating on social media) that the vaccines themselves cannot cause infection. Both the Moderna vaccine and the Pfizer/BioNTech vaccine don't contain any part of SARS-CoV-2. Instead, they use a strand of genetic material called mRNA that instructs the body to make a fragment of the virus.
Importantly there's still more to learn about the protection offered by COVID-19 vaccines if any really exists.
There are also concern about COVID-19 vaccines is that protection might not last forever. Since COVID-19 is still a fairly new disease and there's only a few months of data on people who've received the vaccine, scientists are still trying to figure out how quickly immunity might wane.
Experiences with past coronaviruses have showed disappointing results and even the possible scenario of serious repercussions including ADE or antibody dependent enhancement.
Yet another critical question is whether someone can spread COVID-19 to others after getting partially or fully vaccinated. Some early evidence from Moderna showed that its COVID-19 vaccine does block some transmission, but it might not be to the same degree that it prevents illness.
Really determining this will take time, especially since many SARS-CoV-2 infections are asymptomatic and require testing to confirm.
Scientists have reported recently that up to half of infections are caused by people who get infected but don't show symptoms themselves, so it's important to figure out how much asymptomatic transmission can still occur among the immunized.
However if a vaccine does block transmission well, it means that it can provide a faster route to herd immunity.
But since there are currently so many unknowns, individuals who have been vaccinated for COVID-19 should still follow all the regular COVID-19 precautions, like hand-washing, mask-wearing, and social distancing, especially when community transmission is as high as it is now.
Vaccines are critical, if they are truly effective but they are just one line of defense against COVID-19, and as the recent infections of members of Congress show, preventing transmission requires others to take precautions as well. It also reflects if at all these COVID-19 vaccines really have any benefits or just more scams.
For more
Vaccine News
, keep on logging to Thailand Medical News.