UK Reports Record 88,376 New COVID-19 Cases And 146 Deaths In Last 24 Hours. By First week Of 2022, Daily Figures Are Expected To Be Four Fold!
UK COVID-19 News
: More interesting news emerging from the United Kingdom, one of the two countries in the world besides the United States that has been trying to control the COVID-19 narratives.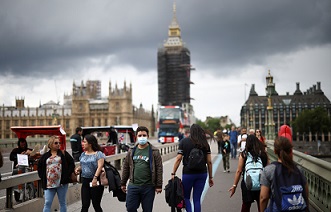 In the last 24 hours, the UK had more than 88,376 new COVID-19 infections and 146 COVID-19 deaths. It was reported that over the last week, COVID-19 hospitalizations were averaging more than 700 per day. The real amount of people seeking hospitalization due to manifestations of moderate and severe disease conditions are much higher but it was reported that many are being turned away as many hospitals are 'over filled' and are unable to accept new patients.
Local British doctors are making projections that the public healthcare system should collapse by around Christmas and that by the first week of January, the daily COVID-19 infection rates and death rates could be four-fold on a conservative basis.
The United Kingdom surge is being driven by new Delta sub-variants which strangely the local health authorities are not talking about much and also by the new Omicron variant.
Again, the researchers and health experts are not reporting that the Omicron variant that is circulating in the United Kingdom is slightly different from that in South Africa. (2 mutations have been observed..refer to Nextstrain and GISAID).
Dr Susan Hopkins, the chief medical adviser at the UK Health Security Agency, told a select committee on Thursday that for Omicron the R value was between 3 and 5 in the UK and that the variant was spreading rapidly ie doubling in size every two days.
Dr Hopkins said data on the severity of Omicron would not be known for another fortnight. At least 250 patients would need to be admitted to hospital before there could be a statistical analysis of the disease, she said. (At present, only 15 hospitalized cases have been identified as Omicron related.)
The current R value of the Delta epidemic in the UK is estimated to be between 1.1 and 1.2.
Dr Hopkins also told the hearing that reliable data on Omicron will not be available until the week between Christmas and New Year at the earliest, and may not appear before early January.
Omicron May Only Last For A Short While
Professor Dr Chris Whitty, England's chief medical officer said that the "whole point" about Omicron is that it is "going to be really concentrated in a very short period of time, very possibly".
Omicron may peak quickly, and fall away quickly too, the CMO told British MPs.
Dr Whitty said, "It'll probably therefore peak really quite fast. My anticipation is it may then come down faster than previous peaks but I wouldn't want to say that for sure. I'm just saying that that is a possibility."
It should be noted that the British medical advisors have been wrong about most things since the start of the COVID-19 pandemic including many of the British buffoons saying that the SARS-CoV-2 was unlikely to mutate or that even if it mutates, it will end up being weaker and simply diminish!
According to
t;

UK COVID-19 News

,
there are more than 23,000 confirmed Omicron cases in the United Kingdom now.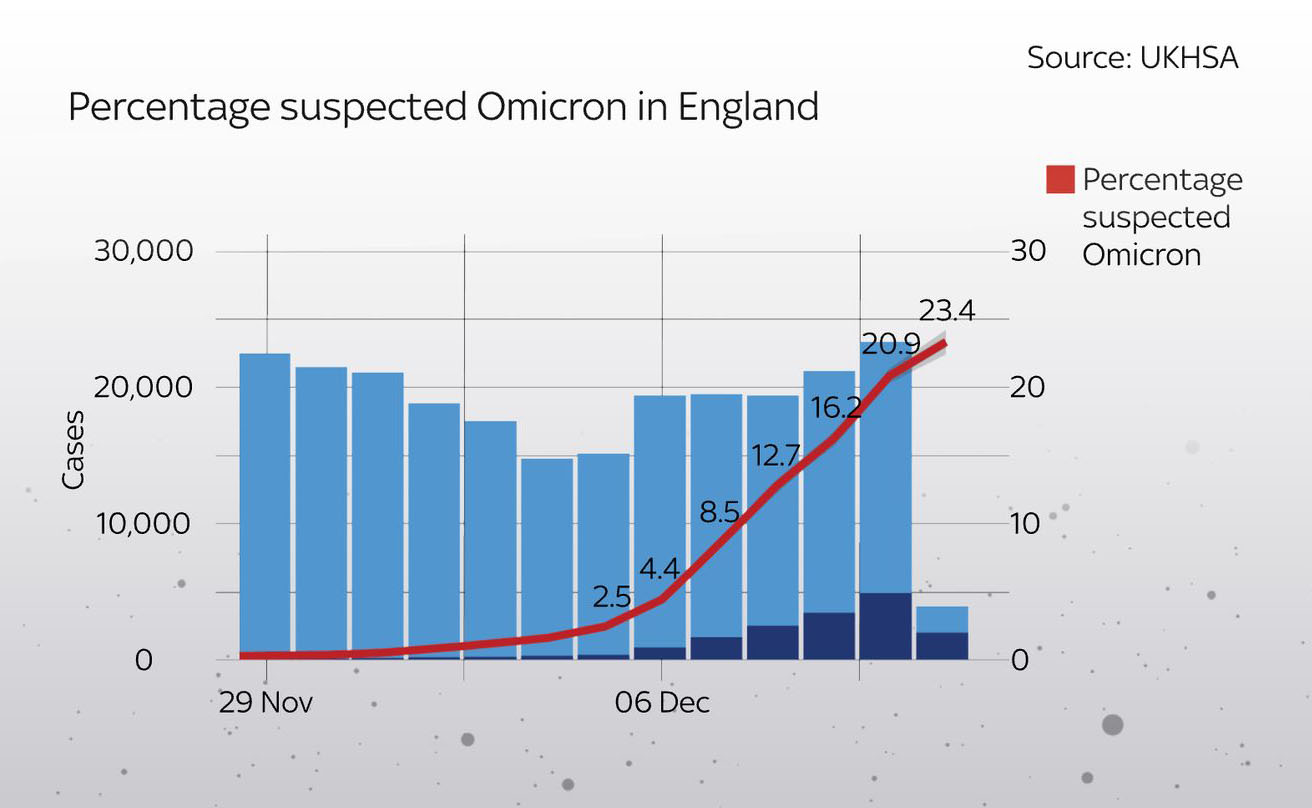 Omicron has now overtaken Delta as the dominant variant in London - and other regions are just a few days behind on the growth curve, new data suggests.
The Omicron figures, released by the UK Health Security Agency, reveal Omicron hotspots across England, with the East, South East and North West also having high rates.
The figures are based on PCR tests at four Lighthouse laboratories which can distinguish between Omicron and Delta, the other widely circulating variant in the UK, with a high degree of confidence.
The sequencing data shows that across England 24% of cases with specimen dates of 11 December and 12 December were likely to be due to Omicron.
However, in London it was 51.8%, making Omicron the dominant strain of the virus. The East of England followed at 26.9%, then the South East at 25.4% and the North West at 20.8%.
It is predicted that Omicron is also likely to become dominant in those regions in the next three to four days, if cases follow the growth curve in London.
It was reported that the North East had the lowest rates at just 6.8%.
It should be noted that not all laboratories around the country contributed to the data and the Omicron rate in some regions may be higher.
PCR tests target three genes on the virus that causes COVID. Delta shows up positive at all three sites, but a mutation in Omicron means the test comes back as a blank for one of the genes, so-called S-gene dropout.
The sequencing figures were based on 9,156 samples where the presence or absence of the S-gene could be established.
The rate of growth is fastest in London. The proportion of COVID cases likely to be due to Omicron rose from 44.5% to 51.8% in just 24 hours.
In coming weeks, more cases of co-infections involving both the Delta and Omicron variants are expected in the United Kingdom and that would be a truly interesting scenario to observe. We pray that most of the common British folks do take extra precautions to stay safe including practicing social distancing, wearing a mask and taking extra precautions.
Please Help! Do Not Ignore Our Appeals For Help. Please support the sustainability of this website and all our research and community initiatives by making a donation to our cause. Your donation helps saves lives directly and indirectly. Every dollar counts. Please Support. Thank You. (We apologize for the constant appeal.)
https://www.thailandmedical.news/p/sponsorship
For the latest
UK COVID-19 News
, keep on logging to Thailand Medical News.