UK Health Authorities And Agencies Deny That An Autumn COVID-19 Surge Has Started Despite More Than 224,316 New Infections In the Last 24 Hours!
UK COVID-19 News
: The United Kingdom saw more than 224,3176 new COVID-19 infections in the last 24 hours.
https://health-study.joinzoe.com/data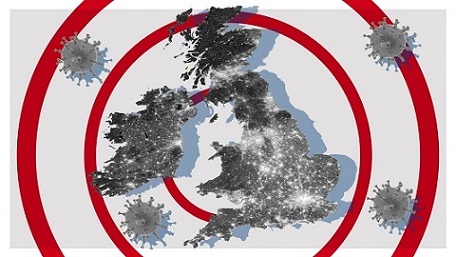 The Office for National Statistics (ONS) reported that about one in 65 people in England ie an estimated 857,400 individuals had COVID in the week ending 17 September, up from 766,500 people, or one in 70, the week before. An increase was also seen in Wales, while in Northern Ireland and Scotland the trend was unclear.
https://www.ons.gov.uk/peoplepopulationandcommunity/healthandsocialcare/conditionsanddiseases/bulletins/coronaviruscovid19infectionsurveypilot/30september2022
The trend is clearly showing an exponential increase of new daily COVID-19 infections.
Alarmingly, hospital admissions rates for individuals with COVID are also rising: in the south-west the figure for the most recent week is 16.67 per 100,000 population …an exponential increase of 250% increase since mid-September.
Recent hospitalization data from the NHS shows that the total reported admissions to hospital and diagnoses in hospital in England reached 7,904 in the week ending 3 October, a 33% rise from the previous seven days, asymptomatic testing through NHS settings was paused at the end of August, meaning the number of patients with COVID may be higher.
https://www.england.nhs.uk/statistics/statistical-work-areas/covid-19-hospital-activity/
Significantly, it was reported at present about 35% to 38% of patients in acute trusts are primarily being treated for the COVID-19 disease according to various
UK COVID-19 News
outlets
!
All these data validate that fact that disease severity is prevalent in the current surge!
Although we only have data till May 2022, but extrapolating using data form hospitals and also reports from various other agencies show that excess death rates especially due to cardiac incidences are ever increasing similar to what was seen since the early part of this year.
https://www.bmj.com/content/378/bmj.o2283
COVID-19 death rates are also increasing despite the fact that the British government has placed a lot of filters and changed the style of reporting to create an illusion that COVI-19 death rates are either falling or are at low levels. A lot of deaths caused by heart failures, strokes, sepsis, organ failures etc will provide interesting insides.
Despite all these data, we have individuals like Sarah Crofts, from the ONS Covid-19 Infection Survey making stupid statements in garbage media saying, "It is too early to identify whether this is the start of a new wave of infections. We will continue to closely monitor the data."
://www.bbc.com/news/health-63088223">https://www.bbc.com/news/health-63088223
The British government to date has been very quiet on the rising COVID-19 caseloads and hospitalizations and also have made no comments about the public healthcare infrastructure that is literally in chaos.
There has been no attempt to bring back preventive measures, improve indoor air-quality or even bring back masking.
The return of pupils to schools, the cooler season bringing more people indoors and the lack of masking is simply contributing to worsening scenario that is also being threatened by the debut of lots of new worrisome variants.
https://cov-spectrum.org/collections/24
Although the BA.5 variant and some of its earlier sub-lineages are still the predominant viruses in circulation, variants like BQ.1, BQ.1.1, BM.1.1,BM.4, BM.4.1, BF.9,BF.10,Bf.14, BF.23, BE.1.2, BE.1.1.1, BJ.1, BA.2.75.2 are increasing in levels and contributing to the rising disease severity and hospitalizations.
https://cov-spectrum.org/collections/24?country=United+Kingdom
It is expected that in the coming 4 to 8 weeks, these newer emerging sub-lineages will dominate in circulation in the United Kingdom, displacing the BA.5 variant and many of its earlier sub-lineages.
We can not only expect to see an increase in hospitalization and deaths, but constant reinfection and co-infections are going to make things mor complicated and worrisome.
To make matter seven more worse, an increase in Influenza cases driven by the H3N2 flu strain is expected in the mid fall and winter season, creating a "twindemic effect ".
Thailand
Medical News
strongly recommends everyone not only in the United Kingdom but also in other parts of Europe to get the flu vaccines fast.
People in the United Kingdom should prepare for the worse considering the various factors and also the fact their government is not doing anything.
It best that besides stocking up on the essentials such as food etc, necessary medications such as NSAIDS, relevant supplements and even herbal therapeutics are procured early and stocked. Try to avoid crowded places and self-isolation is the best. Try improving indoor ventilation and also never forget to mask correctly despite whatever the ignorant COVID-19 minimizers or denialist might say or comment. Better to be safe than sorry!
The United Kingdom along with the rest of Europe is going to be in for bad series of continued COVID-19 surges in the next 16 weeks fueled by a huge variety of new SARS-CoV-2 sub-lineages and we can definitely expect to see exponential COVID-19 deaths and also excess deaths.
For the latest
UK COVID-19 News
, keep on logging to Thailand
Medical News
.