U.S. News: While Americans Glued On TV Watching Presidential Debate Infection And Death Rates Are Rising, Signaling A Catastrophic Cool Season To Come
U.S. News:
Most Americans were oblivious to our headlines and breaking news today on a new research that confirms that the SARS-CoV-2 coronavirus actually attacks the CD4 T Cells, literally elevating the COVID-19 disease to a 'potent airborne HIV-like disease.'
https://www.thailandmedical.news/news/breaking-news-covid-19-study-reveals-that-sars-cov-2-uses-cd4-cells-to-infect-t-helper-lymphocytes--covid-19-a-potent-version-of-airborne-hiv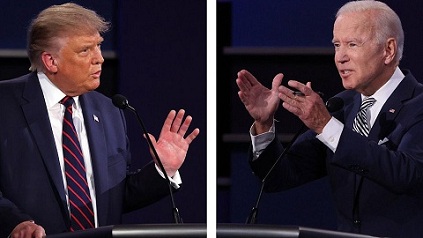 Rather most of them were glued on TV watching 'Dumb Trump" and 'Slow Joe' engage in a debate that is unlikely to impact what's going to happen in America in the next few months in term of the growing COVID-19 crisis.
Irrespective of whichever useless candidate wins (real sad state of affairs that Americans have to choose either of these candidates and were not given any better choices) nothing will be able to change the course of what is going to happen in the country the next few months unless the people themselves starting to take a more proactive role by ensuring that they and their loved ones are adopting all necessary precautions from wearing mask, practicing social distancing, isolating the vulnerable, taking flu vaccines , getting their children to go online classes and to avoid schools, working from home and to stay away from crowds as much as possible.(the counties or states need not have to go into lockdowns if everybody was responsible and businesses can still remain open with new strategies in place.)
In the last 24 hours, the number of daily COVID-19 infections have risen to 44,227and the daily number of COVID-19 deaths have also gone up to 977 after a respite for a few days.
America's total number of COVID-19 infections has now reached almost 7.2 million and the total numbers of Americans who have died have reached 206,540 according to Thailand Medical News tallies.
America Not In Safe Zone
Dr Anthony Fauci, MD, aka 'Sneaky Fauci' says the United States is "not in a good place" entering the fall and winter because daily coronavirus case counts are regularly topping 40,000.
Dr Fauci, director of the National Institute of Allergy and Infectious Diseases, has said the United States should have a baseline of around 10,000 new cases per day to get through the time before a vaccine becomes available sometime next year.
Dr Fauci told media on Monday, "We're not in a good place. You don't want to be in a position like that as the weather starts getting cold. So we really need to intensify the public health measures that we talk about all the time."
Dr Fauci said some states have tamped down the coronavirus through widespread testing and social distancing, but "there are states that are starting to show an uptick in cases and even some increases in hospitalization in some states. And, I hope not, but we very well might start seeing increases in deaths."
COVID-19 case counts are rising in the West and Midwest in states with low population density such as North and South Dakota, Wyoming, and Utah.
The state of Wisconsin has averaged more than 2,100 new cases daily for the past 7 days, the state department of health services reported. Governor Tony Evers declared a public health emergency a week ago, saying a spike in cases has been caused by students returning to campuses.
Synopsis Of Presidential Debate
Meanwhile during the today's debate that was held at Case Western Reserve University and Cleveland Clinic, which ensured that the debates were held in a safe manner with moderator Chris Wallace of Fox News, the audience was limited to fewer than 100 people, and all were tested for the SARS-CoV-2 virus.
The president's family and supporters appeared largely not to wear masks during the debate but did take their seats wearing them. Biden's wife, Jill, wore a mask while seated in the audience.
Wallace had to struggle to keep Trump from incessantly interrupting both himself and Biden. The former vice president also occasionally interrupted Trump.
Wallace began by asking both candidates about President Trump's nominee for the US Supreme Court, Amy Coney Barrett. The president and GOP-led Senate are pushing for Barrett to be seated before the November 3 election. She'd potentially be able to take part in the oral arguments on the constitutionality of the ACA scheduled for November 10, and there was brief discussion about her potential impact on any vote involving Roe v Wade, but the debate never came back around to that issue.
President Trump's administration is supporting the lawsuit filed to overturn the ACA by 18 Republican-led states.
Biden said, "He's in court right now trying to get rid of the Affordable Care Act," adding that if overturned, some 20 million people would lose their health insurance. Biden added that Barrett has expressed the view that the ACA is unconstitutional.
The
New York Times
after Barrett's nomination reported that if the ACA is struck down, 21 million Americans may lose health insurance, either Medicaid coverage or a policy bought on the ACA exchange.
Trump retaliated during the debate, "The bigger problem that you have is that you're going to extinguish 180 million people with their private healthcare that they're very happy with," apparently alluding to the Medicare for All program that had been proposed by other Democratic presidential candidates, but that is not endorsed by Biden or the Democratic party platform.
Biden replied, "What I've proposed is that we expand Obamacare." Biden's plan is to bolster the ACA by expanding eligibility through a public option and increasing subsidies. A Kaiser Family Foundation analysis found that expanding the subsidies would lower the cost of coverage for almost all individuals who currently buy coverage through the marketplace and for those who have been priced out, also.
Trump replied about the Biden health plan, "Your party wants to go Socialist."
Trump when questioned by Wallace, "you have never in these 4 years come up with a plan, a comprehensive plan to replace Obamacare," he responded, "I got rid of the individual mandate."
However the moderator persisted and said the president had signed a "largely symbolic order to protect pre-existing conditions," referring to an executive order signed September 24. The same order said that if Congress did not come up with legislation to stop surprise medical bills by the end of December, the Department of Health & Human Services could take administrative action to prevent such bills.
Wallace asked "What is the Trump healthcare plan?"
Trump replied "There's nothing symbolic." He said he brought down the price of drugs. He also said that with insulin, "I'm getting it for so cheap, it's like water."
Subsequently Wallace then pivoted to COVID-19, noting that the United States leads the world with some 7 million coronavirus cases and more than 200,000 deaths.
President Trump then touted his move in the spring to block visitors from China and said that if he had not taken action, there would be 2 million, not 200,000 deaths. "Now we're weeks away from a vaccine," said the president.
However Wallace pointed out that both the Centers for Disease Control and Prevention Director Robert Redfield, MD, and Moncef Slaoui, MD, the head of the government's Operation Warp Speed, said it would be next summer before the vaccine would be widely available.
Trump replied, "I disagree with both of them," adding that he'd spoken to the vaccine makers and that they said a vaccine would be available sooner.
He added, "Individuals like this would rather make it political than save lives."
Trump said it was possible "we'll have the answer by November 1," and that the vaccine could be delivered "right away."
Biden commented, "This is the same man who said by Easter that COVID-19 would be gone away.
Biden told Wallace that he's cautious about opening up schools and businesses because Trump "doesn't have a plan."
Wallace then asked Trump what he thought of masks, noting that he has questioned their effectiveness. "I put a mask on when I think I need it," said Trump. "I'm okay with masks," he said.
Biden said, "Masks make a big difference," , noting that Redfield had said that if everybody wore a mask and continued social distancing between now and January, it would probably save up to 100,000 lives.
Trump added, "They've also said the opposite."
Biden retorted. "No serious person said the opposite," "Dr Fauci said the opposite," Trump said, insisting that the head of the National Institutes of Allergy and Infectious Diseases had changed his stance on masks.
Alarmingly COVID-19 Cases Rising Among US Children As Schools Reopen
The SARS-CoV-2 coronavirus is increasingly infecting American children and teens in a trend authorities say appears fueled by school re-openings and the resumption of sports, playdates and other activities.
Alarmingly children of all ages now make up 10% of all U.S cases, up from 2% in April, the American Academy of Pediatrics reported Tuesday. And the Centers for Disease Control and Prevention said Monday that the incidence of COVID-19 in school-age children began rising in early September as many youngsters returned to their classrooms.
https://pediatrics.aappublications.org/content/early/2020/09/23/peds.2020-027425?cct=2287
or
https://pediatrics.aappublications.org/content/pediatrics/early/2020/09/23/peds.2020-027425.full.pdf
Roughly about two times more teens were infected than younger children, the CDC report said. Most infected children have mild cases; hospitalizations and death rates are much lower than in adults.
President of the American Academy of Pediatrics, Dr. Sally Goza said the rising numbers are a big concern and underscore the importance of masks, hand-washing, social distancing and other precautions.
She said, "While children generally don't get as sick with the coronavirus as adults, they are not immune and there is much to learn about how easily they can transmit it to others."
Interestingly the CDC report did not indicate where or how the children became infected.
However public health experts say the uptick probably reflects increasing spread of the virus in the larger community. While many districts require masks and other precautions, some spread in schools is thought to be occurring, too. But experts also say many school-age children who are getting sick may not be getting infected in classrooms.
Dr Leana Wen, a public health specialist at George Washington University said that just as cases in college students have been linked to partying and bars, school children may be contracting the virus at playdates, sleepovers, sports and other activities where precautions aren't being taken.
Dr Wen said, "Understandably, there is quarantine fatigue. Many people have a sense that if schools are reopening, then other activities can resume too, "but actually the opposite is true."
Various school studies suggest in-person learning can be safe when transmission rates in the larger community are low, the CDC report said.
The state of Mississippi is among places where several outbreaks among students and teachers have been reported since in-person classes resumed in July and August.
One grandmother said she had mixed feelings when her grandson's fourth grade class in Oxford was sent home for two weeks after several teachers and one student tested positive for the virus. The family doesn't have internet access at home, making remote learning a challenge.
She said, "It was a hardship. There's always a worry about him falling behind or not getting access to what he needs for school. But at the same time, I'm glad the school is doing what they can to protect our kids."
She said that students in her district are required to wear masks and receive temperature checks and students and teachers who come into contact with the virus are quarantined.
In Alcorn County, Mississippi, where hundreds of community cases have been reported, including dozens among teachers, staff and students, a mother is keeping her 15- and 17-olds home for virtual learning.
The Corinth mother said the family always wears masks when they leave home and practice social distancing, and she worries about her kids getting sick and infecting her parents.
She said, "I personally don't want to take the risk."
Head of the American Academy of Pediatrics' infectious-diseases committee, Dr Yvonne Maldonado, said the big question is what will happen as schools that have started out with online learning go back to in-person classes.
She said, "It really will depend on how well can you mask and distance in a school setting."
Scarily, New York City, the nation's largest school district, with over 1 million students, resumed classroom learning Tuesday for elementary school children. Higher grades will resume on Thursday.
The U.S. CDC report said more than 277,000 children ages 5 to 17 were confirmed infected between March and Sept. 19, with an increase in September after a peak and a decline over the summer.
The health agency acknowledged that may be an underestimate, in part because testing is most often done on people with symptoms, and children with the coronavirus often have none.
The U.S. CDC reported 51 deaths in school-age kids, most in them ages 12 to 17. Less than 2% of infected children were hospitalized, and youngsters who are Black, Hispanic or have underlying conditions fared worse than white children.
The new findings add to other data showing the pandemic is increasingly affecting younger age groups after initially hitting older Americans hard.
Meanwhile, In a separate report Tuesday, the U.S.CDC said weekly COVID-19 cases among people ages 18 to 22 increased 55% nationally. The increases were greatest in the Northeast and Midwest and were not solely attributable to increased testing, the CDC said. About one-third of U.S. cases are in adults 50 and older, while one-quarter are in 18-to-29-year-olds.
The American Academy of Pediatrics research is based on reports from public health departments in 49 states, New York City, Washington, D.C., Puerto Rico and Guam. New York State doesn't provide data by age. Most states count children's cases up to age 19, though a few use different age ranges.
The American Academy of Pediatrics as of Sept. 24, counted nearly 625,000 youth cases, up to age 20, a 14% increase over the previous two weeks. Deaths totaled 109, well under 1% of all COVID-19 fatalities in the U.S.
The U.S. CDC as of Monday, counted over 435,000 cases in children from age zero through 17 and 93 deaths. The groups' totals differ because they include different ages and time periods.
The figures are alarming and what is more worrisome is what the situation will look like the next few weeks and months as the cooler season descends
For more
U.S. News
, keep on logging to Thailand Medical News.