Study shows that Centella Asiatica Extract Aids In Memory and other Cognitive Issues.
A team of researchers from Oregon Health and Science University has concluded from an extensive study involving a medicinal plant called Centella Asiatica, commonly known as Gotu Kola (in thai:
bua bok
) is effective in terms of improving memory especially in the elderly and those afflicted with cognitive related diseases.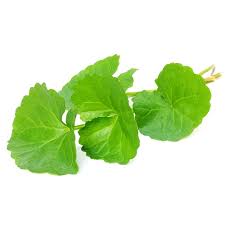 Centella Asiatica contains a variety of phyto chemicals such as pentacyclic triterpenoids, including asiaticoside, brahmoside, asiatic acid, and brahmic acid (madecassic acid). Other phytochemicals include centellose, centelloside, and madecassoside. Studies are also underway isolating various APIs from these phytochemicals.

The study showed that a water extract of Centella asiatica (CAW) attenuates beta-amyloid (A beta)-induced spatial memory deficits in mice and improves neuronal health."

The study involving mice only focused on the effects of water extracts of CAW on learning, memory and executive function as well as mitochondrial function and antioxidant response in the 5xFAD model of beta amyloid accumulation.
Seven month old 5xFAD female mice were treated with CAW (2mg.ml) in their drinking water for two weeks prior to behavioural testing.

Learning, memory and executive function were assessed using the object location memory task (OLM), conditioned fear response (CFR) and odor discrimination reversal learning (ODRL) test. Mitochondrial function was profiled using the Seahorse XF platform in hippocampal mitochondria isolated from these animals and tissue was harvested for assessment of mitochondrial, antioxidant and synaptic proteins.

CAW improved performance in all behavioral tests in the 5xFAD but had no effect on WT animals. Hippocampal mitochondrial function was improved and hippocampal and cortical expression of mitochondrial genes was increased in CAW-treated 5xFAD mice. Gene expression of the transcription factor NRF2, as well as its antioxidant target enzymes, was also increased with CAW treatment in both WT an d 5xFAD mice. CAW treatment also decreased A beta-plaque burden in the hippocampus of treated 5xFAD mice but had no effect on plaques in the cortex. These data show that CAW can improve many facets of A beta-related cognitive impairment in 5xFAD mice.

Oral treatment with CAW also attenuates hippocampal mitochondrial dysfunction in these animals."explained Dr. Grey N.E., lead researcher from the team at Oregon Health and Science University.

However, the effect of CAW on other cognitive domains remains unexplored as does its in vivo mechanism of improving A beta-related cognitive impairment.

Because mitochondrial dysfunction and oxidative stress accompany cognitive impairment in many pathological conditions beyond Alzheimer's disease, this suggests potentially broad therapeutic utility of CAW.
Reference:
.Centella asiatica attenuates hippocampal mitochondrial dysfunction and improves memory and executive function in β-amyloid overexpressing mice.Gray NE1, Zweig JA2, Caruso M2, Zhu JY2, Wright KM2, Quinn JF3, Soumyanath A2. : Mol Cell Neurosci. 93:1-9. doi: 10.1016/j.mcn.2018.09.002.