SOUTH KOREA CORONAVIRUS CRISIS: Mass Infections feared at 2 hospitals, 4 Factories and Naval Base! Infected Cases Now: 107 Death 1, Suspected Cases 8,120
South Korea
is 'heavily competing' with Japan to seize the title of the second epicenter for the
coronavirus
outside China as new cases are again detected in the few hours with another 3 more infected cases confirmed at Daegu, bring the total number of coronavirus infected cases to now 107.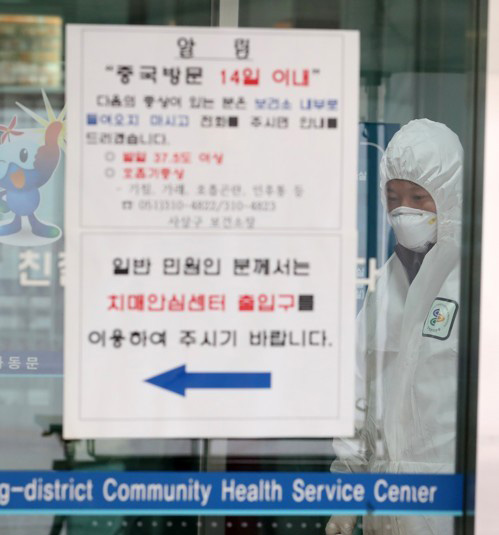 However a breaking report now claims that 2 hospitals could be sites for mass infections.
At one hospital, the Deanam hospital Cheongdo, North Gyeongsang Province, 15 patients were found to have been infected with the
coronavirus
in the 420 bed hospital that has a high number of outpatient clinics. The first
coronavirus
death was also reported at the same hospital with staff now claiming that some its long term patients had already been having symptoms for as long as three weeks ago.
The dead patient was in his 60s and had been under treatment at Cheongdo Daenam Hospital for 20 years. He died the previous day, according to health officials. The patient suffered pneumonia-like illness before death and was confirmed to have been infected with
coronavirus
through a posthumous test.
KCDC Director Jung Eun-kyeong said at a news briefing, "We ask anyone who has had any contact with the hospital to self-isolate."
KCDC health officials worry of a possible mass
coronavirus
infection there, since patients infected with COVID-19 are those who have been hospitalized there for a long time.
To make matter worst, another hospital, the Dongguk University Gyeongju Hospital in Gyeongju, near Cheongdo with more than 800 beds has discovered two male older patients also with the confirmed infected with the
coronavirus
.
They were hospitalized in a locked psychiatric ward of the hospital and had not left the hospital for past month, raising question on how the two became contracted, and further concern as it could affect more inside the closed unit of the hospital.
The KCDC said contact tracing and further investigation is underway, to determine how the infection was spread.
To further aggravate the situation a navy sailor on the southern island of Jeju was confirmed on Thursday to have contracted the new
coronavirus
in the first confirmed case among service personnel in
South Korea
, government officials said.
The male in his 20s was one of the country's 107 patients of COVID-19, according to the officials.
The naval soldier was known to have visited his hometown,
Daegu
, 300 kilometers southeast of Seoul, about 3 weeks ago, where dozens of confirmed cases have been r eported since Wednesday.
The naval base he is stationed at, has close to 5,200 personnel and he had been at the base for more than 2 weeks prior to developing symptoms.
Meanwhile 4 factories have been identified as having had staff with confirmed
coronavirus
infections.
One factory was identified as SK SK hynix Inc., the world's No. 2 memory chipmaker It has close to 3,000 workers in its its Incheon campus, about 70 kilometers south of Seoul. 800 of its workers have been made to go into self-quarantine over new
coronavirus
asked after one of it workers develop severe symptoms and was hospitalized.
On an another note, University campuses in
South Korea
have the potential to become hotbeds for the
coronavirus
when nearly 70,000 Chinese students return for the spring semester, according to medical experts and university officials.
The educational officials said their campuses cannot be properly quarantined or monitored as the schools are not equipped to manage possible infectious outbreaks, stressing that any infected Chinese nationals could easily give the virus to other students when they come into close contact with one another.
Medical experts said stopping the inflow of possible
coronavirus
carriers to the universities was the most effective way to contain the virus.
Korean Medical Association (KMA) President Dr Choi Dae-zip told
Thailand Medical News
,"As long as the number of deaths and confirmed cases keeps rapidly rising in China, the government should block people from the mainland including university students who have yet to come to
South Korea
."
Dr Choi said the country already faces the risk of community infections as many of the newly confirmed cases are presumed to be from domestic transmission. In this situation, stopping the inflow of carriers from abroad is ultimately the most effective approach to control the further spread of the
coronavirus
. With this week's surge in the number of infected people, the Ministry of Health and Welfare announced that the coronavirus has begun spreading locally, but with a limited scope.
Dr Choi said, "We understand China is a major trading partner, and the students' right to be educated is also important. There is a chance to hurt our economy and the relations with educational institutions between the two countries, but we, as doctors, believe nothing is more important than public safety."
Many Korean infectious disease experts also said restrictions on travelers from China should be implemented, unless stricter monitoring is introduced.
Prof. Dr Kim Woo-ju of
South Korea
University Guro Hospital said, "We can ask Chinese students to submit their medical certificate from the immigration procedure, if the government feels pressure to implement the entry ban immediately,"
Dr Kim said that stopping their inflow was the priority to contain the
coronavirus
, but if the government can't do so for some reasons, then they should closely monitor the health of Chinese students in order to prevent campuses from becoming hotbeds for the virus. University officials expressed their difficulties in doing this as the schools are not equipped with effective methods of monitoring or controlling possible infections.
South Korean
epidemiology experts are warning that the during the next few weeks , a similar situation to what happened in Wuhan is expected to be replicated to a certain degree in Daegu.
For more updates on the
South Korea Coronavirus
epidemic, keep on checking at :
https://www.thailandmedical.news/articles/coronavirus