Candida Albicans is opportunistic pathogenic yeasts that is found worldwide but most commonly compromises immunocompromised individuals with serious diseases such as HIV and cancer. It is ranked as one of the most common groups of organisms that cause hospital-acquired infections especially with patients that have recently undergone surgery, a transplant ,in the Intensive Care Units or have undergone Dental inplants or denture procedures.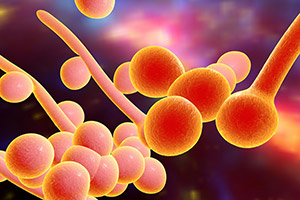 These patients predominantly develop oropharyngeal or thrush candidiasis, which can lead to malnutrition and interfere with the absorption of medication. Modes of transmission include mother to infant through childbirth, people-to-people acquired infections that most commonly occur in hospital settings where immunocompromised patients acquire the yeast from healthcare workers and has a 42% incident rate. Men can become infected after having sex with a woman that has an existing vaginal yeast infection.
[
Parts of the body that are commonly infected include the skin, genitals, throat, mouth, and blood.
[
Distinguishing features of vaginal infection include discharge, and dry and red appearance of vaginal mucosa or skin. The fungus also causes denture-related stomatitis, a fungal infection that affects nearly 60% of all denture wearers that causes inflammation, redness and swelling in the mouth.
Candida
continues to be the fourth most commonly isolated organism in bloodstream infections. The fungal infection is also becoming extremely resistant to current drugs available and is also contributing to high mortality rates.
Researchers at University at Buffalo and Temple University, both in America have come up with a novel approach to treating the fungal infection by starving the fungal of an essential nutrient that it needs in order to flourish, Iron. Limiting Iron that is an crucial element, affects the organism's survival.
The research team limited iron presence in a host by using D
eferasirox
, a medication used to treat blood disorders. In an animal model, the results were promising, investigators decreased iron levels in saliva by four times, which altered the expression of more than 100 genes by the fungus, diminished its ability to infect oral mucosal tissue and caused a two-fold reduction in the organism's survival rate.
"In the absence of new drug candidates, drug repurposing aimed at using existing drugs to treat diseases is a promising strategy," said Mira Edgerton, DDS, PhD, co-lead investigator of the study and research professor in the Department of Oral Biology at the UB School of Dental Medicine in an exclusive phone interview with Thailand Medical News.
Candida albicans relies heavily on saliva as a source for essential elements. Iron, the second most abundant metal in saliva, is a critical nutrient used by the fungus in several cellular processes, including energy production and DNA repair.
In the animal model study, it was found that Candida albicans in the specimens who received the treatment were less likely to survive attacks by the immune system, subsisting at a 12 percent survival rate compared to a 25 percent survival rate in specimens that did not receive the treatment.
The therapy also altered the expression of 106 genes by the fungus, a quarter of which were involved in the regulation of iron metabolism, directly regulated by iron or had iron-related functions. The study is the first report of iron starvation affecting gene expression of Candida albicans in real time during live infection.
Existing research have shown that treatment with
Deferasirox
does not result in iron deficiency in adults with normal iron levels, forming the potential for preventative treatment for those who are also vulnerable to mucosal infections.
Journal Reference: Sumant Puri, Rohitashw Kumar, Isolde G. Rojas, Ornella Salvatori, Mira Edgerton. Iron Chelator Deferasirox Reduces Candida albicans Invasion of Oral Epithelial Cells and Infection Levels in Murine Oropharyngeal Candidiasis. Antimicrobial Agents and Chemotherapy, 2019; 63 (4) DOI: 10.1128/AAC.02152-18