LATEST! SARS-CoV-2 BA.5 Infections And Hospitalizations Rising Exponentially In Australia, Japan, United States And Elsewhere Globally
The BA.5 variant that is already now known to be more transmissible, more immune evasive and with an altered pathogenesis is at the moment causing a massive surge in daily new infections around the world and with many governments simply either concealing true data or are downplaying the seriousness of the surge and are simply asking everyone to take extra booster shots with claims that it prevents disease severity and risk of mortality.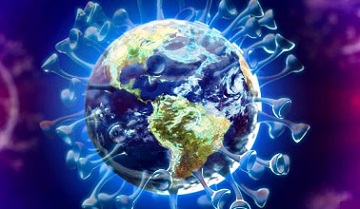 This can be misleading as in reality, the new BA.5 variants and its emerging subvariants are only causing disease severity in the vulnerable groups ie the aged, the very young, the obese and those with other comorbidities.
For the rest, many will experience only mild symptoms including coughs, headaches, body pains, slight fevers and even symptoms associated with meningitis as the new variant is more neuropathogenic, but all these will resolve in a few days. The key issue is that the new BA.5 variant and its emerging subvariants are likely to cause more serious long-term issues especially in terms of neurological, cardio, gastro, nephron and immune aspects than previous variants as emerging preliminary data is showing so.
Long COVID is going to be a major issue after this surge that is likely to be followed in succession with surges involving the BA.2.75. BA.2.77, BA.2.78 variants and also newer BA.5 subvariants.
Australia is one of the most affected countries with 45,173 new COVD-19 cases detected in the last 24 hours of which 5,151 were hospitalized including 103 new ICU cases. A total of 102 Australians died in the last 24 hours and the Australian healthcare sector is at a highly stressed situation with many hospitals turning away patients.
https://www.abc.net.au/news/2022-07-23/covid-19-case-numbers-from-around-the-states-and-territories/101263538
In Japan, health authorities reported more than 195,420 new COVID-19 infections in the last 24 hours with 64 deaths, Of the new cases detected, 106,903 required hospitalization due to disease severity! It should also be noted that home testing with rapid antigen kits were not included in the reported figures.
https://corona.go.jp/en/dashboard/
In the United States, where true figures of the actual COVID-19 scenario are hard to get by due to a concerted effort by the Biden administration to conceal real data, it was reported that only a mere 174,299 COVID-19 infections and 604 deaths in the last 24 hours. (many are speculating that the real figures could be as high as 2.4 to 3.2-fold!)
It was reported that there are only about 43,024 individuals hospitalized for COVID-19 in the whole of the United States, of which only about 4,902 are in ICU.
https://charts.medriva.com/us/
France saw 105,343 new COVID-19 infections and 133 new COVID-19 deaths in the last 24 hours.
https://ourworldindata.org/coronavirus/country/france
In Germany, 91,163 new COVID-19 infections were reported in the last 24 hours with 92 deaths.
https://ourworldindata.org/coronavirus/country/germany
&am p;nbsp;
Canada, South Korea, India, Indonesia and Mexico are among the many other countries also witnessing a new surge caused by the BA.5 variant.
In Thailand, the official fake news disseminated by the authorities states only 2,578 new COVID-19 infections and 29 deaths in the last 24 hours while both the private and public hospitals are painting a different scenario with private hospitals already saying that they have run out of hospital beds for COVID-19 patients. Local temple crematoriums are also showing a different story with a long daily list.
The local authorities could not even contain a Nigerian primate who entered the country with monkeypox and had travelled extensively from Bangkok to Chiangmai to Phuket before being discovered that he had monkeypox and had run away and is currently thought to be in Sa Keow province, happily spreading the disease along his travels in Thailand. Why are people from high risk countries like Africa, United Kingdom and Germany still being allowed into the country is still everyone guess, after all we have greedy and corrupted morons in charge!
For The latest SARS-CoV-2 news, keep on logging to Thailand
Medical News
.