A new clinical study from Northwestern Medicine and Mayo Clinic has shown that
hematopoietic stem cell
transplant is able to reverse a debilitating neurological disease formerly classified as a rare subtype of multiple sclerosis (MS) known as
neuromyelitis optica
(NMO). Most of the patients who underwent the stem cell protocol, maintained treatment success 5 years after the transplant and were able to avoid expensive drug treatment cost that can sometimes be more than half a million US dollars a year.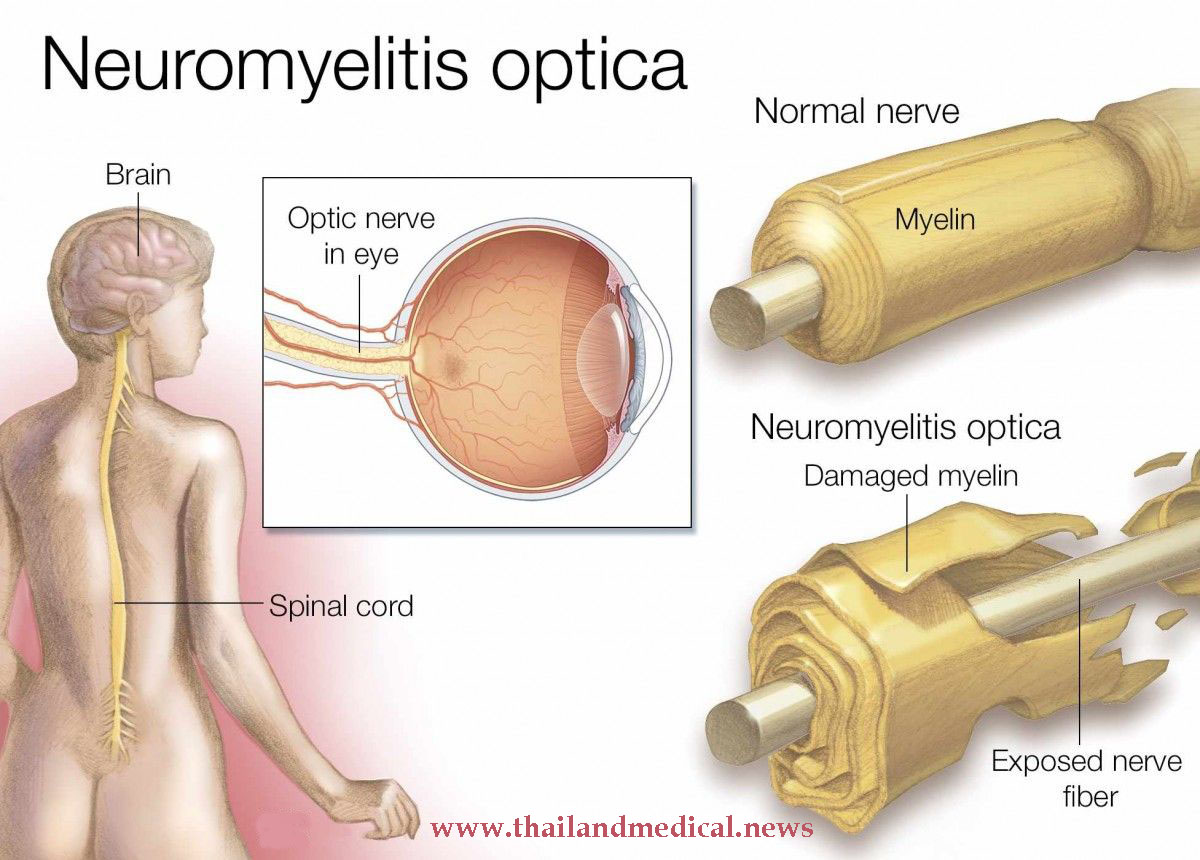 Neuromyelitis optica
also known as
Devic's disease
, is an autoimmune disorder in which the immune system and antibodies primarily attack the optic nerves and the spinal cord, but might also attack the brain.
2
Approximately half of patients with NMO lose their sight and the ability to walk 5 years after diagnosis. The cause of
neuromyelitis optica
is usually unknown, although it may sometimes appear after an infection, or it may be associated with another autoimmune condition. Unlike MS and most other autoimmune diseases, NMO has a biological marker, AQP4, that correlates with disease activity.
Neuromyelitis optica
may cause blindness in one or both eyes, weakness or paralysis in the legs or arms, painful spasms, loss of sensation, uncontrollable vomiting and hiccups, and bladder or bowel dysfunction from spinal cord damage. Children may experience confusion, seizures or coma with NMO.
Neuromyelitis optica
flare-ups may be reversible, but can be severe enough to cause permanent visual loss and problems with walking.
The incidence of
Neuromyelitis optica
per 100,000 population ranged from 0.053 to 0.40, while the prevalence per 100,000 population ranged from 0.52 to 4.4. The disease appears to occur more often in populations of African, East Asian, and Latin American descent than in other populations.In the US roughly about 7680 individuals were diagnosed with the disease in 2018 while in China, about 31,270 individuals were diagnosed with it in 2018, Korean and Japan had about 25,600 and 11,000 cases respectively.
The new
stem cell
protocol showed positive treatment results. After the
stem cell
transplant, patients no longer had discernable AQP4 in their blood. No other prior therapy has led to a complete removal of AQP4 or allowed patients to become treatment free, according to the authors.
The study which was published in
Neurology
, involved a clinical trial that included 12 patients with
Neuromyelitis optica
, who received the
stem cell
transplant. After 5 years, only 2 of the 12 relapsed and had to return to therapy.
This would mark the fourth chronic disease that hematopoietic
stem cell
transplantation (HSCT) has appeared to reverse, the researchers told
ot;background-color:#FFFF00">Thailand Medical
News. In this transplant,
stem cells
are taken from the patient's bone marrow or blood, and their immune stem is wiped out with chemotherapy. Next, their
stem cells
are reintroduced to the body where they migrate to the bone marrow, allowing their immune system to reset.
The researchers found in a previously-studied randomized clinical trial published in
JAMA
earlier this year,
HSCT
reversed neurologic disability. Over 5 years, it was found to have slowed, or in most patients, prevented further progressive disability or evidence of new disease activity in relapsing-remitting MS. Other diseases HSCT has reversed are systemic sclerosis and chronic inflammatory demyelinating polyneuropathy, according to the press release.
The new hematopoietic
stem cell
transplant is not yet approved by the US FDA. The team has already patented the protocol and will be conduction further trials before submission for regulatory approvals.
References:

Stem cell transplant reverses disabling MS-like disease [press release]. Northwestern website. Published October 07, 2019. https://news.northwestern.edu/stories/2019/10/stem-cell-transplant-reverses-disabling-ms-like-disease/. Accessed October 11, 2019.

Neuromyelitis Optica (NMO). National MS Society website. https://www.nationalmssociety.org/What-is-MS/Related-Conditions/Neuromyelitis-Optica-(NMO). Accessed October 11, 2019.