Foreign Patients Coming To Thailand Warned About Using Online Medical Tourism Agencies and Brokers
Thailand Medical Industry over the last few years has earned itself a pride as being among the best and the cheapest places in the world for a variety of medical procedures and treatments. With the most number of JCI accredited hospitals with international standards never seen elsewhere and the most number of specialized doctors and the cheapest drug costs in the world, even surpassing India, it is no wonder that Thailand has emerged as one of the leading medical tourism destinations in the world.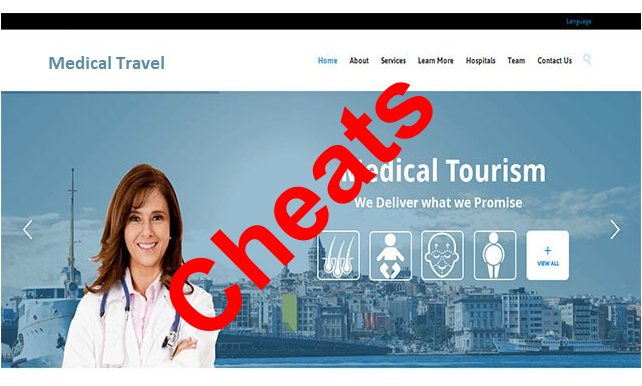 Patients fed up with the healthcare structures in countries like America, Britain, Canada and Australia are coming in droves to Thailand for complex medical procedures that would take a long time just for a queue back home in their countries. Whereas for a fraction of the costs, they are attended to immediately in Thailand and are paid attention to in detailed with regards to their medical needs.
But as
Thailand Medical Tourism
industry booms, a host of other problems have also emerged. Unscrupulous so called Medical Tourism Brokers, Medical Guides, Medical Travel Online Sites and so called experts or specialists who have no proper medical qualifications of any kind have sprung up just to take advantage of desperate patients and make a huge lump of fast money.
Unfortunately, the local Thai Government has not stepped in to regulate this sector unlike in the case of tour guides where the profession is only restricted to Thais with the necessary training and skills.
Hence you have lots of online websites and so called medical experts online from countries like Singapore, Australia, Britain and even America running websites offering medical procedures and packages to Thailand at inflated prices. Some are operated by Australians and British nationals operating out of locations like Phuket and Singapore. Most of them have deals with local greedy Thai doctors or hospitals where rates are highly inflated up and the agencies get a commission from the doctors or hospitals that they direct patients to. There are also cases where there are lot of additional payments that the patients need to pay either to the online sites or to the hospitals or doctors for what is known as add on costs etc. that was not mentioned in the original quotes. Some patients are made to believe that certain advertised rates or the rates given by these online sites are the best when in actual reality if the patients had bothered to "shop " by themselves and checked with the hospitals and even negotiated by themselves, they would have got an even cheaper and better deal.
In Singapore a couple a years ago, there were similar cases of "medical brokers'" who were conducting similar ways to make monies off gullible foreign patients but with so many complains emerging and media coverages of such cheating going on, the local government stepped in and many of these brokers were exposed and some were charged by the Singapore Police.
In Thailand however, the local Thai government has yet to do anything to regulate this sector and it could end up paying dearly if Thailand's Medical Tourism Industry is tarnished by these greedy medical tourism brokers.
Already there has been a number of cases of complaint by foreign patients in Thailand complaining that they had been cheated by such establishments. A number of Australian and British patients have been cheated by an online medical travel agency run by an Australian and a British out of Phuket and Singapore and they tend to use media coverages to even boost credibility to their operations. Some of the media that they are covered by are actually illegal online media (Thai laws states that foreigners are not allowed to own any media including online portals that covers Thailand news).
Foreign patients must not be mislead by websites that advertise certain Thai doctors as being the best in a particular field. Real Thai doctors that are good in their field need not advertise as they are usually well known and already have a long queue of patients. Its is only the greedy doctors that do not have much patients and are not really good in their field that are in cahoots with such online medical brokers and sites.
Foreign patients are advised to do both online and offline diligence, get hold of the hospitals and call about rates directly and also check about the doctors etc and negotiate and book directly.
Thailand Medical News
provides for free, information on
hospital
and doctors listings and soon we will be having a detailed lists of all medical procedures and pricings, and also a detailed lists of all clinics for free.
The
best hospitals in Thailand
have websites are in English and even other languages and their call centres are all equipped with staff that are fluent in a variety of languages. And if you fear that you might even need a person to be next to you, these hospitals have even 'medical buddies' that will be with you and to offer moral support and care at no additional rates as its part of the service.
If you feel that you have been cheated by an online medical tourism site or medical travel site by the past ie with inflated billings or even if you have given an quote that you feel is too high, immediately make a report to the nearest tourists police office or to Thai Consumer Board. Remember, you do not need a middleman or site to arrange your medical procedures, its best you do it yourself.
Editor's Note: Thailand Medical News is spearheading along with certain other organizations and also certain hospital groups a platform in which we are lobbying the Ministry Of Public Health, The Tourism Ministry, The Thai Tourists Police and The Thai Internet Police and also The Thai Immigration Police to look into such Foreign Owned Online Medical Travel and Medical Tourism Brokers and also brokers residing in Thailand inorder to regulate the industry and also restrict it as the rising number of foreigners being cheated might end up tarnishing Thailand's Medical Tourism Industry.