COVID-19 News: What's Going On In Australia? Death Rates Are Still High And No One Is talking About The XBF And BR.2 Variants In Circulation There!
COVID-19 News
: While the world is more engrossed about the XBB.1.5 recombinant variant just because it was given some stupid nickname "Kraken" after mythological Nordic sea monster by some Canadian 'expert' on twitter who most probably had some deep serious childhood psychological issues and also some social depravity issues but is now relishing his new found status on twitter along with the Kraken fan club!, the public should not be mislead to assume that it is the only worrisome variant at the moment as literally every SARS-CoV-2 subvariant or sub-lineage that is in circulation around and also the newly emerging variants are just as bad irrespective as to whether they are more immune evasive or not, have enhanced ACE2 binding or not ….as we do not know a single thing about the detailed pathogenesis of these subvariants and sub-lineages and the kind of damage that are capable of inflicting on the human host whether immediately or over time. We already have so much data at present to validate that the various sub-lineages can cause a whole range of health issues in people over time irrespective of asymptomatic or even mild infections and those in the vulnerable groups will also be susceptible to disease severity irrespective of whatever sub-lineage they get infected with.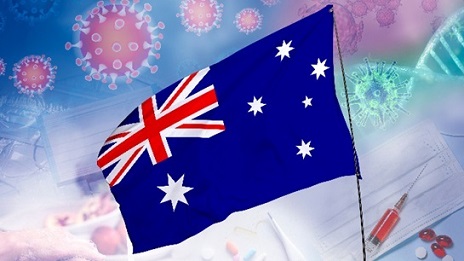 The Western world obsession with the Kraken variant is concerning as there are so any other variants and sub-lineages that is wreaking havoc in various parts of the world but there is no much attention being focused on these regions or countries while the health and government authorities are getting way with how badly the COVID-19 crisis is being managed there!
Australia is one such country. Just in the week ending 3
rd
of January 2023, more than 223 Australians have died from COVID-19. Mind you, because of reporting methods and also unscrupulous directives to keep COVID-19 death rates down, the actual death rates could be much higher!
https://www.abc.net.au/news/2023-02-03/covid-19-case-numbers-from-around-the-states-and-territories/101926530
We covered quite a bit about the situation in Australia in an earlier
COVID-19 News
coverage which we hope readers will read first to get a proper perspective about what is really brewing in Australia.
https://www.thailandmedical.news/news/covid-19-news-australia-is-another-country-that-is-not-transparent-with-its-covid-19-data-as-new-variants-br-2-1,-xbf-and-ch-1-1-are-wreaking-havoc
Some Australian health academics and experts say that at present, an Australian is dying from COVID-19 every 26 minutes and that 1,799 Australians have died from COVID-19 in the first 34 days of 2023!
https://twitter.com/k_eagar/status/1621462544094470144
Excess deaths in Australia due to COVID-19 keeps increasing and many reports are cautioning ab out these.
https://www.theguardian.com/australia-news/2022/dec/09/two-thirds-of-15400-extra-australian-deaths-in-2022-caused-by-covid-study-finds
https://www.wsws.org/en/articles/2023/01/23/ttqb-j23.html
https://theconversation.com/thousands-more-australians-died-in-2022-than-expected-covid-was-behind-the-majority-of-them-196281
https://www.news.com.au/lifestyle/health/health-problems/excess-deaths-in-2022-incredibly-high-at-13-per-cent/news-story/2a33dfeeb7476765da4e237c59f59bf7
There is a lot of speculations that death rates at various nursing homes across Australia are at phenomenal levels and there is massive coverups by the health authorities about these.
https://twitter.com/MarcTennant/status/1621679276365053953
https://www.latrobe.edu.au/events/all/the-human-crisis-in-australias-aged-care-homes
https://twitter.com/PeterTOWNSV1LLE/status/1505359587532509190
Hospitalizations rates and infections are still high and with Autumn fast approaching, it is expected that Australia could be in a for a tough cool season and also a winter that could be catastrophic.
The SARS-CoV-2 BR.2 variant is still the dominating variant in circulation followed by the XBF recombinant variant and the BQ.1.1 variant.
https://outbreak.info/location-reports?xmin=2022-08-05&xmax=2023-02-05&loc=AUS
for some details about these variants:
https://www.thailandmedical.news/news/covid-19-news-australia-is-another-country-that-is-not-transparent-with-its-covid-19-data-as-new-variants-br-2-1,-xbf-and-ch-1-1-are-wreaking-havoc
There is not much details about the BR.2 or XBF variant although some data indicates that the XBF variant is more transmissible than the XBB.1.5 variant due to its better binding to the ACE2 receptors.
https://twitter.com/RajlabN/status/1618773144566927360/photo/1
Despite the XBF variant causing a degree of havoc in Australia with suspicions that it is fueling disease severity, there has been no studies conducted about the effectiveness of the current vaccines and boosters against it.
https://twitter.com/EnemyInAState/status/1622028604807725062
The XBF variant has spread and is increasing in circulation in Sweden, Denmark, Austria and even in the United Kingdom now where again it seems to be driving disease severity in those infected with this recombinant variant but still there are no detailed studies about it as focus has only been on the Kraken variant.
Even in East Asia, where the various BA.7 and BA.5.2 variants are still in circulation and driving hospitalizations and deaths including in Taiwan, Hong Kong and Japan, no much is written about these variants as the focus is still on the Kraken variant that emerged in New York.
Thailand Medical news has written a fair bit about all the new BF7, BF5 and BA.5.2 sub-lineages (please use TMN search to locate BF.7.14, BF.7.14.1, BF.7.15, BF.5.1, BF.5.2, BA.5.2.48, BA.5.2.49, BA.5.2.50 and DY.1.
Interesting new data has shown that most of these new East Asian sub-lineages were indeed contributing to increased disease severity and mortality as we had been warning earlier.
https://twitter.com/RajlabN/status/1621223418115891200
https://twitter.com/rmchavin/status/1621599496668069889
So instead of just focusing on the Kraken variant, maybe its time that some of the esteemed researchers also start focusing on the other variants including the XBF, BR.2 and the various East Asian variants that are in circulation and also the various new emerging sub-lineages as we do not have much data about immunity evasiveness, pathogenesis etc about these.
We will be providing more updates shortly about the situation in Sweden, Denmark, Japan, Taiwan, United States and the United Kingdom, where SARS-CoV-2 is still wreaking havoc 'silently'!
For the latest
COVID-19 News
, keep on logging to Thailand Medical News.