Covid-19 Clinical Care: Doctors Warned About Using ECMO On Covid-19 Patients Due To Lymphopenia
Covid-Clinical Care
: Medical researchers are reporting that Initiation of extracorporeal membrane oxygenation (ECMO) may result in decreases in lymphocyte numbers and immunity function, which can be associated with increased severity of Covid-19.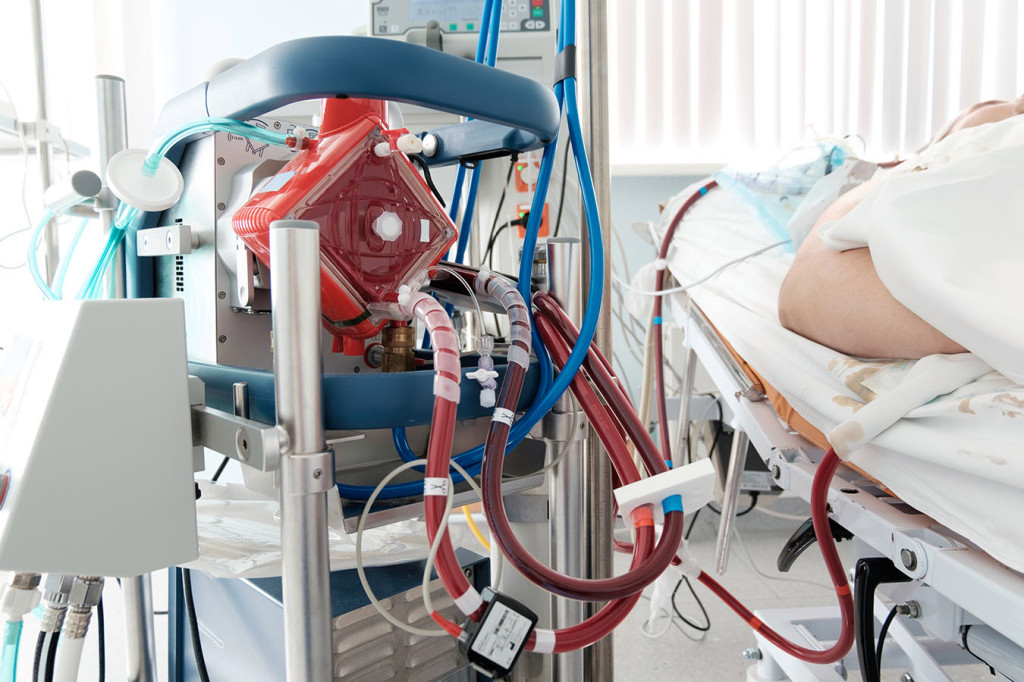 Extracorporeal membrane oxygenation (ECMO), also known as extracorporeal life support (ECLS), is an extracorporeal technique of providing prolonged cardiac and respiratory support to persons whose heart and lungs are unable to provide an adequate amount of gas exchange or perfusion to sustain life.
The technology for ECMO is largely derived from cardiopulmonary bypass, which provides shorter-term support with arrested native circulation.
Typcially, ECMO works by removing blood from the person's body and artificially removing the carbon dioxide and oxygenating red blood cells. Generally, it is used either post-cardiopulmonary bypass or in late-stage treatment of a person with profound heart and/or lung failure, although it is now seeing use as a treatment for cardiac arrest in certain centers, allowing treatment of the underlying cause of arrest while circulation and oxygenation are supported.
A report published online in the
The Lancet Respiratory Medicine
Journal by Dr Brandon M. Henry from Cincinnati Children's Hospital Medical Center in Ohio urges caution when using ECMO in patients with COVID-19, especially in the face of lymphopenia.
https://www.practiceupdate.com/content/covid-19-ecmo-and-lymphopenia-a-word-of-caution/97900/45
Based on the clinical observations of the recognized impact of ECMO on lymphocytes, along with the hypothesis that repletion of lymphocytes might be key to recovery from COVID-19, Dr Brandon M. Henry also recommends close monitoring of lymphocyte counts in patients receiving ECMO.
He also cites a paper in
Intensive Care Medicine
by Dr. Quirong Ruan and colleagues from Tongji Medical College, Wuhan, China, reporting significantly higher interleukin-6 concentrations in COVID-19 non-survivors, compared with survivors.
https://link.springer.com/article/10.1007%2Fs00134-020-05991-x
It was seen that IL-6 concentrations are also elevated during ECMO, he points out, and these concentrations are inversely correlated with survival in children and adults. Elevated IL-6 concentrations in the lung induced by ECMO have been associated with parenchymal damage in animal models.
Although the data collated is not robust enough to discourage the use of ECMO in COVID-19, he says "the immunological status of patients should be considered when selecting candidates for ECMO."
He commented, "More reports are needed to understand the potential benefits or harms of extracorporeal life support in severe COVID-19 and future authors should be encouraged to provide more data for this subset of patients. Clinicians should consider tracking both lymphocyte count and IL-6 during ECMO to monitor patie nt status and prognosis."
For more on
Covid-19 Clinical Care
, please keep logging on to
Thailand Medical News
.
Urgent Appeal: Please help support this website and also our initiatives in propelling research and developments by making a small donation via paypal. Your gestures are greatly appreciated.
https://www.thailandmedical.news/p/sponsorship