COVID-19 Asean News: Indonesian Researchers Find That Fasting Blood Glucose Levels Upon Hospitalization Linked To COVID-19 Severity
COVID-19 Asean News
: A team of Indonesian researchers from the Universitas Indonesia in Jakarta has found that the fasting blood glucose (FBG) levels are tied to poor prognosis in COVID-19 patients.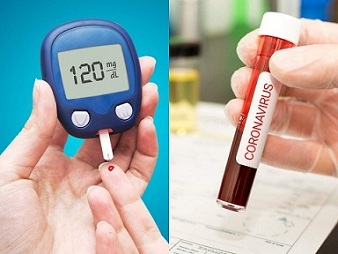 The research findings are published on a preprint server and have yet to be peer reviewed.
https://www.medrxiv.org/content/10.1101/2020.09.25.20200774v1
The study team aimed to determine the prognostic value of blood glucose in predicting outcomes in COVID-19 disease, caused by the SARS-CoV-2 coronavirus. The researchers wanted to investigate the poor composite outcomes in patients admitted in the hospital due to the viral infection, including severity and mortality.
A past study had associated diabetes with the development of severe COVID-19, which may lead to serious complications and even death. Individuals with diabetes are not more likely to contract the infection. However once infected, they are twice as likely than others to develop a severe infection and are at a higher risk of being admitted to the intensive care unit.
The COVID-19 has significantly impacted individuals living with diabetes through their finances, food and medication scarcity, and burden on mental health. Aside from that, they are at an elevated risk of developing serious complications if the virus infects them.
In order to arrive at the study findings, the study team included and studied all eligible studies evaluating the prognosis of COVID-19 patients with fasting blood glucose (FBG) and random blood glucose (RBG) upon admission. The studies tackled on using FBG and RBG levels in predicting COVID-19 outcomes.
The study team collated 35 studies involving a total of 14,502 patients and through detailed meta-analysis found that there is an independent relationship between admission FBG and severity of COVID-19.
It was found that high admission fasting blood glucose or FBG increased the risk of poor outcomes by as much as 20 percent.
However, the study team was unable to establish strong proof as the observed heterogeneity remained unclear.
Importantly in terms of severity, the research team also found that high levels of admission FBG have been tied to an increased risk of developing severe COVID-19 infection by more than three-folds.
Significantly, each 1 mmol/L increase in fasting blood glucose or FBG levels heightened the risk of developing severe coronavirus infection by 33 percent!
The researchers also noted that the effects were more highlighted in patients without a medical history of diabetes, where high levels of FBG upon admission elevated the risk of poor COVID-19 outcomes for diabetic patients by 10 percent, and non-diabetic patients by a staggering 75 percent.
Corresponding author, Dr Gilbert Lazarus from the Faculty of Medicine, Universitas Indonesia-Jakarta, told Thailand Medical News, "High level of fasting blood glucose or FBG at admission was independently associated with poor prognosis in COVID-19 patients. Further researches to confirm the observed pr ognostic value of admission random blood glucose or RBG and to ascertain the estimated dose-response risk between admission FBG and on COVID19 severity is required."
Interestingly, further analysis indicated that the observed effects were more accentuated in patients without prior history of diabetes; which was intriguing, considering the fact that there was as increasing proportion of COVID-19 patients presenting with hyperglycemia despite having no prior diabetic history. Furthermore, the findings indicated that at-admission hyperglycemia was associated with poorer outcomes regardless of prior diabetes status, suggesting the
existence of a more direct link between glycemic status and poor COVID-19 outcomes
.
The relationship between COVID-19 severity and hyperglycemia is possibly bidirectional, wherein infection might bring about state of stress and trigger an enhanced release of proinflammatory cytokines which may lead to insulin resistance. Stress may also induce the release of stress hormones which trigger liver glycogenolysis, aggravating the effects. Furthermore, SARS-CoV-2 is known to bind to angiotensin-converting enzyme 2 (ACE2) receptors, which are found to be expressed in pancreatic beta-cells, thus rendering it a target for the viral attack. Such binding provides a route for the virus to enter and damage the pancreatic islets, resulting in a defect of insulin production, as indicated in previous study with its SARS virus counterpart. Together, these factors may contribute to the development of acute hyperglycemia in COVID-19 patients.
The mechanism by which acute hyperglycemia drives the progression of COVID-19 remains largely unexplored. A past study found that a decline in respiratory parameters was most responsible for mediating the effects of hyperglycemia on the outcome. Diabetes and hyperglycemia were previously known to induce structural changes in the lungs, giving rise to pulmonary remodelling and the subsequent restrictive respiratory pattern.
https://onlinelibrary.wiley.com/doi/full/10.1002/dmrr.3346
Moreover, hyperglycemia is also known to generate reactive oxygen species and induces oxidative stress, leading to endothelial dysfunction which may cause further hyperglycemic pulmonary microangiopathy.
https://pubmed.ncbi.nlm.nih.gov/14991101/
https://pubmed.ncbi.nlm.nih.gov/27834824/
This is in line with the past findings which demonstrated that inflammation and coagulopathy, rather than impaired antibody response as such present in individuals with diabetes, were more responsible in aggravating the outcomes.
https://link.springer.com/article/10.1007/s00125-020-05284-4
Therefore, this explains the poorer prognosis found in hyperglycemic patients without prior diabetic history, and again supporting the direct link between glucose level and disease progression.
The study team further stated that the findings show the potential use of admission blood glucose as a predictor for poor prognosis in COVID-19 patients.
For more on
COVID-19 Asean News
, keep on logging to Thailand Medical News.