BREAKING! White House Official Says America In A Very Vulnerable State Unless New Updated Vaccines Materialize. 120,605 New Infections In Last 24 Hours!
U.S. COVID-19 News
: Dr Ashish Jha, MD, the White House COVID-19 response coordinator told media last week that the United States is increasingly becoming vulnerable to the new emerging SARS-CoV-2 variants if Congress doesn't approve new funding for more updated vaccines and new treatments, the coming fall and winter could be catastrophic.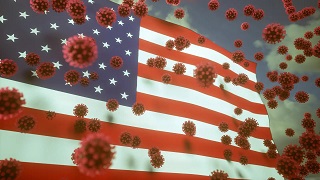 Dr Jha said booster doses will be necessary for most individuals as immune protection wanes and the virus adapts to become more contagious. In addition, a new generation of shots may be needed for better protection against new variants.
He told media, "As we get to the fall, we are all going to have a lot more vulnerability to a virus that has a lot more immune escape than even it does today and certainly than it did six months ago. That leaves a lot of us vulnerable."
Already the new BA.2 subvariant ie BA.2.12.2 is not only fast spreading in the United States especially in the North Eastern States but is been found that this subvariant is now even evolving and spawning newer sub-variants with some spotting concerning mutations including the P681 R mutation. To date, scientist have identified 7 such subvariants and unofficially labelled them as BA.2.12.1.1 to BA.2.12.1.7 (It is hilarious as one tweeter had commented that soon some of these new evolving subvariants will have names longer than one's IP address!)
These new subvariants and also the new BA.4 variant and its subvariants along with the BA.5 variant is exhibiting almost complete immune evasiveness and also different pathogenesis. While these new variants and subvariants will definite cause more deaths in United States and elsewhere in coming weeks, caution has to be noted that by the way the virus is evolving, the potential for more lethal variants to emerge especially by fall and winter is very likely.
President Joe Biden also ordered flags to fly at half-staff through May 16 to mark 1 million U.S. COVID-19 deaths during the pandemic.
Shockingly, last week, the White House released an estimate that up to 100 million Americans could become infected with the coronavirus during the fall and winter, which could lead to major surges in hospitalizations and deaths.
Dr Jha noted that the next generation of vaccines, which would likely focus on the Omicron variant, "are going to provide a much, much higher degree of protection against the virus that we will encounter in the fall and winter." At the same time, if Congress doesn't pass legislation to support new funding in coming weeks, the U.S. could lose priority to other countries in securing vaccine supply.
The Biden administration in March requested US$22.5 billion for coronavirus assistance, which has stalled in Congress for several reasons, including a call from Republicans to strip $5 billion in global aid. Jha told the AP that he has spoken with lawmakers in recent weeks, saying the current $10 billion proposal is "the bare minimum that we need to get through this fall and winter without large loss of life."
Dr Jha also called for the U.S. to provide vaccine assistance to other countries to slow the spread of additional variants and mutations.
"All of these variants were first identified outside of the United States," he said. "If the goal is to protect the American people, we have got to make sure the world is vaccinat ed. I mean, there's just no domestic-only approach here."
It was reported that the U.S. FDA is scheduled to meet in June to decide which strains of the coronavirus will be targeted in vaccines manufactured for the fall, the AP reported. Jha said it takes two to three months for manufacturers to develop the shots, so the decision must be made in the summer to prepare for the fall. At this time, he added, the U.S. has run out of federal COVID-19 response funds to order new batches of vaccines.
Dr Jha said, "If we had the resources, we'd be there having those conversations today. The window is really closing on us if we want to be in the front of the line."
Dr Jha took over the White House COVID-19 response coordinator role a month ago. He said there is "no viable alternative path" right now than for the U.S. government to lead the procurement of COVID-19 vaccines and treatments, rather than allowing the commercial market to handle it.
In the mean while latest

U.S. COVID-19 News

reports that American COVID-19 infections is rising by 24 percent and hospitalizations by 10 percent compared to last week. breakthrough deaths also rising!
In the last 24 hours, 120,605 new COVID-19 Infections and 271 COVID-19 deaths were reported in the United States
.
https://charts.medriva.com/us
However, these figures are not reliable as free testing is now not available in many states and also in some states, there is no access to rapid test kits not to mention that some states are not even reporting COVID-19 infection data for the last week or so!
As of press time, it was reported that infections and hospitalizations are rising in 47 states across America!
Experts serving those controlling the COVID narratives are now singing the tune that despite infections rising, death rates are not so high, hence there is no cause for alarm. However, the fact that hospitalizations are rising and also many people are these days dying months after so called recovery due to long COVID issues, the excess death rates are painting a different and more concerning scenario.
Also, to compound to the issues, Long COVID is now also increasing among children and with wide range of new clinical manifestations.
People should stop assuming that daily COVID-19 death rates paints how severe the surge is! It's the infection and reinfection rates are gauge how bad things are!
To make matter worse, new reports are emerging about an increase of breakthrough deaths in America.
However, experts are warning that "these data should not be interpreted as vaccines not working!"
It was reported that in August of 2021, about 18.9% of COVID-19 deaths occurred among the vaccinated. Six months later, in February 2022, that proportional percent of deaths had increased to more than 40%!
Furthermore, comparatively, in September 2021, just 1.1% of COVID-19 deaths occurred among Americans who had been fully vaccinated and boosted with their first dose. By February 2022, that percentage had increased to about 25%.
So called 'experts' are saying that the increase in breakthrough deaths is expected with more Americans reaching full vaccination status.
Dr John Brownstein, an epidemiologist at Boston Children's Hospital told media, "These data should not be interpreted as vaccines not working. In fact, these real-world analyses continue to reaffirm the incredible protection these vaccines afford especially when up to date with boosters."
Furthermore, it was noted that many vulnerable Americans are more than one year out from their primary vaccinations and have yet to receive booster doses.
So far, more than 220 million Americans have been fully vaccinated, 100 million of whom have received their first COVID-19 booster. However, about 91.5 million eligible Americans ie about half of those currently eligible, have yet to receive their first booster shot.
The growing increase in breakthrough deaths comes as a large proportion of older Americans enter the hospital for COVID-19 related care.
So far, more than 90% of seniors have been fully vaccinated, but a third of them have yet to receive their first booster shot. Even with overall high vaccination rates in older populations, in recent months, during the omicron surge, 73% of deaths have been among those 65 and older.
Paid health experts are still insisting that vaccines and boosters continue to provide significant protection against severe disease. However, waning immunity re-emphasizes the urgency of boosting older Americans and high-risk Americans with additional doses.
Dr Brownstein added, "This trend in increased risk among the elderly further supports the need for community wide immunization. Older populations, especially those with underlying conditions, continue to be at great risk of severe complications, especially as immunity wanes. The best way to protect them is to make sure everyone around them is fully immunized."
Currently all Americans over the age of 50, immunocompromised people over the age of 12, and people who received two doses of the Johnson and Johnson vaccine, are currently eligible for a second booster.
To date, approximately 10.5 million individuals in the United States have received their second booster dose.
According to data from the U.S. Centers for Disease Control and Prevention, in February, unvaccinated adults were 10 times more likely to die of COVID-19 compared to vaccinated individuals and five times more likely to require hospitalization
However, the CDC claimed that compared to fully vaccinated and boosted adults, unvaccinated people were about 20 times more likely to die of COVID-19 and seven times more likely to require hospitalization.
The new surge of the BA.2.12.1 subvariants along with the BA.4 and BA.5 variants and subvariants will just show how effective all these claims are.
It is projected that close to 70,000 American are expected to die within the next 2 months!
For the latest
U.S. COVID-19 News
, keep on logging to Thailand Medical News.