BREAKING! Scamming Nigerian Variant Called Eta Or B.1.525 Now Fast Spreading And Starting To Become Dominant. More Cases Emerging In India!
The ETA variant that debuts from Nigeria and has a typical "scamming" behavior in the sense that it cannot be detected by many present COVID-19 RT-PCR testing platforms is now worrying virologists and experts from around the world as it starts to become more prevalent in circulation and spread.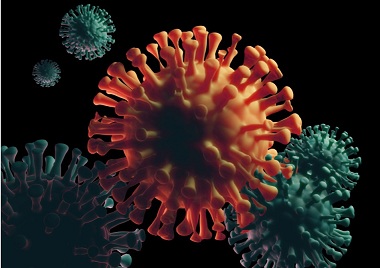 Thailand Medical News first reported about this variant at that time known as the B.1.525 variant when it first emerged in Britain in February 2021.
https://www.thailandmedical.news/news/new-sars-cov-2-variant-b-1-525-with-more-than-20-mutations-including-e484k,-9-non-synonymous-and-69-70-spike-deletion-emerges-in-britain
According to the US Centers for Disease Control and Prevention (CDC), the Eta variant was first identified in Nigeria in December last year.
The
Eta variant
also known as the Variant of Interest VUI-21FEB-03 was given the nomenclature Eta in June 2021 by the World Health Organisation (WHO).
The Eta variant has more than 20 Mutations Including E484K, 9 Non-Synonymous And 69-70 Spike Deletion besides two other deletions as well.
The Eta variant does not carry the same N501Y mutation found in the Alpha, Beta and Gamma but carries the same E484K-mutation as found in the Gamma, Zeta, and Beta variants, and also carries the same ΔH69/ΔV70 deletion (a deletion of the amino acids histidine and valine in positions 69 and 70) as found in Alpha, N439K variant (B.1.141 and B.1.258) and Y453F variant (Cluster 5). It is expected to be upgraded to a status of a variant of concern or VOC in coming days or weeks.
https://covariants.org/variants/21D.Eta

Eta Variant
Eta differs from all other variants by having both the E484K-mutation and a new F888L mutation (a substitution of phenylalanine (F) with leucine (L) in the S2 domain of the spike protein).
The concerning mutations of Q677H, Q52R,and A67V are also found on it.
As of March 5, it had been detected in 23 countries but a recent update in August 7
th
2021 saw that it is now in 68 countries and in countries like India, more cases linked to it are becoming apparent.
Just 48 hours ago, the Indian state of Karnataka confirmed yet another case in the district of Mangaluru in an Indian man that had travelled from Qatar. In late July a case was also reported in Mizoram India.
It should be noted that lots of Middle East countries are now the originating source of the Eta variant to other countries.
India has also reported numerous other cases linked to the Eta variant but experts are warning that here might be more as most RT-PCT testing platforms have not been upgraded to test for it including many in the various South-East Asian countries. To further complicate the situation, India is not doing enough genomic sequencing of infections.
It would also be a major disaster if the Nigerian Eta variant was to recombine with the Indian Delta variant,.... the world might be inundated with a sly, lethal and full of 'hot-air' Democrat Kamala Harris who really does not care about anyone... type of pathogen! (Lol! Just Kidding!)
Interestingly in most cases of those patients found infected with the Eta variant, besides the typical symptoms and lung inflammation, most also exhibited a variety of severe gastrointestinal issues and secondary conditions typically associated with severe IBD and in some cases severe
diverticulitis
and gut microbiota dysbiosis was also observed.
Very often most infected with the Eta variant would develop sepsis, organ failure and eventually die from heart failure ie the mortality rate is extremely high.
According to the U.S.CDC, the Eta variant is "identified to cause significant community transmission or multiple COVID-19 clusters, in multiple countries with increasing relative prevalence alongside an increasing number of cases over time, or other apparent epidemiological impacts to suggest an emerging risk to global public health."
Eta is not the only variant that could play a role in impending surges. The Lambda variant and also the newly emerged Mu and Nu strains that were found in two South-Easts Asian countries but is currently being studied could all be key players besides the emerging second and third generation variants of the Delta lineages.The Mu variant or B.1.621 variant was initailly detected in Colombia but has already spread to certian South-East Asian countries and is still mutating!
It fact a lot more concerning variants have already emerged and the WHO has acknowledged that the Greek alphabets would not be sufficient to cover them all.
In a recent press interview with the Telegraph, Maria Van Kerkhove, the WHO's technical chief for Covid-19, said the UN health agency was already looking at new names for mutations amid fears there will be more concerning variants than the 24 letters of the Greek alphabet. She said that star constellations are the current frontrunner to follow the Greek alphabet, suggesting we could one day see variants known as Aries, Gemini or Orion.
https://www.telegraph.co.uk/global-health/science-and-disease/variants-could-named-star-constellations-greek-alphabet-runs/
Thailand Medical News already predicts that the Omega variant would emerge somewhere February 2022 and become globally dominant by about June 2022 and start wreaking catastrophic havoc.
For those thinking that the COVID-19 pandemic would slow down by the end of the year and that the COVID-19 shots would allow for everything to go back to normal by then, they are going to be in for a rude shock
Already we are getting more and more interesting feedback on a daily basis about the COVID-19 jabs especially from UK and Israel.
https://citizenfreepress.com/breaking/stunning-covid-report-from-israel/
Also the Lambda variant according to a latest Japanese study is also literally resistance to the jabs.
https://www.biorxiv.org/content/10.1101/2021.07.28.454085v1
We should be having fun times ahead and for those who really want for themselves and their loved ones to survive the coming onslaughts, Thailand Medical News will soon be starting one to one COVID-19 survival coaching programme that includes 6 hours of individual personal coaching including guidelines for relevant biomarker and genetic test to be done, developing a full prophylactic regimen including herbs, supplements and repurposed drugs and VIP access to procuring these materials etc. A treatment protocol will also be developed on a personalized basis for those who have already contracted the disease and are looking to not only treat themselves but also to prevent conditions associated with Long COVID-19. All signed and paid participants will also be part of a survivors community that will have access to a variety of services for themselves and their loved ones, including priority medical services at private hospitals in the United States, Europe, Canada, Australia, India, Thailand And Singapore including priority access to oxygen concentrators, high flow oxygen machines, ventilators for both home and hospital use and also AED machines for home use etc. You will also have access to some of the latest state of the art diagnostic devices and also protective devices not available anywhere else. You will also have access to literally any pharmaceutical compound on earth! Coaching packages start at US$8,000 per person limited to only 40 pax for a one to one session. Interested bonafide individuals can email to:
tmnmedicalconcierge@gmail.com
Our parent companies are based in Sydney and Singapore.
For more on the
Eta Variant
, keep on logging to Thailand Medical News.