BREAKING! Italian And American Study Claims That SARS-CoV-2 Has Evolved To Withstand Higher Temperatures!
SARS-CoV-2 Research
: Researchers from University of Verona-Italy, the Provincial Agency for Social and Sanitary Services (APSS), Trento- Italy and the Cincinnati Children's Hospital Medical Center-USA have in a new study found that the SARS-CoV-2 coronavirus has evolved to withstand higher temperatures!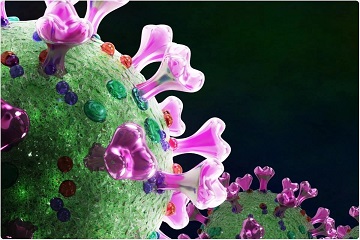 This is bad news as previously, the SARS-CoV-2 spread was not as rampant and exponentially high in the spring and summer months as compared to fall or winter.
The
SARS-CoV-2 Research
team decided to investigate SARS-CoV-2 infectivity in the province of Verona (Italy), during the month of July of the first three pandemic years (i.e., 2020, 2021 and 2022) since the novel coronavirus has undergone a considerable genetic evolution over time.
The daily number of new COVID-19 diagnoses in the province of Verona between July 1-27 of the years 2020, 2021 and 2022 was retrieved from the database of the Regional Healthcare Service, whilst the mean daily air temperature during the same period in the same area was downloaded from an official Italian meteorological website.
Interestingly, it was found that the mean July air temperature in Verona was 24±2°C in 2020, 25±2°C in 2021 and 28±2°C in 2022. The daily number of new COVID-19 diagnoses in the province of Verona increased from 2.5±5.7 in July 2020, to 106.0±71.8 in July 2021, up to 1287.4±509.9 in July 2022. The number of new COVID-19 diagnoses made in the province of Verona in July 2022 has increased by 519- and 12-fold in 2022 compared to the same month of the previous two years, despite the fact that the mean air temperature also notably increased by 18% and 15% compared to the years 2020 and 2021, respectively.
The study findings suggest that the strong evolutive pressure placed on SARS-CoV-2 over time may have fostered the accumulation of mutations that have contributed to evolve and adapt the virus to circulate even at high temperatures, thus calling for reinforcing preventive measures and healthcare preparedness even during the warmest periods of the year.
The study findings were published on a preprint server: Research Square and are currently being peer reviewed.
https://www.researchsquare.com/article/rs-1907627/v1
Many researchers have already warned that the SARS-CoV-2 virus was evolving with not only mutations but also newer structural conformational changes and folding patterns to withstand extreme environmental factors ranging from humidity, pH, temperature and even wind currents.
Some believe that not only are the new SARS-CoV-2 variants better equipped to deal with higher temperatures but they can now also withstand stressful environmental conditions and remain infectious for a longer period of time on various surfaces and even in the air.
Even the Chinese government now recognizes that the SARS-Cov-2 virus could be brought into the country via imported frozen meats and seafood, or even via imported fresh vegetables or fruits and also via ordinary post and parcels! (Something many stupid and garbage Western and even Indian fact-checkers initially dismissed as fake news but ironically, it is many of these countries that are often badly hit by the SARS-CoV-2 surges with many dropping dead and hopefully the trend will continue!)
Read Also:
https://www.thailandmedical.news/news/breaking-u-s-study-finds-that-sars-cov-2-can-survive-on-frozen-or-refrigerated-meats-and-seafood-for-up-to-30-days,-validating-china-s-claims
For the latest
SARS-CoV-2 Research
, keep on logging to Thailand
Medical News
.