BREAKING! China Reports First Omicron Case, UK Reports First Omicron Death, Thailand Reports More Lifting Of COVID-19 Curbs And Prays For More Tourists!
Omicron Updates
: Chinese state media reported in the last few hours that China has identified its first case of the fast-spreading Omicron coronavirus variant.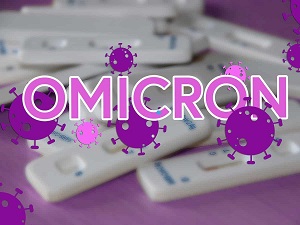 Health authorities in the northern city of Tianjin confirmed the case in an individual who entered China from an undisclosed country in the African continent.
The patient tested positive for COVID-19 on Thursday before further tests "confirmed the detection of the... Omicron variant", the report said, adding that the person was being treated in isolation at hospital.
It was however reported that the patient was asymptomatic and was not exhibiting any medical conditions.
China which is the world's most populous nation is on high alert for potential outbreaks as it prepares to host the Beijing Winter Olympics in February.
Health officials and disease control agencies affiliated with the State Council have ordered stronger virus protocols in port cities like Tianjin, which lies around 140 kilometres (87 miles) from the capital.
The omicron variant appears to spread faster than the Delta variant, making vaccines less effective but causing less severe symptoms, the World Health Organization said Sunday, while stressing that the data remains patchy.
To date, China has slowed its number of new SARS-CoV-2 infection cases to a trickle through a combination of tight border restrictions, mass testing and targeted lockdowns.
China recorded 101 new COVID-19 cases on Monday, including 21 imported infections, according to data from the National Health Commission.
Health authorities are however not confident that the country will be able keep COVID-19 infections to a low level in coming weeks as they anticipate a huge surge in the next coming months due to intel with regards to emerging variants and Delta subvariants besides the Omicron variant that could change the whole COVID-19 pandemic.
Omicron Updates

: UK Reports First Omicron Death
Prime Minister Boris Johnson said on Monday that at least one person has died in Britain after being infected with the Omicron variant, , as the country launched an ambitious COVID booster shot programme to stop the virus' spread.
The United Kingdom is among the countries worst hit by the global health crisis since last year.
The UK is also believed to be the first country to have its government to officially announce a death from the virus mutation.
During a visit to a vaccination center in west London, Johnson said Omicron accounted for about 40 percent of the cases in the British capital, and hospital admissions were rising.
He told media, "Sadly, at least one patient has been confirmed to have died with Omicron.
Yesterday he had told media that "The country was facing a "tidal wave" of infections."
The United Kingdom on Sunday sounded the alarm by raising the national COVID Alert Level because of high levels and rising rates of transmission.
Johnson in a rare televised address, said emergency measures were needed to prevent hospitals becoming overwhelmed in the weeks ahead.
It was also announced that all British adults will now be able to receive a third dose of a COVID vaccine by the end of December after the government brought forward its deadline by one month.
However, in a sign of huge demand, the National Health Service (NHS) vaccination booking site crashed and users requesting rapid testing kits were told they were out of stock.
It was reported that long queues were seen at London clinics. At one, Sarah Jackson, 29, said she had taken the morning off to get a jab before visiting her grandparents at Christmas.
She told media, "I don't know if it's going to be enough. I was told there is a queue of two hours to register and then two hours to get vaccinated. But I have to go back to work at 1:30 pm."
The new "turbocharged" booster programme has seen military planners asked to set up and run extra vaccination centers around the clock.
A total of more than 500,000 booster jabs were given on Saturday but to hit the new deadline that number will have to be doubled every day for the remainder of the year to slow the spread.
Furthermore, concerns have mounted about a new wave because of indications that two jabs are less effective against infection than three.
Alarmingly there were 1,239 confirmed cases of the variant recorded on Sunday and scientists have said numbers are doubling every two to three days.
COVID-19 vaccination rates are high in Britain, with more than 81 percent or 46.7 million of those aged 12 and over having had a second jab. Some 23 million or 40 percent have so far had a booster.
The latest measures come after face masks were made compulsory in indoor public spaces last Friday, and new testing and self-isolation rules for contact cases began on Monday.
Many workers were also told to stay at home, leading to a quieter than usual Monday morning rush hour.
It was reported that vaccine passports for certain crowded settings, including at football grounds, are due to be enforced from Wednesday.
Already many famous football clubs are reporting that a majority of their players are down with the COVID-19 disease.
The new rules apply to England only. The devolved governments in Scotland, Wales and Northern Ireland, which are responsible for health policy, have similar measures.
The rapid race to vaccinate the nation will come at the cost of already delayed elective surgeries, like hip or knee operations, the government admitted.
Prime Minister Johnson's intervention on Sunday sought to refocus attention on the pandemic, after a torrid week in which he and staff were accused of breaking COVID rules last year.
Numerous claims of illegal Christmas parties at Downing Street and across government departments have been seen as undermining public health messaging.
Prime Minister Johnson is also facing a large rebellion from within his Conservative party at a vote in parliament to make the new rules law on Tuesday.
Numerous Tory MPs are unhappy that freedoms are being restricted again and even cut further. The vote, though, is likely to pass with opposition Labour support.
However, despite whatever measures, many experts and scientists predict a grim outlook for the United Kingdom in coming months.
Omicron Updates: Desperate Thailand Foregoing Health Concerns Of Its Locals As It Is More Interested In Tourists And Their Monies!
It was reported that Thailand relaxed more COVID-19 curbs today and red zones of maximum control were lifted in 23 declared provinces.
Some provinces had some districts declared as tourism pilot zones, and altogether tourist pilot zones would exist in 26 provinces.
Thailand is trying to desperately trying to get more tourists into the country as it faces a badly managed economy that is 'bleeding dry' and unemployment rates that are fast rising. Local consumers are also complaining of rising goods and services prices.
Despite concerns from its citizens about the fast spreading Omicron variant, the country is moving ahead with lifting most forms of restrictions and is focused on promoting all kinds of tourism as the country badly needs the tourist dollars.
It will be fun to see the state the country is in around May 2022.
We are making a special appeal to all readers to please help to sustain this site and also all our research and community initiatives by making a donation. Your help means a lot and helps saves lives directly and indirectly and we are in dire need of funds now for some of these urgent new projects. Please do help. Thank You. (We also apologize for disturbing readers with this urgent appeal)
https://www.thailandmedical.news/p/sponsorship
For the latest
Omicron Updates
, keep on logging to Thailan