BREAKING! Children Cough Syrups And Children Paracetamol Syrup Made In India Kills 66 Children In Gambia And Sickens Hundreds More. WHO Investigating!
A worldwide alert has been issued over children cough and cold syrups that are made in India after more than 66 children died from these contaminated products and hundreds more were sickened by them.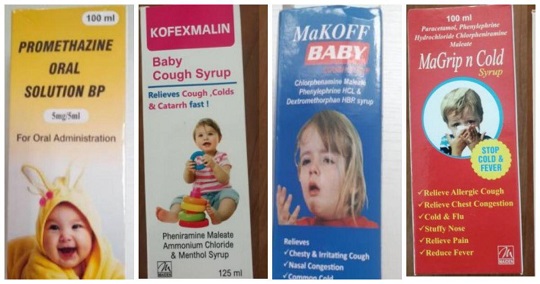 The World Health Organization (WHO) issued the alert on Wednesday over four cough and cold syrups made by Maiden Pharmaceuticals in India, warning they are linked to the deaths of 66 children in Gambia.
The United Nations health agency also cautioned that the contaminated medications may have been distributed outside of the West African country, with global exposure highly possible.
WHO director general Tedros Adhanom Ghebreyesus told media that the four cold and cough syrups in question "have been potentially linked with acute kidney injuries and 66 deaths among children."
He told media, "The loss of these young lives is beyond heartbreaking for their families."
Hundreds of other children were also sickened by the pharmaceutical products.
Health authorities are also concerned that these products have also been exported to many other countries around the world and that the actual deaths and caseloads could be much higher.
Tedros said that WHO was also "conducting further investigation with the company and regulatory authorities in India."
The WHO issued a medical product alert on Wednesday listing the four pediatric drugs: Promethazine Oral Solution, Kofexmalin Baby Cough Syrup, Makoff Baby Cough Syrup and Magrip N Cold Syrup. All are sold as OTC drugs.
The alert stated, "To date, the stated manufacturer has not provided guarantees to WHO on the safety and quality of these products.
The WHO said that laboratory analysis of samples of the products confirms that they contain unacceptable amounts of diethylene glycol and ethylene glycol as contaminants.
The WHO warned that both these chemicals are toxic to humans and can be fatal.
Some of the toxic effects can induce conditions such abdominal pain, vomiting, diarrhea, inability to pass urine, headache, altered mental state and acute kidney injury which may lead to death.
Only last month the Gambia's health ministry asked hospitals last month to stop using another made in India product that was a pediatric paracetamol syrup, pending the outcome of an investigation, after at least 28 children died of kidney failure.
The WHO suspects that the manufacturer may have used the same contaminated material in other products and distributed them locally or exported them to many countries across the world.
For the time being, it is best for all to stay away from any made in India drugs or pharmaceutical products till proper investigations are done and proper standards are maintained by the Indian authorities.
India is famous for many cheap generic drugs but unfortunately many of the greedy and unscrupulous Indians manufacturers have no ethics and often adulterate their products to cut costs.
The Indian regulatory standards are literally a joke as most do not conform to international standards and most of the personnel working in these organizations are corrupted!
There are also a lot of COVID-19 and Long COVI D drugs and nutraceuticals made by India companies that do not meet the international regulatory standards and almost all are fake products though they have the certifications from various Indian regulatory bodies. In fact most of these products are detrimental to one's health especially if taken in high doses or over a period of time.
The WHO urged caution on not only these children's therapeutics but other drugs and nutraceuticals as well.
The WHO called on all countries to work to "detect and remove such contaminated Indian pharmaceutical products from circulation to prevent further harm to patients."
It was reported that the Gambian health ministry's advice on syrup paracetamol was issued on September 9, a month after investigators reported the death of at least 28 children aged five months to four years from acute renal failure.
The investigation had been opened on July 19. No details were given as to when the children died.
Thailand
Medical News
strongly recommends readers to avoid drugs, supplements and nutraceuticals made by not only Indians from India but also companies owned by Thai Indians, Indonesian Indians and Burmese Indians.
For the latest
Drug News
, keep on logging to Thailand
Medical News
.