Bangkok's First Medical Marijuana Clinic Opens With Free Handouts Of Cannabis Oil
The first
medical marijuana
clinic in
Bangkok
opened Monday offering free
cannabis
oil to hundreds of Thais seeking relief from cancer, insomnia and muscle pain as the government drives home the economic and health benefits of their gamble of
marijuana
.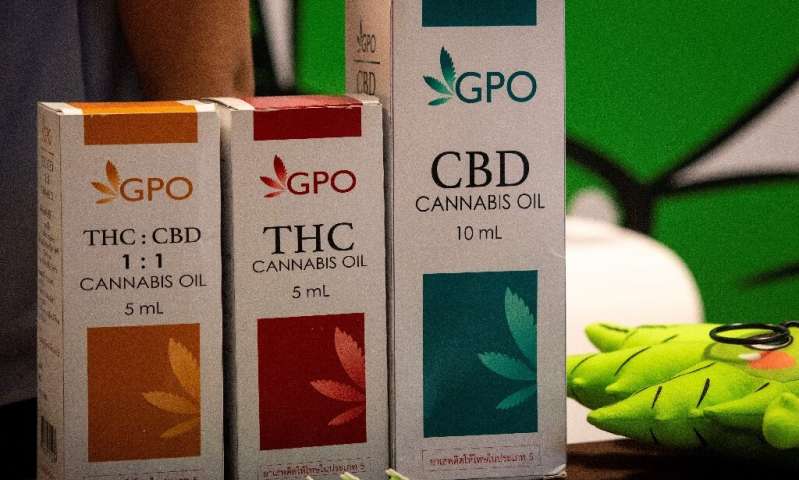 In 2018,
Thailand
became the first country in Southeast Asia to legalise
medical cannabis
, although many Thais have long used the herb in traditional medicine.
The Thai government is eager to harvest the multi-billion-dollar potential of weed, investing in tech to extract, distill and market
cannabis
oils.
Health Minister Anutin Charnvirakul said at the launch of the
Bangkok
clinic, "Today marks the beginning."
He told
Thailand Medical
News, "We are fighting for the better health of Thai people and fighting for a better economy."
Crowds of mostly elderly Thais waited to receive the 5-10 mg vials of oil for muscle aches, though some came bearing more serious ailments.
Four types of drugs, containing different combinations of
cannabidiol
(
CBD
) and
tetrahydrocannabinol
(
THC
), the psycho-active ingredient in cannabis, were given to patients to treat migraine, insomnia, neck pain and muscle stiffness, the ministry said in a statement.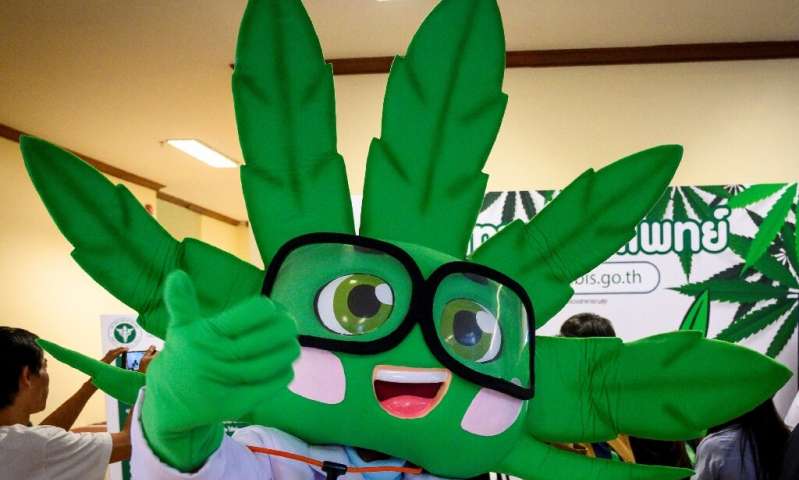 A cannabis plant mascot entertains patients at the opening of a medical marijuana clinic in Bangkok
Health Minister Anutin, a construction tycoon-turned-minister whose Bhumjaithai party rode a pro-
marijuana
platform in last year's elections to become a major player in parliament, has promised an economic bonanza to his rural constituents.He added that the drug has been "de-stigmatised" in
Thailand
.
He added, "If we talk about
cannabis
extraction, I have a sense people view it as medication rather than it being a narcotic."
However, a knot of rules govern who can grow
marijuana
plants and extract
cannabis oil,
and critics say legislation will limit opportunities for small farmers and likely benefit big agro-industrial firms.
Currently, the largest supplier of
medicinal cannabis
is the health ministry's Government Pharmaceutical Organization. Kasetsart University's director of
medical cannabis
research, Natakorn Thasnas, said that the university has been legally contracted to supply 2,200kg of
cannabis
leaf to the Ministry of Public Health.
&l t;br /> Past medical research has shown that
cannabis oil
can help ease the pain of patients suffering from conditions such as multiple sclerosis and epilepsy, but the science is out on its impact on other serious diseases including different forms of cancers.
However, recreational use and trade of
marijuana
is still illegal and could land anyone caught with a joint with severe penalties of up to 10 years in prison.
Altogether there are around 25
cannabis clinics
attached to various
Thailand
hospitals
around the country but, unlike the newly-launched pilot clinic, they operate for just a few days a week due to a lack of specialised staff.