BA.2 New Subvariants Continues With More Surges Till Next Few Lethal Variants Debut In Mid Spring. BA.2.2 Designated As New Name for Hong Kong's BA.2 Subvariant
BA.2 Variant Fast Evolving And Spawning Newer Sub-Variants.
We at Thailand Medical News has been warning for months now that the Omicron variants including the BA.2 are not mild and worse are fast evolving and spawning never subvariants fueled by monoclonal treatments, vaccines, new therapeutics, 'geolocation genetics' and by the kinetics of the pandemic.
https://www.thailandmedical.news/news/warning-stop-making-premature-statements-that-omicron-ba-2-variant-is-not-a-threat,-ba-2-is-evolving-fast-and-spawning-lots-of-new-virulent-sub-lineag
https://www.thailandmedical.news/news/warning-the-omicron-is-evolving-rapidly-and-big-pharma-is-providing-opportunities-for-it-to-do-so-new-york-study-shows-ba-1-1-and-ba-2-evolved-as-such
https://www.thailandmedical.news/news/breaking-scientists-discover-that-two-forms-of-omicron-ba-1-and-the-new-ba-2-which-is-a-stealth-version-that-cannot-be-detected-by-pcr-tests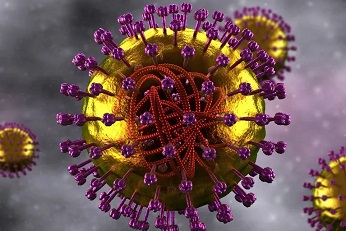 We first reported about newer BA.1 and BA.2 subvariants emerging in Brazil and Demark but our warnings were deliberately being ignored by those controlling the COVID-19 narratives and vaccine agendas and coupled with the fact that certain UK and European genomic experts are being paid to downplay or conceal data about emerging variants by the big pharma.
https://www.thailandmedical.news/news/breaking-omicron-ba-1-and-ba-2-variants-spawning-newer-sub-lineages-denmark-reports-new-ba-2-sub-lineage-with-h78y-mutation-in-orf3a
New Hong Kong BA.2 Subvariant With I1221T Spike Mutation Now Renamed As BA.2.2
We reported about the emergence of a more concerning BA.2 variant with a unique Spike mutation, I1221T that was fueling hospitalizations and deaths in Hong Kong.
https://www.thailandmedical.news/news/breaking-catastrophic-covid-19-infections-and-hospitalizations-in-hong-kong-driven-by-new-ba-2-subvariant-with-an-extra-i1221t-spike-mutation
That new subvariant was fortunately recognized by the WHO and also certain genomic platforms due to the media coverage of the immediate severity that it was causing in Hong Kong and has since been renamed as the BA.2.2 variant.
https://github.com/cov-lineages/pango-designation/issues/430
&lt ;u>More BA.2 Subvariants Emerging
However, there are many concerning BA.2 subvariants that spotting unique spike and nucleocapsid mutations that are gradually gaining dominance in circulation in South Korea, parts of United Kingdom, parts of Canada, Germany, Vietnam and also just starting in Thailand and the United States. Data on these new BA.2 subvariants are deliberately being concealed by those controlling the COVID-19 narratives and also by local governments.
BA.2 Is Not Mild And Will Cause More Concerning Medical Outcomes After Infection.
Contrary to claims that the Omicrons variants including BA.2 are mild based on initial lower hospitalization and death rates, these variants especially the BA.2 variant and subvariants are more worse than the previous Delta, Alpha, Beta or Gamma variants as they cause more health and medical issues weeks after infection including some with fatal outcomes but which health authorities will not classify as COVID-19 ie heart failures, strokes, CVST, organ failures, sepsis, secondary opportunistic infections etc. The long COVID-19 issues arising from infections from these variants are also more concerning.
There need to be a careful observation of excess death rates as the BA.2 and its emerging subvariants starts its global spread and predominance in circulation.
BA.2 And Emerging Subvariants Better Adapted For Viral Persistence And Uses A Multitude Of Host Receptors.
Many are unaware that the Omicron variants and BA.2 subvariants are much better at immune evasion of the human host as they are better able to disrupt and dysregulated the host immune system and are also better adapted for viral persistence. Their pathogenesis is also slightly different from the previous variants as they are more adapted to use other receptors and not just the ACE receptors for viral entry.
https://www.thailandmedical.news/news/breaking-mutations-on-omicron-non-structural-protein-6-nsp6-alters-viral-disruption-modes-of-autophagy-in-host,-leading-to-possibly-more-serious-long-
https://www.thailandmedical.news/news/breaking-omicron-will-wreak-havoc-on-your-body-weeks-later-as-it-can-bind-to-cells-using-cellular-polyanionic-receptors-like-heparan-sulfate
https://www.thailandmedical.news/news/breaking-u-s-researchers-find-that-acute-upper-airway-infection-rates-in-children-have-increased-exponentially-during-omicron-variant-surge
https://www.thailandmedical.news/news/breaking-japanese-study-alarmingly-reveals-that-omicron-ba-2-variant-is-a-major-health-threat-as-it-is-more-fusogenic,-pathogenic-and-causes-severe-ou
https://www.thailandmedical.news/news/good-news-preliminary-unpublished-data-shows-that-omicron-might-not-affect-lungs-much,-rather-your-brains,-heart-and-other-organs-are-targets
https://www.thailandmedical.news/news/warning-preliminary-published-and-unpublished-data-is-indicating-omicron-evolved-for-enhanced-viral-persistence-as-it-is-better-at-evading-host-s-immu
https://www.thailandmedical.news/news/breaking-omicron-has-shifted-to-using-cathepsins-for-cell-entry-via-endosomal-fusion,-impacting-cellular-tropism-and-pathogenesis
https://www.thailandmedical.news/news/breaking-study-alarmingly-shows-omicron-could-be-possibly-evolving-to-shift-its-focus-on-human-receptors-from-ace2-to-ddp-iv,-similar-to-mers
Previous Omicron Infection Offers No Guarantee Of Protection Against Reinfection By BA.2 Or Disease Severity By BA.2 Subvariants.
Despite many fake claims, prior infection with the Omicron BA.1 or BA.1.1 variant will not provide protection against reinfection by the BA.2 or even against disease severity against the newer BA.2 subvariants
https://www.thailandmedical.news/news/study-confirms-previous-omicron-ba-1-infection-offers-no-protection-against-ba-2-variant-those-saying-omicron-is-like-a-vaccine-are-spreading-fake-new
https://www.thailandmedical.news/news/breaking-scientist-warns-that-new-omicron-sublineage-ba-2-will-cause-new-surge-and-reinfections-globally-as-previous-omicron-infection-may-offer-no-pr
BA.2 Is Now Triggering Hospitalization Increase In UK
Chief executive of the UK Health Security Agency (UKHSA), Dr Jenny Harries is sounding the alarm after data showed that an increasing number of people aged 55 and older have COVID-19 and that the BA.2 variant and emerging subvariants could be at play.
The expert warned that the COVID-19 pandemic is not over and cases among older people are increasing.
He reported that about one in 35 people (2.88%) of people in England were infected between 8 February to 1 March, according to the latest React-1 study.
The figure decreased from 4.41% in the period between 5 January and 20 January but was also the second-highest recorded rate of cases since the study started in 2020.
In the last 7 days, COVID-19 infection rates and hospitalization rates are also rising in the UK and the actual numbers could be far higher as testing capabilities have ben reduced in many parts of the United Kingdom.
Director of Imperial College London's React programme, Professor Dr Paul Elliot told Thailand
Medical News
that said the data shows an "uptick" in hospital admissions.
The UK Health Security Agency (UKHSA) warned, "The increasing presence of the BA.2 sub-lineage of Omicron and the recent slight increase in infections in those over 55 show that the pandemic is not over and that we can expect to see COVID circulating at high levels."
Professor Elliot also warned that the BA.2 sublineage of the Omicron variant could lead to a surge in cases as it was more transmissible by about 1.5 times than the original Omicron variant.
BA.2 And Emerging BA.2 Subvariants Fueling Surges In South Korea, Canada, Vietnam And Thailand.
The BA.2 and its emerging subvariants are causing a surge in many countries and strict genomic surveillance is needed as in some countries like in Thailand, there is a strong possibility that a new BA.2 subvariant spotting unique mutations has just emerged and is fueling disease severity, hospitalizations and gradual increasing deaths.
In the next few days, hopefully data will emerge that certain new BA.2 subvariants have also emerge in the United States but these have also just started their gradual ascent into gaining predominance in circulation.
The BA.2 and its emerging subvariants are expected to cause surges globally alongside certain delta subvariants till a few lethal (Not one but a few this time!) SARS-CoV-2 variants emerge around the mid of Spring 2022. Reinfections and Coinfections will be buzz words for the rest of 2022!
It will definitely be fun times coming the next few months as excess deaths rates and also aggressive and accelerated cancers are also expected to rise exponentially.
We should also take note of the many rubbish 'experts' who disseminated fake news in December 2021 and January 2021 that the Omicron BA.1 would be the last SARS-CoV-2 variant or that the Omicron BA.1 variant would mark the end of the COVID-19 pandemic. In reality, the emergence of the Omicron variant is just heralding a new concerning phase of the COVID-19 pandemic and while many live in denial and are rejoicing in the lifting of restrictions, unknown to them, the worse horrors of the pandemic are yet to come. (Oh pleeze, I am not here to spread fear porn, time will tell!)
Please help support this website by making a donation not only for the sustainability of the website but also for all our research and community initiatives. We are not funded by any entities and really need help. Your help not only saves lives directly but also indirectly.
https://www.thailandmedical.news/p/sponsorship
For more on the
BA.2 variant and emerging subvariants
, keep on logging to Thailand Medical News.