A new study by the US National Cancer Institute (NCI) shows patients with a rare and life-threatening form of gastrointestinal cancer called
Biliary Tract Cancer
might live longer if they are
aspirin
users, with the greatest effect seen in those who had not taken the drug before their cancer diagnosis, the results of a database analysis indicate.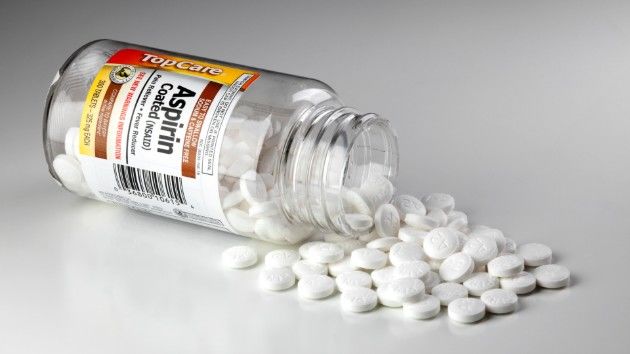 The new study however only shows correlation and not causation between aspirin use and survival. The new findings are in line with previous research in
colorectal cancer
, said lead author Sarah Jackson, PhD, Division of Cancer Epidemiology and Genetics, National Cancer Institute, Rockville, Maryland during a phone interview with
Thailand Medical
news.
A daily dose of 75 mg of
aspirin
was regarded as the optimal dose to see the correlations.
It should be also noted that Thailand is among one of the few countries that have a higher incidence rate of this type of cancer.
Bile Tract Cancer
and also liver fluke-associated
cholangiocarcinoma
(CCA) is extremely high in Thailand and has been associated with certain traditional foods consumed by rural dwellers.
Dr Jackson and her team looked at the records of almost 3000 patients diagnosed with
biliary tract cancer
, including
cholangiocarcinoma
(sometimes called
Bile Duct Cancer
) and gall bladder cancer, over a 27-year period.
The research findings, published online by
JAMA Oncology
, showed that
aspirin
, which was taken by just over 20% of patients, was associated with an improvement in overall survival.
The extent of benefit depended on the individual cancer type but was seen across all tumors, and the effect was greater in those who started taking the drug after they were diagnosed with
uot;background-color:#FFFF00">biliary tract cancer
.
While admitting that the study is limited by the lack of information on cancer stage and any chemotherapy regimens administered, they say that the "survival benefit of aspirin observed in our study is on par with the current standard of care."
The research team suggests that the beneficial effect of
aspirin
on
biliary tract cancer
survival may be due to the drug's inhibition of platelet aggregation slowing the spread of metastatic cancer cells.
Dr Jackson nevertheless cautioned that more evidence is required before the findings could be implemented in clinical practice.
Dr Jackson commented, "This is one observational study and, while it offers very promising results, we need to replicate these findings in other patient populations and ideally in a randomized clinical trial before we can start making recommendations."
The team noted that
biliary tract cancers
have an incidence worldwide of less than two per 100,000 people.
Due the lack of symptoms, up to 70% of patients presents with late-stage inoperable or metastatic disease, and they have a poor life expectancy, with 5-year survival rates of 5% to 15% and median survival of less than 1 year.
Previous studies have indicated that aspirin may slow
cancer
growth via inhibition of cycoloxygenase-2, which promotes cell proliferation and platelet aggregation, and thus reduce cancer mortality.
The medical researchers therefore sought to examine the impact of
aspirin
use on
biliary tract cancer
survival by mining the United Kingdom Clinical Practice Research Datalink database of electronic medical records to identify adults diagnosed with the disease between 1990 and 2017.
The research team included cases of gallbladder cancer,
cholangiocarcinoma
, ampulla of Vater cancer (AVC), and overlapping lesions of the biliary tract, and excluded patients who had previously been diagnosed with cancer of any kind, aside from nonmelanoma skin cancer.
The team identified 2934
biliary tract cancer
patients, of whom 1559 (53%) had
cholangiocarcinoma
, 667 (23%) had gall bladder cancer, 224 (8%) had AVC, and 484 (16%) had overlapping lesions.
The findings showed that across all cancer types, 256 (9%) of patients were
aspirin
users at baseline, with an additional 349 (12%) starting on the drug after they were diagnosed with biliary tract cancer. The vast majority were prescribed
aspirin
at 75 mg.
The research team reports that
aspirin
users were, compared with nonusers, more likely to be older, current statin users, and prediagnosis aspirin users, as well as to more likely to have heart disease and other comorbidities. In all, 2415 (82%) patients died, at a median survival of 5.8 months (range 2 - 15 months). Cox proportional hazards regression analysis, taking into account age at diagnosis, sex, comorbidities, statin use at diagnosis, indicators of a healthy lifestyle, and year of diagnosis revealed that statin use was associated with a reduced risk of death.
The study showed that
Aspirin
use was associated with decreased risk of death in patients with gall bladder cancer (hazard ratio [HR], 0.63; 95% confidence interval [CI], 0.48 - 0.83),
cholangiocarcinoma
(HR, 0.71; 95% CI, 0.60 - 0.85), AVC (HR, 0.44; 95% CI, 0.26 - 0.76), and overlapping lesions (HR, 0.68; 95% CI, 0.50 - 0.92).
The research team notes that incident
aspirin
users who had no prior history of using the drug had a larger survival benefit from post-diagnosis
aspirin
use than those who were prevalent users.
Dr Jackson said that they are "not entirely sure why previous users didn't see as great of a benefit as new users, but we think that it's possible that the tumors that develop in the presence of
aspirin
may not be as susceptible to the effects of
aspirin
However, prior users saw a benefit of aspirin, but the association wasn't as large as that of new users." she said. Dr Jackson added that she did not want to "speculate" on the potential underlying mechanisms, "because we didn't explore the tumor profiles in our study."
Individuals are warned not to start taking
Aspirin
until they have consulted their physicians or oncologists as it could cause stomach or gut linning bleeding or other medical complications in individuals with underlying medical problems.
Reference: Association Between Aspirin Use and Biliary Tract Cancer Survival ,Sarah S. Jackson, PhD; Ruth M. Pfeiffer, PhD; Zhiwei Liu, PhD; et alLesley A. Anderson, PhD; Huei-Ting Tsai, PhD; Shahinaz M. Gadalla, MD, PhD; Jill Koshiol, PhD
JAMA Oncol.
Published online October 17, 2019. doi:10.1001/jamaoncol.2019.4328 https://jamanetwork.com/journals/jamaoncology/fullarticle/2752784