ASCO: Dr Jonathan W. Friedberg Named Next Editor-in-Chief of the Journal of Clinical Oncology
ASCO
: The American Society of Clinical Oncology, Inc. (ASCO®) is proud to announce the appointment of Dr Jonathan W. Friedberg, MD, MMSc, as the next editor-in-chief of the
Journal of Clinical Oncology
(
JCO
), the flagship journal of the American Society of Clinical Oncology (ASCO).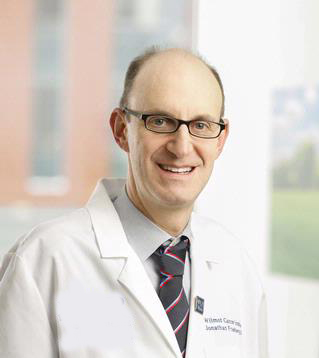 Dr Jonathan W. Friedberg, MD, MMSc


Credit:
University of Rochester Medical Center
The Journal of Clinical Oncology
(
JCO
), publishes cutting-edge research on the diagnosis and treatment of patients with cancer and is one of the most highly cited oncology journals in the world.
ASCO President Dr Lori J. Pierce, MD, FASTRO, FASC commented, "Dr. Friedberg is a highly accomplished oncologist who has demonstrated excellence in research and treatment of patients with hematologic cancers and who also understands solid tumors and solid tumor research. He understands the numerous strengths of
JCO
and the factors necessary to continue its growth and reach as the leading cancer journal. Given the breadth and depth of his career, his selection for this role at this time was clearly the best fit on many levels. We are proud to have him on board to lead
JCO
as the next editor-in-chief."
Dr Friedberg at a young age would often accompany his father, a pediatric cardiologist, on patient rounds at the hospital. He says that given his current career in medicine it seems these early experiences made quite an impact on him, and that despite an initial interest in political science, he ultimately pursued biology and fell into medicine.
A prominent hematologic oncologist for more than 20 years, Dr. Friedberg is currently director of the Wilmot Cancer Institute and Samuel Durand Professor of Medicine at the University of Rochester Medical Center in Rochester, New York. He chairs the SWOG lymphoma committee and is a U.S. National Institutes of Health R01-funded lymphoma researcher. Dr. Friedberg serves as a
JCO
associate editor and has been processing
JCO
manuscripts on advances in hematologic cancers since assuming this role in 2011. He has also served as a reviewer and on editorial boards of other journals and has authored more than 250 journal articles and 26 books, making him well-versed in medical publishing.
ASCO Chief Executive Officer Clifford A. Hudis, MD, FACP, FASCO said, "
JCO
is one of the most visible expressions of ASCO's core values evidence, care and impact and Dr. Friedberg is a visionary editor who can extend the legacies of his esteemed predecessors during this time of unprecedented opportunity and change in publishing, digital media, science and medicine."
High on his list of many ideas for
JCO
, Dr. Friedberg plans to further improve the journal's rapid review process and to fur ther leverage social media as a forum for discussion around articles published in the journal. He has also set a goal of ensuring diversity at all levels of
JCO
, from editorial board members to published content. (Thailand Medical News totally supports this new initiatives as long as Facebook is omitted out from the list as many reputable medical entities and media is now opting out from facebook due to their numerous unfair and ridiculous policies and the substandard quality of fact-checkers that they are using.)
"
JCO
is viewed as the source of truth in our field. The evolution of the journal over the last 10 years has been impressive, and as the next editor-in-chief I am looking forward to maintaining this positive momentum while taking the opportunity to embark on new initiatives," commented Dr Friedberg
His five-year term as
JCO
editor-in-chief will begin in June 2021. He will succeed Stephen A. Cannistra, MD, FASCO, who will be completing his 10th year as the journal's editor-in-chief. Under Dr Cannistra's leadership,
JCO's
impact factor has climbed to 32.956, placing it among the top 1% of all journals.
Upon receiving his medical degree from Harvard Medical School, Dr Friedberg went on to complete his residency in internal medicine at Massachusetts General Hospital and his fellowship in hematology/oncology at Dana-Farber Cancer Institute. He has been recognized by the University of Rochester School of Medicine and Dentistry with a Faculty Academic Mentoring Award, and he has received a Scholar in Clinical Research Award from the Leukemia and Lymphoma Society.
The American Society of Clinical Oncology, Inc. (ASCO®) founded in 1964, is committed to making a world of difference in cancer care. As the world's leading organization of its kind, ASCO represents nearly 45,000 oncology professionals who care for people living with cancer. Through research, education, and promotion of the highest-quality patient care, ASCO works to conquer cancer and create a world where cancer is prevented or cured, and every survivor is healthy. Conquer Cancer, the ASCO Foundation, supports the Society by funding groundbreaking research and education across cancer's full continuum.
For more developments from
ASCO
or the latest research studies on cancer from the Journal of Clinical Oncology, keep on logging to Thailand Medical News.