About 340,000 COVID-19 Infections In the UK In Last 24 Hours! BA.5 Infections Are Wreaking Havoc Globally But Governments And Mainstream Media Are Silent!
World COVID-19 News
: The world has started entering a very dangerous phase of the COVID-19 pandemic as while infections are rising exponentially across the world, governments, health authorities and mainstream media are simply turning the other way and are either concealing the real situation or are simply keeping silent about it. Not only are healthcare facilities going to be affected, but millions contracting the virus or being re-infected with the new variants are going to bear long term health consequences….many serious and even fatal!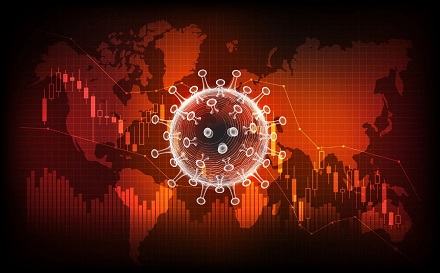 The rise in infections are basically being triggered by the new BA.4 and BA.5 variants and their emerging subvariants that are already known to be more transmissible and also immune evasive along with a tropism for the lung tissues. Hence these new variants are almost somewhat similar to the Delta variant in terms of causing disease severity and even if the death rates do not increase in coming weeks, what is concerning is that the numbers getting infected are going to surpass whatever we have seen in the last 30 months of the COVID-19 pandemic. This is going to cause a lot of problems for the public healthcare infrastructures around the globe as many will end up with various long-term health issues and manifestations which is commonly known as long COVID. Many of these include neurological and cardiovascular issues besides immune and nephrological issues that can also end up with fatal outcomes and an increase in excess death rates in coming months.
We are already witnessing hospitalization rates climbing in many countries and also the need for oxygen supplementation for many and the need for ventilators once again.
In countries like Germany, the public healthcare system has literally collapsed with many hospitals already shutting down as healthcare worker themselves are being infected symptomatically.
https://www.thailandmedical.news/news/public-healthcare-in-germany-collapses-as-many-vaccinated-doctors-and-nurses-are-falling-sick-due-to-sars-cov-2-ba-5-infections
Germany recorded almost 96,000 new infections on Friday 8
th
July despite there being a lack of access to free COVID-19 testing services. The actual figure could be as high as 4-fold!
The United Kingdom had about 340,000 new COVID-1 infections in the last 24 hours according to the Zoe App!
https://twitter.com/timspector/status/1545823000699838472
The BBC mentioned a day ago that about 2.7million Brits could have contracted the virus in the week alone!
https://www.bbc.com/news/health-62094137
About 301 deaths in UK were reported for COVID-19 on the 9
th
of July!
https://www.google.com/search?q=cvoid-19+deaths+in+Uk+july+2022&oq=cvoid-19+deaths+in+Uk+july+2022&aqs=chrome..69i57.7373j0j15&sourceid=chrome&ie=UTF-8
There is no proper updated and ac tual data emerging from the British government with regards to the COVID-19 situation but already doctors are warning that the NHS is almost on a verge of a collapse.
Strangely there is little coverage nor warnings in most of the British mainstream media.
World COVID-19 News
is indicating that literally everywhere from France, Spain, Denmark, Australia, Japan, Singapore etc, COVID-19 infections are simply rising along with hospitalizations but the actual death rates are not being disclosed openly.
In Sweden, COVID-19 cases are also rising exponentially and the Health Minister has already predicted that the healthcare sector is going to be overwhelmed in coming weeks.
https://www.reuters.com/world/europe/sweden-sees-increase-covid-19-cases-more-expected-over-summer-2022-07-07/
In the United States, there is no way to actual get a feel of the real COVID-19 situation as many testing facilities are closed and many states are simply not reporting COVID-19 figures along with the fact that the Biden government is trying its best to conceal any COVID-19 data. Whatever that is being reported that cases are around a daily of about 23,000 for the last 5 days is simply not true! Actual figures could be astronomical!
In Thailand, while the authorities are falsely reporting daily COVID-19 infections of about 2,000 per day, schools both public and private are reporting many students contracting the disease. In one private school in Bangkok, it was reported that as many as 700 staff and students contracted the virus in recently days, forcing to school to close and revert to online learning.
https://www.nst.com.my/world/region/2022/07/812037/private-school-reverts-online-learning-covid-19-infections-rise
Many private hospitals in Thailand are already saying that they do not have anymore hospital beds left and that their ICU units are filled with COVID-19 patients and in just one Northern province in Thailand, at least more than 3,800 cases were detected in a single day but strangely the total reported figures for Thailand are always hovering around the 2,000 mark for the last 10 days!
In Australia, many states are witnessing a rise in hospitalizations despite Infection rates that are being reported officially, are painting a decline!
https://www.perthnow.com.au/news/coronavirus/covid-in-wa-number-of-new-cases-dips-as-hospitalisations-continue-to-rise-c-7471921
India reported 18,257 new infections in the last 25 hours and 42 COVID-19 deaths. But even the WHO does not trust any figures from India which has a track record for concealing the real COVID-19 infection and death rates.
https://www.ndtv.com/india-news/coronavirus-india-live-updates-coronavirus-cases-today-covid-19-cases-in-india-covid-cases-india-july-10-3143860
With the new and even more transmissible BA.2.75 variant spreading in India, it is expected that the actual infection and death rates could be as high as 12 t0 14 fold!
https://www.thailandmedical.news/news/breaking-india-that-spawned-the-deadly-sars-cov-2-delta-variant-does-it-again-with-a-new-more-transmissible-and-lethal-variant-ba-2-75
The coming weeks will be fun times as we can expect not only a rise in COVID-19 death rates and also excess death rates globally, but the lack of any stringent measures and the continued usage of prophylactics, therapeutics and also antivirals that have no effect against these new variants is going to lead to the emergence of hopefully some newer lethal variants as the whole kinetics of the current COVID-19 pandemic is indicating so.
For the latest summarized
World COVID-19 News
, keep on logging to Thailand
Medical News
.