5070 Coronavirus Cases Spanning 60 Countries Outside China With 79 Deaths Yet No Concrete Measures From WHO While China Promoting Its Citizens To Travel Out!
Editorial:
As of 9pm Bangkok Time, Friday the 28th Of February 2020, there is now a total of 5,070 confirmed infected cases of the coronavirus spanning 60 countries outside China with 79 recorded deaths so far and almost a million suspected cases around the world. These figures are expected to rise exponentially over the next few weeks.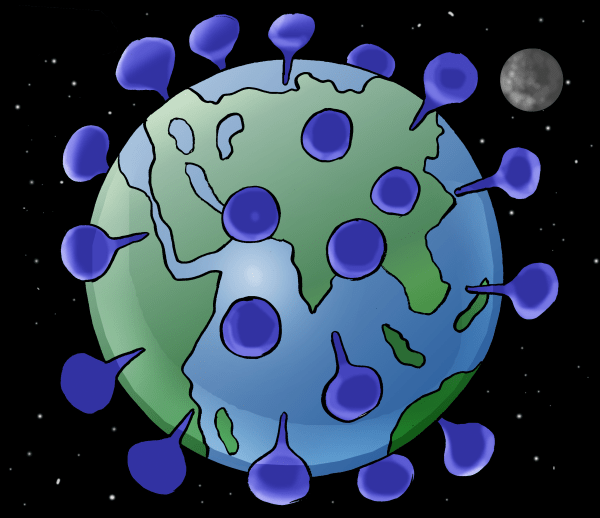 In China, the health officials continues to lie by reporting only 44 deaths and 327 new confirmed cases today while concealing the thousands of cases emerging from prisons, nursing homes, field hospitals and those that were placed under forced isolation in their homes. Even then, tens to hundreds of thousands of cases prior to these were speculated to have been concealed by China. Even though cases might actually also be seemingly tampering down, it only the pre-phase of the epidemic that we have seen despite whatever experts can say. With the number of reinfections emerging plus new data forthcoming from some of the latest research, the actual epidemic phase will be starting in China in a few weeks times according to speculations by certain epidemiologists and virologists.
Armed with either a premonition of what is coming or they might actually know something that we do not, China is now eagerly trying to get its citizens to travel out and are opposing all travel bans against its citizens and the country.
According to a Reuters report yesterday, China has ordered all its regional offices for passport issuance to be reopened immediately and to provide expeditious service to anymore wanting a passport to travel. (
https://www.reuters.com/article/us-china-health-immigration/china-asks-low-risk-coronavirus-areas-to-resume-visa-passport-services-idUSKCN20L0JI
)
Why would China be thinking that passport issuance is a priority ?
It enough of being politically correct and to be polite! What is s wrong with admitting the facts? The coronavirus originated from China and the global spread has been the result of the irresponsible Chinese Government Officials that did not control the spread in time plus they knowingly allowed their citizens to travel out to other countries to cause the spread.
The Chinese citizens, many who knew they were infected or about the presence of the coronavirus, behaved irresponsibly and spread the coronavirus to other countries. It a fact and not some slanderous acccusations.
As a result of the Chinese, countries like Japan, Korea, Italy, Iran etc are having thousands of infected individuals suffering while many are dying. Yes the virus does not discriminate but the fact remains, the Chinese people were the human vectors that spread the disease worldwide. Had China placed restrictions on its people from travelling when the first epidemic broke out, the world would not be in the situation it is in.
Soon the world will be seeing more hardships and economic downturns because of the Chinese. Many people will be inconvenienced, will lose jobs, will have no money or food and even get sick in their home countries because of the irresponsible Chinese government.
To date, the Chinese leadership has not even apologized to the world or its own people for being irresponsible but instead are still behaving arrogantly.& lt;br />
I am not promoting hate speech here, as I have tons of Chinese friends and I actually like China but we have admit the facts especially those concerning the government, not the people.
I also cannot figure out why US and European entities like facebook, CNN, New York Times, BBC, AFP, Reuters, AP are all playing this politically correct game when any criticisms are hurled against China and the WHO for failing to stop the spread of the coronavirus. They themselves are not allowed to operate in China and yet they are and censoring criticism of China and WHO or are labeling it as fake news or misinformation. The people and public should take note of this.
To date there has been no concrete measures from WHO that is spending indirectly tax payers monies from various countries on trips and press briefings without any concrete measures and but just verbal garbage spewing from their mouths and tweets.
Vaccine, drug and research protocols can be effectively coordinated by entities like the ECDC, CDC, NHS, NIH, etc without the need for an entity like WHO.
The US under the Trump administration is already one country that is already regarding the WHO as a waste of time.
For more
coronavirus news
, keep checking at:
https://www.thailandmedical.news/articles/coronavirus