Study Shows Alarming Prevalence Of Human Toxocariasis With Experts Calling For Preventive Interventions
Toxocariasis
is an infection transmitted from animals to
humans
(zoonosis) caused by the parasitic roundworms commonly found in the intestine of dogs (
Toxocara
canis) and cats (T. cati).
Human toxocariasis
(
HT
), affects close to one-fifth of the world's population and deserves increased attention, a systematic review and meta-analysis suggests.
Dr. Ali Rostami of Babol University of Medical Sciences in Iran told
Thailand Medical
News,"
Human toxocariasis i
s associated with several clinical syndromes. In addition to specific symptoms, including visceral larva migrans, ocular larva migrans, and covert/common
toxocariasis
(CT),
toxocariasis
can precipitate some non-specific complications, including neurological and psychiatric or cardiac, allergic skin disorders and/or asthma."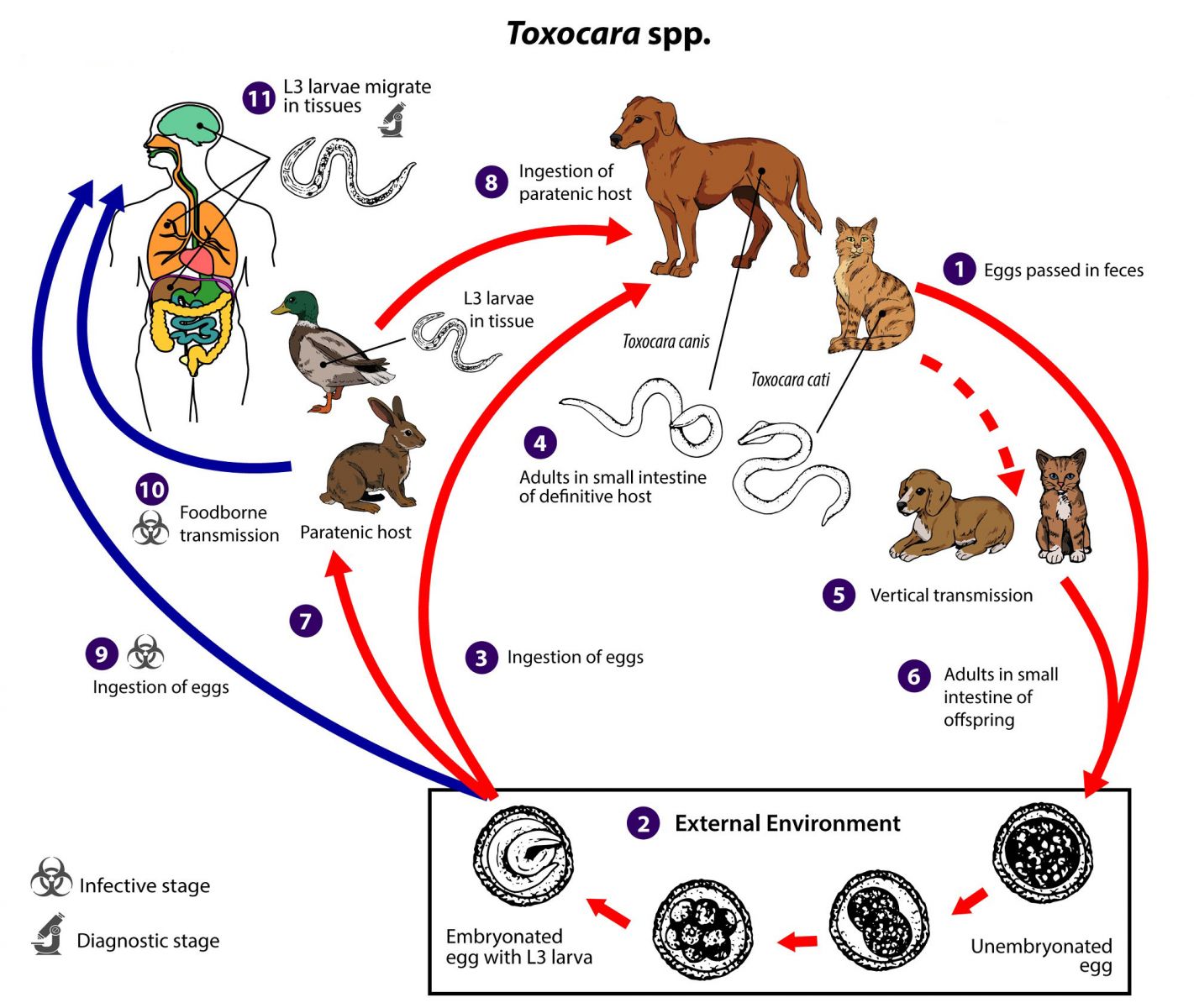 He added, "The CT form of
toxocariasis
is especially interesting, because of its potential role in
asthma
or developmental delays in socioeconomically disadvantaged children, although its likely role is often ignored by many physicians. Our results suggest that at least in areas with high prevalence rates of infection, physicians should consider
Toxocara
infection as a potential cause of the above-mentioned complications. Moreover our analysis finds that toxocariasis may in fact represent one of the commonest neglected tropical diseases of people who live in extreme poverty."
The researchers searched the literature from 1980-2019 to calculate the prevalence of anti-
Toxocara
serum antibodies (
T-seroprevalence
) in all six World Health Organization regions and worldwide. They identified 250 eligible studies (253 datasets) including 265,327 people in 71 countries.
Their study findings published in PLoS Neglected Tropical Diseases, estimated global
T-seroprevalence
rate was 19%, with the highest in Africa (37.7%) and lowest in the Eastern Mediterranean (8.2%). The pooled
seroprevalence
for other WHO regions was 34.1% in South-East Asia; 24.2% in the Western Pacific; 22.8% in the Americas; and 10.5% (8.5-12.8%) in Europe.
It was observed thatlLower income level, lower human development index, lower latitude, higher humidity, higher temperature, and higher precipitation were all associated with a significantly higher
T-seroprevalence
.
Risk factors associated with seropositivity to
Toxocara
included male gender; living in a rural area; young age; close contact with dogs, cats or soil; consumption of raw meat; and drinking untreated water.
The researchers commented, "To our knowledge, there is no country that has appropriate preventive initiatives in place, even though the disease could be treated and prevented through relatively simple and straightforward methods.In other studies b y our team, it was estimated that about 12% of public places including parks and children's playgrounds in the US are contaminated with
Toxocara
eggs. The implications are that
toxocariasis
may represent one of the commonest neglected infections of poverty-stricken regions in the US, especially among underrepresented minority children and those in the Southern US."
It was noted recently that Senator Cory Booker (D-NJ) has submitted legislation in the US Senate to begin addressing
toxocariasis
and other neglected diseases. (https://bit.ly/396Udl2)
Professor of Pathology and of Medicine at Albert Einstein College of Medicine in New York, Dr. Louis Weiss commented, "This survey provides excellent evidence on the prevalence of infection. A similar meta-analysis of the rates of symptomatic infection would be useful, (as would) improved therapy."
"Physicians should be advising patients to wash hands after contact with soil and not drink untreated surface water (as opposed to tap or bottled water). Provide veterinary care to cats and dogs, and keep outdoor sandboxes covered to prevent use by feral cats. While about 20% of patients have evidence of exposure (seropositivity), the vast majority of these individuals do not have symptomatic infection." he added.
Chair of Medicine at Mount Sinai South Nassau in Oceanside, New York, Dr. Aaron Glatt, commented, "Clinicians need to be constantly aware of the potential manifestations and presentations that result from
Toxocara
exposure." Like Dr. Weiss, he noted, "the best way to prevent illness in the U.S. is by making sure pets are taken to the veterinarian and given appropriate preventive care, such as testing and treatment plans for deworming."
The US CDC recommends washing hands with soap and water after playing with pets or other animals, after outdoor activities, and before handling food or eating.
Reference: Seroprevalence estimates for toxocariasis in people worldwide: A systematic review and meta-analysis, Ali Rostami ,Seyed Mohammad Riahi,Celia V. Holland,Ali Taghipour,Mohsen Khalili-Fomeshi,Yadolah Fakhri,Vahid Fallah Omrani,Peter J. Hotez,Robin B. Gasser , PLOS Neglected Tropical Diseases iPublished: December 19, 2019, https://doi.org/10.1371/journal.pntd.0007809