Gyeongsan, Second City In South Korea Hard Hit By Coronavirus. Dead 40, Infected 6088, Critical 52
A second city In
South Korea
has been hard hit by the
coronavirus
and authorities have declared it as a 'special care zone' or rather a polite term for an extreme lockdown.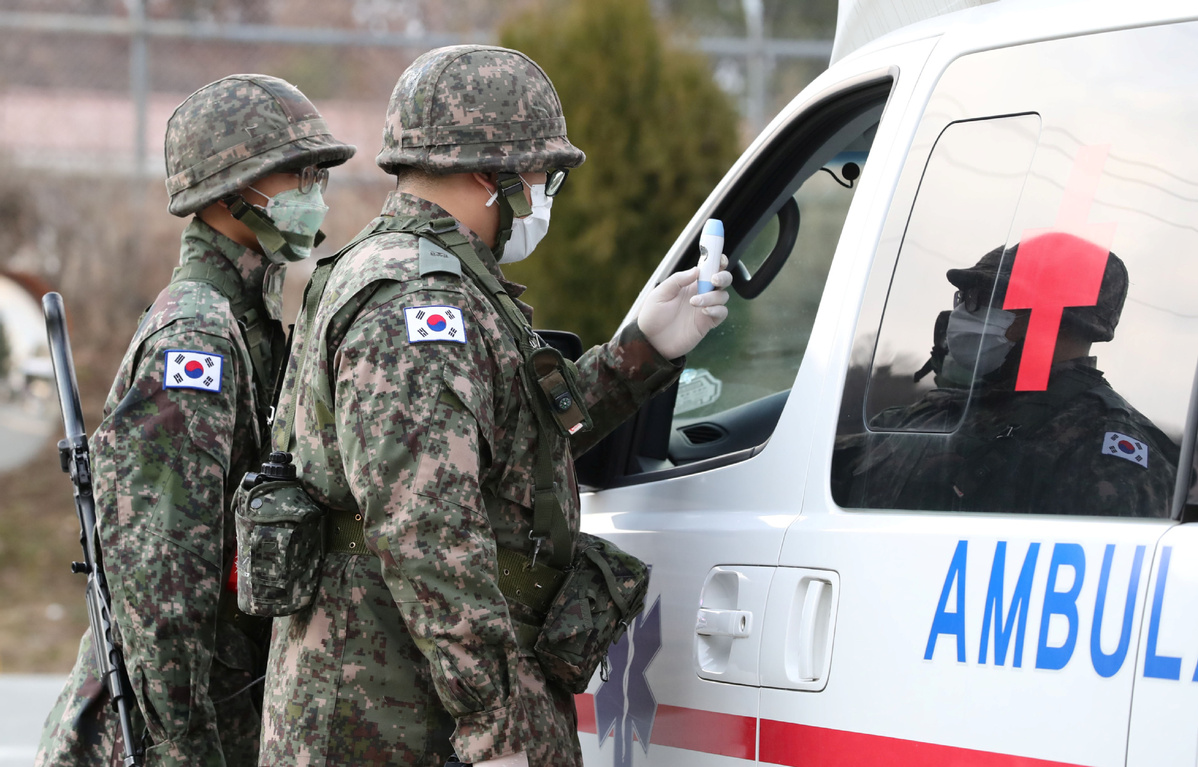 Gyeongsan, a city of about 276,000 people that is located 255km south-east of Seoul has been promised extra resources such as face masks and test kits while the city has been placed in an unofficial lockdown with army personnel restricting any travel in and out of the zone and also within the zone.
The city has seen a spike in new cases, including at a nursing home. Such zones have also been declared around neighbouring Daegu city and Cheongdo County but this is the first were people have been also not allowed to leave their homes while all businesses and companies have been ordered shut.
To date, all 9 provinces in South Korea have cases of individuals with coronavirus infections. About 75 per cent of all infected cases are in and around Daegu city and about 86% of confirmed coronavirus cases have been linked to the Shincheonji Christian Cult group.
Most Hospitals in the hardest hit areas were struggling to accommodate new patients. Daegu city officials said 2,117 patients were waiting for rooms in the city.
So far 40 people have died from the coronavirus epidemic while 6088 individuals are infected and 52 are in critical condition. There are also almost half a million suspected cases, with most still waiting to be tested.
US Forces Korea (USFK) reported two new infected cases, bringing a total of six cases in soldiers, employees or people related to the roughly 28,500 troops stationed in South Korea.
The South Korean military has about a 14 cases so far with more than 12,800 soldiers placed in quarantine and are also being tested.
Meanwhile Australia became the latest country to impose travel restrictions on South Koreans, with almost 100 nations now limiting arrivals from the East Asian country. This was a blow to Seoul's efforts to prevent the United States from imposing such restrictions.
Diplomats from South Korea met the US ambassador in Seoul on Wednesday to urge the United States not to limit travel.
However the US State Department has set conditions that anyone with a fever of 38 deg C is banned from boarding direct flights from South Korea to the United States.
Korean Air Lines also agreed on Thursday that it would screen all passengers departing Incheon airport for high temperatures and reject those deemed a risk.
For the latest on the
South Korean coronavirus
epidemic, keep checking at:
https://www.thailandmedical.news/articles/coronavirus