GREAT NEWS! COVID-19 Hospitalizations And Deaths Rising In United Kingdom! 4.9 Million Brits Infected Last Week And 191 'Mild' Deaths In Last 24 Hours!
Considering what certain British primates that are saying that we have to learn to live with COVID-19 or that the disease has become endemic or worst the lying British bastards that preach about herd immunity, the United Kingdom is the perfect example of how messed up a country can get in terms of wrongly managing the COVID-19 crisis.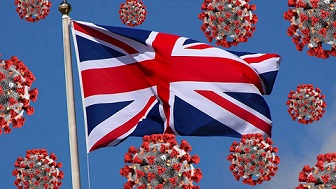 To add to the mess, we still have stupid British 'experts' claiming that the Omicron variant or the BA.2 variant and its emerging subvariants, and also the new recombinant variants that have made their debuts, to be mild!
In the last 24 hours, British authorities reported 69,689 new Infections and 191 'mild' COVID-19 deaths! These are basically fake data being released by the government led by Boris Johnson, the garbage that likes to party while imposing strict lockdown measures in the past and expected the rest of the lower life forms in the country to adhere to these measures! (Laughable)
https://www.google.com/search?q=united+kingdom+covid+cases&oq=united+&aqs=chrome.0.69i59j69i57j35i39j46i67i433j0i67j46i67i433j46i67i131i199i433i465j0i67l3.3587j1j15&sourceid=chrome&ie=UTF-8
According to more realistic data from the Zoe COVID Study app, more than 337,661 Brits were infected in the last 24 hours and the death rates are far more than a mere 191!
https://covid.joinzoe.com/data
A total of more than 4.9 individuals were infected with the SARS-CoV-2 virus in the week ending March 26
th
.
https://news.sky.com/story/covid-19-record-4-9-million-people-in-uk-had-coronavirus-in-week-to-26-march-ons-says-12579508
A total of about 1,116 'mild' deaths from COVID-19 was reported in the last 7 days (ending 1
st
of April)
https://coronavirus.data.gov.uk/
A total of about 17,214 people were hospitalized over the last 7 days (week ending 1
st
of April), for COVID-19 related issues.
Hospitalizations rates are continuing to increase on a daily basis.
https://www.ons.gov.uk/peoplepopulationandcommunity/healthandsocialcare/conditionsanddiseases/articles/coronaviruscovid19latestinsights/hospitals
It should be noted that the British authorities are finding ways to masquerade the real COVID-19 infections, hospitalization and death rates by implementing numerous stupid reporting measures and updated reliable daily figures are no longer possible to procure and all reportings are delayed by days and even weeks.
Another interesting data that is emerging is that about 50,000 cases of reinfections are reported in the last few weeks and that figure is growing!
ngland-linked-waning-immunity/story?id=83809079">https://abcnews.go.com/Health/rise-covid-19-reinfections-england-linked-waning-immunity/story?id=83809079
Also, about 81 percent of all infections detected in the week ending 26
th
of March were all double vaccinated and about 35 percent were triple vaccinated!
There are currently a number of variants that are at play in the United Kingdom including the BA.2 variant, BA.2.2 subvariant, BA.2.8 subvariant and also a whole assortment of recombinant variants of the BA.1 and BA.2 sublineages including XE, XR, XL, XN, XP and XQ.
But what is exciting is that with the way that the COVID-19 crisis is being managed in the United Kingdom, it is providing a conducive environment for more variants, subvariant and recombinant variants to emerge and hopefully the next more lethal variant will emerge in that country and become predominant in that country first.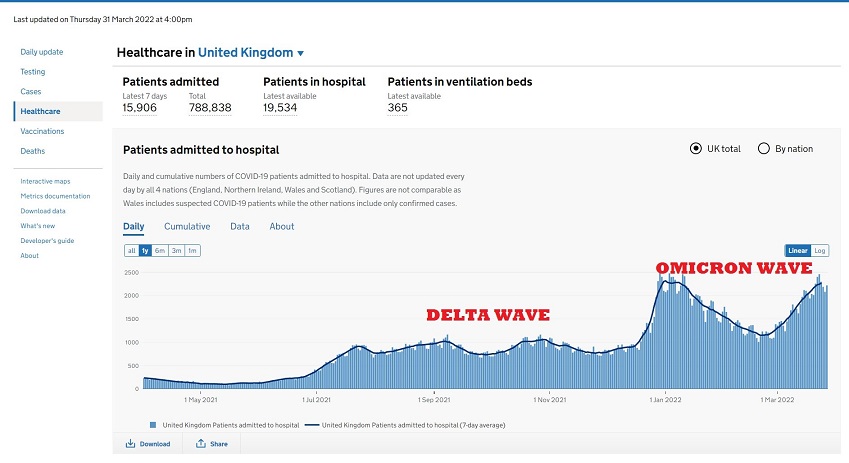 Data As Per 31st march
I do not have an ounce of pity for the lower life forms that are suffering in UK considering that most of the British 'experts' are so rude and arrogant and the most of the lower life forms there are among the most selfish and conceited individuals I have ever known. Unlike the kind hearted and generous souls from America, Canada and the rest of Europe, the British even elsewhere around the world especially in South East Asia never support or contribute back to other communities or initiatives by others and are only here in South East Asia to make monies for themselves as they cannot do so back home! It is time that Thais and other Asians start treating these parasites with disdain!
Interestingly, the prevalence of COVID-19 in the U.K. has reached record levels, with about 1 in 13 people estimated to be infected with the virus in the past week, according to the latest figures from Britain's official statistics agency.
These latest estimates suggest that the steep climb in new infections since late February, when British Prime Minister Boris Johnson scrapped all remaining coronavirus restrictions in England, has continued well into March.
Also, these figures came on the same day the British government ended free rapid COVID-19 tests for most people in England, under Johnson's "living with COVID" plan. People who do not have health conditions that make them more vulnerable to the virus now need to pay for tests to find out if they are infected.
Dr Stephen Griffin, associate professor at the University of Leeds' medical school told Thailand
Medical News
, "The government's 'living with COVID' strategy of removing any mitigations, isolation, free testing and a considerable slice of our surveillance amounts to nothing more than ignoring this virus going forwards."
He warned, "Such unchecked prevalence endangers the protection afforded by our vaccines. Our vaccines are excellent, but they are not silver bullets and ought not to be left to bear the brunt of COVID in isolation."
To date, more than 67% of individuals 12 years old and above in the U.K. have been vaccinated and had their booster or a third dose of the coronavirus vaccine.
Crazily, beginning Saturday, parents can also book a low-dose vaccine for children between 5 to 12 years old in England.
Dr James Naismith, a biology professor at the University of Oxford, said he believed that except for those who are completely shielded or not susceptible to the virus, most people in the country would likely be infected with the BA.2 variant by the summer.
He said, "This is literally living with the virus by being infected with it."
Long COVID issues is going to be a major problem in the country that already has a deplorable public healthcare structure where waiting lists for simple diagnostics and treatment for various conditions can take months and even years!
It is really going to be fun times in the United Kingdom and we can expect to see hospitalization and death rates increasing and more catastrophic surges taking place in months as new variants emerge.
But fear not as their 'experts' know what to do and the arrogant Brits believe that they know better!
For the latest on the
COVID-19 death rates and hospitalization rates in the United Kingdom
, keep on logging to Thailand Medical News.