Trump-COVID-19: Are Trump's Doctors Lying? Report Says He Is On Oxygen And Dexamethasone Plus There Has Been No Tweets!
Trump-COVID-19
: The president's personal physician has now acknowledged delivering an overly rosy picture of his illness a day earlier to please his notoriously sensitive patient but declined to comment on the actual status of his patient, adding more confusion to the developing situation.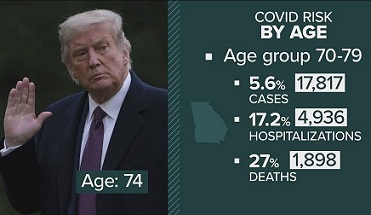 Health experts after analyzing details of the briefing on Sunday coupled with previous press briefings are baffled as ever as to what is really going on.
Social media is trending with the question: Is Trump lying or dying?
Dr Sean P. Conley, the White House physician, said in a media briefing with reporters on Sunday, "I didn't want to give any information that might steer the course of illness in another direction, and in doing so, you know, it came off that we were trying to hide something, which wasn't necessarily true."
From all the previous statements issued by the doctor, Trump's symptoms appear to have rapidly progressed since he announced early Friday morning that he had tested positive for the coronavirus.
He had a "high fever" on Friday, and there were two occasions when his blood oxygen levels dropped, the white house physician had said on Friday and again on Saturday.
He said that the president's oxygen saturation level was 93 percent at one point, his doctors said.
It should be noted that below the 95percent that is considered the lower limit of the normal range. https://www.thailandmedical.news/news/covid-19-tips-oximeters,-a-potential-home-tool-to-monitor-progress-of-covid-19-symptoms-from-mild-to-moderate-and-to-detect-covid-19-pneumonia-early
Currently in the COVID-19 context, numerous medical experts consider patients to have severe COVID-19 if their oxygen levels drop below 94 percent.
It was not reported as to whether his blood oxygen levels had fallen below 93 at some point or has gone back to normal ranges and also whether he is on supplemental oxygen again.
The White House physician Dr Conley said that Trump had been given the steroid dexamethasone on Saturday, in addition to remdesivir, an antiviral drug.
There is already emerging news that remdesivir could cause acute kidney injury in those taking it. https://www.thailandmedical.news/news/breaking-covid-19-drugs-remdesivir-approved-by-trumps-administration-causes-serious-kidney-problems-eu-regulators-starts-safety-review
On the other hand dexamethasone has been shown to help patients who are severely ill with Covid-19, but it is typically not used in mild or moderate cases of the disease. https://www.thailandmedical.news/news/covid-19-drugs-dexamethasone-trial-results-finally-published,-warning-that-although-beneficial,-early-use-in-covid-19-patients-can-be-harmful
Medical experts are confused and are wondering if the president is already in severe stages of the disease or have his doctors given him dexamethasone too quickly.
One prominent infectious doctor speaking on conditions of anonymity said, "Dexamethasone is the most mystifying of the drugs we're seeing him being given at this point. The steroid is normally not used unless the patient's condition seems to be deteriorating. It raises the question: Is the president sic ker than we were told or are the doctors overreacting in a way that could be potentially harmful?"
The WHO guidelines recommend that dexamethasone only be given to patients with "severe and critical Covid-19." The U.S.NIH has issued similar guidance, specifying that the drug is recommended
only for individuals who require a mechanical ventilator to help them breathe, or who need supplemental oxygen.
He was last seen 18 hours ago on in a surprise motorcade looking perfectly well and his secret service detail only wearing N95 mask and no other protections.Besides an earlier tweet that he had a surpise for his fans outside Walter Reed Hospital which was his motorcade visit, there was no subsequent tweet after that.
However one of the most 'critical biomarkers; that could be used to provide a clue about his condition is his "tweet". There were none the last 17 hours indicating that perhaps something is indeed wrong! Or Maybe not! Maybe the whole thing was a lie and he never got COVID-19 in the first place but is planning some political ploy or a ruse to get Regeneron approved. (with him indirectly endorsing the drug, the market could be worth trillions!)
For more on
Trump and COVID-19
, keep on logging to Thailand Medical News.