Thailand Coronavirus News: Nine Thai Females Returning From Myanmar Test Positive For COVID-19
Thailand Coronavirus News
: Officials in the Northern Thai province of Chiang Rai has discovered nine new cases of COVID-19 linked to a hotel and entertainment area in Myanmar famous for females freelancing themselves as escorts or working as karaoke and disco hosts called 1G1 Hotel in Myanmar.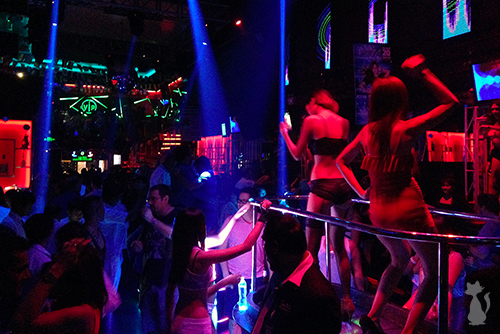 The Nightclub At 1G1 Hotel In Myanmar.
It was reported that all the nine were women aged 20-44 years, who had travelled through legal channels.
The Chiang Rai administration officials held a press conference on Sunday regarding the COVID-19 situation in the province and as usual states that the situation is under control.
The officials said that said the nine women had travelled across the Thai-Myanmar Friendship Bridge and entered the quarantine process as soon as they had returned to the country without being exposed to the community at all.
To date, there are 20 cases in Chiang Rai in the last two weeks, 14 of whom were found during quarantine in the state local quarantine facility, five had sneaked in through a natural channel, and one local was infected from a patient who had entered illegally. Contact tracing is still under way for those that might be exposed and it is said that up to a few hundred individuals are being tracked and tested.
The Chiang Rai Governor Prachon Pratsakul said that the infections were all linked to 1G1 Hotel in the Tachilek district of Myanmar. He said the new nine cases were not unexpected, as they all worked and lived together. The province is still open to receiving Thai people who want to return, he said.
About 171 individuals have returned from Tachileik province and the positive cases are all admitted to Chiang Rai Prachanukerah Hospital.
The Governor urged those who had sneaked in earlier to report to public health officials as soon as possible.
The Governor said, "I believe the situation can be controlled because most of the cases found in the state local quarantine have limited contact groups, so I believe that after 14-25 days, Chiang Rai would be safe as a New Year 2021 gift to people and tourists who want to continue visiting."
Provincial and state authorities have not imposed any quarantines for people travelling to and from Chiangrai province and they said there is no need and health officlas have said that even if there is an outbreak of COVID-19 cases in Thailand, they are well prepared to deal with it. (We are not sure what treatment protocols Thailand currently uses but their past treatment breakthrough of treating COVID-19 with Oseltamivir and Lopinavir/ritonavir has been proven to be ineffective and nothing more than fake news although no punitive measures have been taken against the doctors and officials involved.)
Meanhwhile Dr Tosthep Boonthong, from Chiang Rai Public Health, said all the nine patients had travelled together in a group of 16. The remaining seven are not found to be infected.
Also for the case of one infected local person found in the Muang district of Chiang Rai province, the authorities detected 22 high-risk people because they had visited Singha Park and many other entertainment venues. There were around 200 people at risk, but all test results showed t hat the risk group was negative.
Interestingly Dr Chaiwetch Thanapaisal, director of Chiang Rai Prachanukroh Hospital, said the hospital had room to accommodate up to 30 beds. The first patient from this new group of patients will complete the scheduled treatment on December 8.
Thailand is the only country in the world that has to date reported extremely low cases of local infections and deaths from the COVId-19 disease despite even its neighbors like Myanmar and Malaysia suffering very badly from the COVID-19 crisis.
It is said that with stringent emergency laws, strict online laws coupled with the fact that only the government's COVID-19 taskforce or the CSSA is only entity allowed to report on any COVID-19 infections, deaths and figures along with its unique method of placing suspected cases under a status known as PUI or Patients Under Investigation till they are well enough to be released to the wild, all these have made it possible for Thailand to have among the lowest reported COVID-19 infections and fatalities in the world.
The country is also soon to be opening the country for tourism again if it has not already done so discreetly or for certain groups and is also eyeing cutting down quarantine periods and protocols if it has not already been doing so in certain incidences.
The country is also eyeing the medical tourism market to tap the market of unsuspecting foreigners wanting to pay for medical treatments and travel expenses as its local economy has been in the 'doldrums' due to lack proper management over the last few years.
It is also interesting to note that Thais are now crossing the borders to do 'freelance work' in countries like Myanmar as it reflects the state of the local economy.
For more on
Thailand Coronavirus News
, keep on logging to Thailand Medical News.