Spain Reports Second Monkeypox Death. Experts Are Concerned That Monkeypox Is Still Mutating With Possible Changing Pathogenesis!
Monkeypox News
: Spain reported on Saturday a second death from monkeypox with more than 120 individuals now hospitalized due to disease severity. Both the fatalities and those hospitalized were mainly young men. Globally more than 1,638 individuals are now hospitalized from monkeypox due to severe conditions. Both Monkeypox deaths in Spain were due to encephalitis or inflammation of the brain and a number who are currently hospitalized have also developed encephalitis!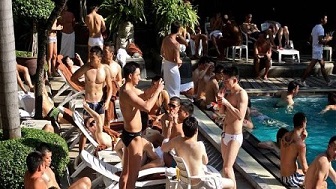 A busy gay sauna in Asia's gay capital.
To date, three deaths from monkeypox has been reported outside the African continent with the other death reported in Brazil.
As of Sunday, 0720hrs (New York), more than 23,238 individuals have been infected with the monkeypox virus outside the African continent and the number is rising exponentially for a variety of reasons ie…the virus has a long incubation period is between 5 to 21 days and also due to the fact a number of individuals are asymptomatic coupled with the fact that viral clearance can be prolonged in many.
The United States is now the leading country with the most reported cases at roughly 5,189 and local experts that the figures will still rise drastically as many test results are still not out yet and also the fact that many.. especially gay men are not taking heed and taking precautions. It was reported that many of the gay saunas, gay dungeons, gay cruising joints and gay chemsex party venues are still open and crowded… with business as usual!
Spain is the country with the second highest number of monkeypox cases at 4,386 cases followed by Germany with 2,595 cases, United Kingdom with 2,473 cases, France 1,955 cases, Brazil 1,259 cases, Netherlands 878 cases and Canada with 803 cases. The monkeypox disease is now found in more than 76 countries outside the African continent.
The current outbreak is believed to have originated from Nigeria where British gay travelers were using the services of sex workers in Nigeria.
According to local
Monkeypox News,
in Thailand, the first reported case was a Nigerian who was remaining in the country illegally and subsequently escaped to Cambodia after being detected with the Monkeypox virus at a private hospital in Phuket. Thailand also reported its second case involving a local male who had sex with a male British tourist. Local authorities are still trying to locate the British male.
It is projected that in a few months' time, Thailand will be the regional hub of monkeypox infections as the country has a high amount of sex workers…. both females and men and the fact that the local authorities due to financial desperation…. are heavily promoting tourism and welcoming all sorts of garbage into the country coupled with the fact that all previous stringent screenings due to COVID-19 have been completely removed hence the country is seeing lots of cheap sex tourists from Germany, the United Kingdom, India and Australia and also a lot of Nigerians and other Africans coming to the country to conduct scams and other illegal businesses including sales of narcotic drugs. A few Chinese gay apps are also planning a few gay parties in Bangkok which will also help spread the disease.
What is concerning American and European researchers is the fact that hospitalizations due to monkeypox disease severity is now rising globally and indicating a speculation that the current monkeypox strains are still mutating rapidly and changing its pathogenesis. Many of the infected are now developing encephalitis or brain inflammationa and the monkeypox virus could be mutating and becoming more neuropathogenic!
Already genomic sequencings being uploaded from various countries on the GISAID platform is showing that the monkeypox virus is still mutating rapidly.
The monkeypox deaths outside Africa come one week after the World Health Organization declared the monkeypox outbreak a global health emergency.
Dr Catherine Smallwood, Senior Emergency Officer at WHO Europe told Thailand
Medical News
, "The notification of deaths due to monkeypox does not change our assessment of the outbreak in Europe. We know that although the disease is self-limiting in most cases, monkeypox can cause severe complications. With the continued spread of monkeypox in Europe, we will expect to see more deaths. Our goal needs to be on interrupting transmission quickly in Europe and stopping this outbreak."
Although the monkeypox outbreak first started as a sexually transmitted disease among the gay community and bisexuals, it has now spread to the mainstream community with females and also children contracting the disease through material and surface contamination.
Another concerning development is that many experts are now doubting the efficacy of the current monkeypox vaccines being used as case reports are now emerging that some previously vaccinated individuals are still contracting the disease with no difference in symptoms and manifestations. Some of these cases reports from Spain, United Kingdom and the United States are expected to be published in this coming week.
With the world still in the midst of the COVID-19 pandemic with the BA.4, BA.5, BA.2.75, BA.2.77, BA.2.78 and various BA.5 subvariants at play, it will be interesting as monkeypox cases also rise along with other emerging diseases including Polio, Crimean-Congo hemorrhagic fever, Ebola, Marburg disease etc.
For the latest on Monkeypox, keep on logging to Thailand
Medical News
.