Hospitals In United States Running Out Of ICU Beds. Record 3,242 COVID-19 Deaths In America In Last 24 Hours, American Death Toll Exceeds 290,200
U.S. Hospitals
are running short of ICU beds as COVID-19 infection rates are fast climbing. In the last 24 hours, there were 225,441 new COVID-19 cases reported in America while a new record of 3,242 Americans have died from the COVID-19 disease in the last 24 hours. Current hospitalizations have reached 106,920 while more than 24,000 cases are termed as critically ill with more than 8,200 individuals are on ventilators. The total number of COVID-19 infections in America has now reached 15,218,780 and the total number of Americans who have died from the COVID-19 disease have now exceeded 290,204. (Sources: Pooled data from Worldometer, The COVID-Tracking Project, WHO, U.S. CDC, NIH, U.S. Dept Of Health Services.)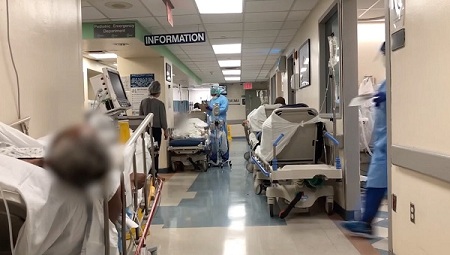 Alarmingly in a sign that the coronavirus pandemic is entering its most dire stage yet, new federal data shows that more than a third of Americans now live in areas where hospitals are critically short of intensive care beds.
A media analysis of government data on American hospitals finds that hospitals serving more than 100 million Americans had fewer than 15 percent of intensive care beds still available as of last week while some believe that the current updated figures should be about less than 4 percent now.
The situation is even more troubling across much of the Midwest, South and Southwest, where intensive care beds are either completely full or fewer than 5 percent of beds are available. Under that scenario, experts warn that caring for the sickest patients may be difficult or impossible.
Dr Beth Blauer, director of the Centers for Civic Impact at Johns Hopkins University in Baltimore, told media, "There is only so much our frontline care can offer, particularly when you get to these really rural counties which are being hit hard by the pandemic right now. This disease progresses very quickly and can get very ugly very fast. When you do not have that capacity, that means people will die."
Nationwide hospitalization figures collected by the COVID Tracking Project show that the number of people hospitalized with the virus nationwide has doubled since the beginning of November.
U.S. hospital data shows that some areas like Amarillo, Texas, Coral Gables, Florida, and Troy, Michigan are seeing rates of serious illness that approach the levels seen in New York City during the worst weeks of the spring.
Sadly in California, more than 11,000 COVID-19 patients are now hospitalized, more than 70 percent above levels from just two weeks ago, and the effects of Thanksgiving travel may not have been fully felt yet.
Although survival rates have improved as doctors have learned which treatments work, hospital shortages raise the possibility of increasing mortality rates once again if patients don't get the level of care they need.
Dr Thomas Tsai, an assistant professor of health policy at Harvard University, told the Times that healthcare workers must make tough decisions about who receives care when resources are critically tight.
There is some evidence that is happening, Dr Tsai said. For the last several weeks, the rate at which COVID-19 patients are going to hospitals has started decreasing.
He explained, "That suggests that there& #39;s some rationing and stricter triage criteria about who gets admitted as hospitals remain full."
Policymakers have relied heavily on data on testing and cases to make policy decisions, but the new, detailed data on hospitals prompt a rapid shift in what leaders consider as they make decisions.
Dr Blauer said, "If you're living in a place where there's no ICU bed for 100 miles, you have to be incredibly careful about the social interaction that you allow the community to take."
The top five American states for coronavirus cases as of Wednesday were: California with over 1.4 million cases; Texas with over 1.3 million cases; Florida with just over 1 million cases; Illinois with over 805,000; and New York with over 728,000.
It was reported that in many states now, hospitals and healthcare workers are turning away the sick and in some cases even choosing who gets to live and who dies. Sad is the situation in a developed and rich country like America.
For more in the U.S. COVID-19 situation and the state of American hospitals, keep on logging to Thailand Medical News.