COVID-19 Research: The Detrimental Effects of TNFα on Liver During SARS-CoV-2 Infection and Its Impact on Patient Survival
COVID-19 Research
: The COVID-19 pandemic has posed significant challenges to researchers and physicians, as the SARS-CoV-2 virus has demonstrated the ability to infect various organs, including the liver. Liver damage and liver failure are often associated with severe cases of COVID-19, accompanied by the systemic upregulation of pro-inflammatory cytokines, such as tumor necrosis factor-alpha (TNFα).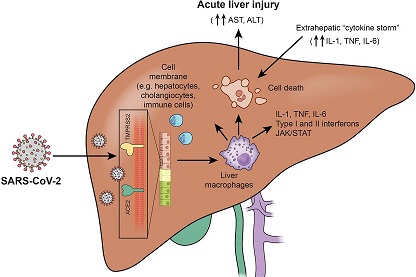 A new study by researchers form University Medical Center Hamburg-Eppendorf-Germany aimed to investigate the impact of these immune mediators in the liver on patient survival during SARS-CoV-2 infection.
The study team performed a post-mortem analysis of 45 patients who died from SARS-CoV-2 infection, examining the relationship between increased TNFA expression in the liver and elevated mortality. The study team also analyzed publicly available single-cell sequencing datasets to determine the primary sources of TNFα production.
The study findings revealed a connection between elevated TNFA expression in the liver and reduced survival time. The primary sources of TNFα in infected livers were monocytes and Kupffer cells. TNFA-associated pathways were mainly upregulated in hepatocytes and immune cells, and activation of a TNFA pathway in hepatocytes was associated with an upregulation of acute phase proteins.
The study findings also showed that TNFA pathway activation in immune cells led to an increase in genes such as CXCL3, CXCL8, and ICAM1.
This new
COVID-19 Research
provides new insights into the pathogenic role of TNFα in liver damage during SARS-CoV-2 infection. Elevated TNFA expression in the liver, but not in the blood, was associated with decreased survival. Although TNFα is known to play a role in other liver diseases, the precise molecular mechanisms explaining its impact during COVID-19 infection require further investigation.
The negative correlation between the detectability of SARS-CoV-2 in the liver and the time of survival in our patient cohort is noteworthy. It remains unclear whether liver infection directly causes reduced survival time or whether a detectable SARS-CoV-2 load in the liver is simply a sign of an exceptionally aggravated course of the disease.
The study team noted that there were several limitations to this study. Firstly, livers were not perfused post-mortem, so contamination of SARS-CoV-2 and cytokine expression levels from the blood itself cannot be excluded. Secondly, patient groups were divided according to TNFA RNA expression in different organs at the time of death, disregarding previous dynamics of TNFA RNA expression prior to their death. Lastly, the analysis was carried out investigating RNA expression, which sometimes undergoes heavy posttranscriptional modifications and does not necessarily translate to protein expression in all cases.
Nevertheless, the study findings highlight a previously unrecognized role of hepatic TNFα during fatal SARS-CoV-2 infection. Further studies are needed to better understand the molecular mechanisms behind TNFα's impact on liver damage and patient survival during COVID-19 infection.
The study f indings were published in the peer reviewed journal: Frontiers in Immunology.
https://www.frontiersin.org/articles/10.3389/fimmu.2023.1151937/full
For the latest
COVID-19 Research
findings, keep on logging to Thailand Medical News.