COVID-19 News: Japan Follows America To Rush To Approve Remdesivir To Treat Its Citizens With The Toxic Drug That Has No Real Proven Efficacy
COVID-19 News
: The Japanese government has announced that it too will be rushing to approve Remdesivir to treat Japanese patients with this other controversial drug that the US FDA approved last Friday.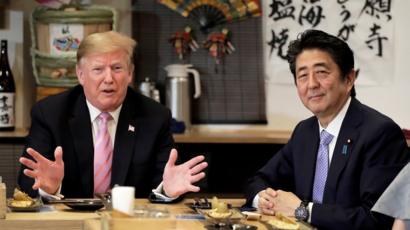 Prospective Defendants?
Earlier, the US government and US health agencies had promoted and approved the usage of chloroquine and hydroxchloroquine to treat COVID-19 based on the adulterated study findings of a fraudulent French doctor. Later it emerged from numerous studies and clinical trials that not only this two drugs had no efficacy against the SARS-CoV-2 coronavirus but they were also lethal and a lot of deaths were caused by their usage that causes heart failures.
Last week in another desperate attempt to show to the American public that they had things in control , President Trump, Dr Anthony Fauci and The US FDA rushed to extol the merits of Remdesivir and to have it approved as a treatment drug for COVID -19.
This despite the fact that there have been conflicting study results and no studies actually shows or demonstrates its efficacy against the pathogen SARS-CoV-2 coronavirus except for the results shows that it reduces hospitalization periods! It did not even demonstrate to improve mortality rates or even reduce the severity of the disease!
A draft study abstract released inadvertently by the World Health Organisation (WHO) last week said remdesivir failed to improve patients' condition or reduce the pathogen's presence in the bloodstream.
What is more worrisome is that the drug is highly toxic and there are no supporting studies to demonstrate its safety. The drug was created for Ebola but was never approved for Ebola and thus was never a pre-approved drug that had gone through all safety testing.
Earlier Chinese studies have also indicated that the drug remdesivir had no efficacy against the SARS-CoV-19 coronavirus.
https://www.thailandmedical.news/news/breaking-covid-19-drugs-gilead%E2%80%99s-experimental-drug-remdesivir-fails-in-china%E2%80%99s-clinical-trials
Thailand Medical News is not against the antiviral remdesivir but considering its highly toxic nature, proper safety and efficacy studies should be conducted before it is simply accepted to treat the masses.
Already many deaths can be attributed to the usage of Chloroquine and Hydroxychoroquine but no criminal and legal action have been taken against the fraudulent French doctor, the US President and his team of health advisors for these deaths.
Its worrisome tha the Japanese government is rushing to approve to use remdesivir on its citizens without more studies.
It was reported that Japan aims to approve remdesivir as a treatment for the coronavirus in as little as a week, the health minister said on Saturday, as Tokyo asked the U.S. to ensure it receives adequate supplies of the drug.
Also, Japan's expedited authorization procedures allow reporting of domestic clinical trials to be postponed to a later date, meaning the antiviral drug could be approved by mid-May.
Health Minister Katsunobu Kato said at a news conference, "Gilead Sciences will file for approval in Japan within days and I issued a directive so we will be able to approve it within a week or so."
The streamlined process is allowed in cases where a drug has been approved for use overseas.
American and Japanese public are warned to do due diligence on the drug being used on them and to also prepare necessary legal measures should it fail on them or cause any adverse effects or chronic conditions even in the long term.
For more the latest
COVID-19 news
, keep on logging to
Thailand Medical News
.
A Call For Help

!
Please help support to sustain this website and all our efforts to propel further research and also various international community projects by making a donation. Donations are accepted via paypal.
https://www.thailandmedical.news/p/sponsorship