BREAKING COVID-19 NEWS: Scientists Identify New Worrisome SARS-CoV-2 Omicron Sub-lineage CH.1.1 Spotting Delta's P681R Mutation In Austria!
COVID-19 News
: Researchers and virologist are extremely concerned about the emergence of a new SARS-CoV-2 Omicron sub-lineage CH.1.1 spotting Delta's P681R mutation in Austria.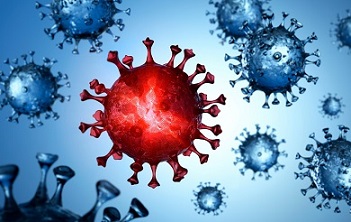 There is no data on where this strain emerged but to date it has been seen in 12 samples that were sent for genomic sequencing in patients hospitalized in Vorarlberg-Austria.
The CH.1.1 variant is a BA.2.75 descendant with the spike mutations R346T, K444T, L452R, and F486S ie somewhat similar to BQ.1.1.
Already it is a more worrisome variant as it is not only more transmissible and has a better growth advantage over the BQ.1.1 variant but because it has mutations on the NTD (spike residues 14-305), it is believed to be even more immune evasive than all the rest of the circulating variants and sub-lineages so far.
However, the debut of CH.1.1 variants spotting the Delta's signature P681R mutation could spell problems as it means that the new sub-lineage will be more pathogenic and also likely to cause disease severity and risk of mortality.
The P681R mutation is believed to enhance cell fusogenicity and cause rapid formation of syncytia.
https://www.thailandmedical.news/news/breaking-news-study-confirms-p681r-mutation-found-on-delta-variant-has-special-infection-strategy-and-can-evade-immunity-induced-by-vaccination-or-nat
https://www.nature.com/articles/s41586-021-04266-9
Previous
COVID-19 News
coverages have already detailed how bad the Delta surges were and how the Delta variant contributed to an increase in deaths and disease severity.
The new CH.1.1 with the P681R mutation has already bee designated in the last 24 hours.
https://github.com/cov-lineages/pango-designation/issues/1370#issue-1465146535
However, the new variant has yet to be issued a name yet.
Some researchers believe that this new lineage could have originated via a recombinant event as interestingly, there seems to be a BF.7.9 (EPI_ISL_15816454 on 2022-11-08) and an AY.78 (EPI_ISL_15746291 on 2022-10-31) with the S:P681R mutation found in the same time period, also in Austria. It could be possible that this lineage is a recombinant with the BF.7.9 sub-lineage.
This new lineage was spotted by a few virologists and independent researchers:
https://twitter.com/BorisUitham/status/1596467369563521024
https://twitter.com/LongDesertTrain/status/1596199893357379584
us/1596512388295294977">https://twitter.com/EllingUlrich/status/1596512388295294977
https://twitter.com/health_enjoyer/status/1594986999793975303
https://twitter.com/JosetteSchoenma/status/1596491305663594499
Researchers are keeping a close surveillance on this new lineage.
To date, COVID-19 infections are rising in Austria and interestingly in Vorarlberg, an increase in COVID-19 hospitalizations has been observed but there is no concrete evidence as to whether this new lineage is behind these or whether it is causing disease severity.
While the various Omicron variants and sub-lineages are still evolving rapidly and spawning more transmissible and immune evasive sub-lineages that are able to cause breakthrough infections and reinfections and create non-stop surges, they do not seem to contribute to immediate hospitalizations or increase in mortality except for those in the vulnerable groups (ie the aged, the young, the obese, the immunocompromised, those with existing comorbidities like diabetes hypertension, heart issues and kidney issues and also those with certain genetic defects.) However, as far as long COVID issues and other long term medical complications and also excess deaths, these new Omicron variants and sub-lineages are playing a very contributing role.
https://www.thailandmedical.news/news/sars-cov-2-variant-soup-means-no-more-waves-or-surges-but-rather-constant-onslaught-and-reinfections-china-reports-record-covid-19-infections
https://www.thailandmedical.news/news/new-sars-cov-2-variants-br-2-and-xbf-expected-to-become-dominant-midway-in-winter-surge-current-surges-not-severe-rather-will-kill-slowly
However, the public should be aware the many of the older variants such as even the original Wuhan strain, the alpha, beta, delta, gamma variants etc and their own novel sub-lineages are still in circulation and also are in certain human reservoirs including the immunocompromised and with the current kinetics of the COVID-19 pandemic and the relaxation of various measures, the prospect of recombinant or reassortant events or even such events taking place in animal reservoirs and then spreading back to humans via zoonotic transmissions is very likely.
Hopefully, 2023 will be a fun year with more pathogenic and lethal variants at play while the true long-term effects of exposure to the SARS-CoV-2 virus becomes more pronounced and also the effects of constant breakthrough infections and reinfections with so called 'mild' variants and the booster shots.
For the latest
COVID-19 News
, keep on logging to Thailand Medical News.