Thailand Omicron Updates: Thailand Reports First Case Of Omicron Variant…Really???????
Thailand Omicron Updates
: Thai authorities reported today it so called first case of the Omicron variant much to the amusement of many.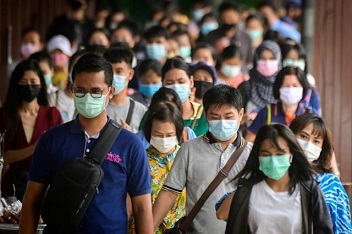 Thailand has a reputation for scams and non-credible news often disseminated by authorities themselves and a mainstream media that lacks any forms of true investigative journalism and are dependent of sponsorships and ads from the government and private sectors and will simply publish any garbage thrown at them without checking, often publishing fake news.
Its little wonder that no one ever believes whatever COVID-19 statistics that are published each day.
In fact it is now generally accepted that whatever is printed in the garbage mainstream media each day is only to meet the agenda of those wanting to fulfill their own agendas and the perceptions that they want to create... be it to create a fake scenario that the COVID-19 crisis is under control so as to not disrupt the economic activity as money is greatly in short supply or for whatever reasons. Simply take a look at the sponsored articles on the homepage of some of these garbage local mainstream sites, they speak volumes.
Hence today's announcement about Thailand's first case of the Omicron variant was met by skepticism. Not many are aware or are even bothered to be aware (Due to their stunted intellectual capabilities and their priority on porn or selling their bodies, stupid obsession with local celebs, corrupted and greedy hisos, garbage beauty queens, Korean shit bands and dramas etc) about the true COVID-19 scenario or even about the long term health threats of the disease.
Local Thai authorities claimed that the first case of Omicron was detected in an American businessman of Thai descent who arrived in the country from Spain.
The new variant was detected in an RT-PCR test conducted when the 35-year-old man arrived in Thailand.
The local authorities added that the businessman was a US citizen who had lived in Spain for one year before he arrived in Thailand.
It was said that he was on Emirates Airline flight EK372 from Dubai to Suvarnabhumi Airport and showed no symptoms.
Interestingly it was unclear which day he entered Thailand as one health spokesman said he arrived on Nov 29 but a chart presented by the authorities during the press briefing showed Nov 30. (Typical of the local buffoons as they can never get anything right!)
It was reported that the man underwent RT-PCR testing in Spain on Nov 28 before he left for Thailand via the United Arab Emirates. He had received one shot of the Johnson & Johnson vaccine, which usually requires only a single shot.
It was reported that following the man's positive RT-PCR test, a more detailed test was conducted at a local public hospital where he is being treated according to the local authorities. (Treated for what as he had no symptoms and being treated with what…. we were not given details!)
Now if anyone truly believes that this is Thailand's first and only Omicron case so far and that they are no other concerning variants present in the country including the various Delta sub-variants…they really need to go for a check up as the SARS-CoV-2 virus must have already infected their CNS system, their brains and their cognitiv e system.
Note, we do not and will not be covering any
Thailand Omicron Updates
nor
anything in the future with regards to the local COVID-19 scenario as there is a complete lack of credible data available.