Phenolic Phytochemicals From The Roselle Plant Or Hibiscus Sabdariffa (Thai: Krachiap กระเจี๊ยบ) Can Treat And Prevent Obesity
Obesity is a growing problem in many countries and is a complex and relapsing disorder associated with excessive accumulation of body fat due to an imbalance between energy intake and expenditure through metabolic, physical and other activities.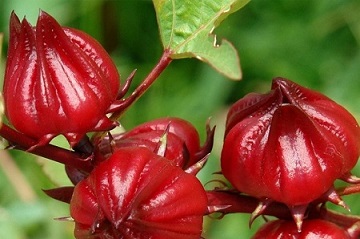 Changes in diets and lifestyles have contributed to obesity becoming an increasing issue in both adults and children worldwide.
Shockingly, about 60% of adults across 20 countries under Organization for Economic Co-operation and Development (OECD) were categorized as overweight or obese in 2019 (OECD, 2021).
https://www.oecd-ilibrary.org/social-issues-migration-health/health-at-a-glance-2021_ae3016b9-en
Worryingly, obesity can contribute to a variety of metabolic abnormalities such as cardiovascular diseases, dyslipidaemia, hypertension and type 2 diabetes. Obesity is currently managed with the use of lifestyle modifications and pharmacotherapy.
Little focus has been placed in using on the application herbal or plant bioactive ingredients in the treatment and prevention of obesity.
Among several anti-obesity mechanisms, research has largely been focused on treating or preventing obesity through the inhibition of adipogenesis.
Adipogenesis is the process by which fat-laden cells, that is, adipocytes, develop and accumulate as adipose tissue at various sites in the body, both as subcutaneous fat and as depots.
When the body has an excess of fat intake, fat can be deposited in the cell, which turns them into fat cells called adipocytes.
Adipocytes are vital for regulating the body's energy and sugar levels. However, when energy intake exceeds expenditure, it can cause the fat cells to grow in both size and number, contributing to obesity.
A new study by researchers from Royal Melbourne Institute of Technology or RMIT in Australia lead by Ph.D. candidate Dr Manisha Singh investigated as to how antioxidant compounds (phenolic extracts) and organic acids from plants could be used to inhibit formation of fat cells.
The study team identified the
roselle
plant also known as Hibiscus Sabdariffa (Thai: Krachiap กระเจี๊ยบ) because past studies had also showed that it helped in managing obesity issues and issues arising from high fat diets.
https://onlinelibrary.wiley.com/doi/abs/10.1002/jsfa.9220
https://www.researchgate.net/publication/328853936_Therapeutic_Effects_of_Roselle_Extract_as_Anti-Obesity_and_Cholesterol-Lowering_Agent_on_Obese-Hypercholesterolemic_Rat
https://www.sciencedirect.com/science/article/pii/S0753332221002237
/>
https://www.nature.com/articles/s41598-022-11027-9
https://www.mdpi.com/1420-3049/24/1/210
https://www.jstage.jst.go.jp/article/jos/66/1/66_ess16126/_article
The study team from RMIT found that phenolic extracts from the roselle plant have anti-obesity properties that could help in food alternatives to current weight management medications.
The study investigated how antioxidant compounds (phenolic extracts) and organic acids (hydroxycitric acid) found in the Hibiscus Sabdariffa could inhibit the formation of fat cells.
For the study, human stem cells were separately treated with phenolic extracts and hydroxycitric acid before they were turned into fat cells.
Although cells treated with hydroxycitric acid showed no change in the fat content of the adipocytes, cells treated with phenolic extracts had 95% less fat as compared to control cells.
The study was the first of its kind to use human fat cells to test the impacts of phenolic extracts and hydroxycitric acid from roselle plant.
Dr Manisha Singh's Ph.D. supervisor ProfessorDr Benu Adhikari, from RMIT's Food Research and Innovation Center, said the results of the study could impact how we approach obesity management.
Present methods of obesity management focus on lifestyle changes and medication do not seem to be working effectively.
Furthermore, while some drugs and medication are effective, they can also have negative side effects such as high blood pressure or impact the kidney and liver.
Professor Adhikari said, "The phenolic extracts from the roselle could help create a health food product that is effective in interfering with the formation of fat cells, but also bypass the bad side effects of some medications."
Co-researcher Dr Thilini Thrimawithana, a Senior Lecturer from the School of Health and Biomedical Sciences at RMIT told Thailand Medical News, "There is a growing interest in researching how antioxidant-rich compounds, called polyphenols, could one day help manage diseases like obesity to avoid side effects of medications such as Orlistat and Liraglutide."
Polyphenols are phytochemicals found in food sources such as vegetables and fruits and they can serve as antioxidants. When consumed, antioxidants remove the oxidation that forms in our bodies, which can help slow down aging and prevent diseases.
The RMIT study findings also found polyphenols in the roselle had similar digestive enzyme-inhibiting properties as some obesity management medications.
The Roselle plant's polyphenols inhibit the digestive enzyme called lipase. This enzyme helps break down fats into small fractions so they are absorbed by the body through the intestine. The excess fats are turned into fat cells. By inhibiting the lipase enzyme, the fat cannot be absorbed so it is passed through the colon as waste.
The study team stressed, "Because these polyphenolic compounds are plant-derived and can be consumed, there should be fewer or no side effects."
Professor Adhikari, a leading food researcher whose interest began as a farmer back in Nepal, predicts the roselle will play a bigger role in Australia's health food industry.
He told Thailand Medical News, "Australia has the perfect climate for farming the roselle. The plant is hardy, disease resistant and it doesn't need a lot of space or water to grow."
Roselle (Hibiscus sabdariffa) is a species of flowering plant in the genus Hibiscus that is native to Africa, most likely West Africa and also found in India especially Maharashtra with local name ambali. In the 16th and early 17th centuries it was spread to the West Indies and Asia including Thailand respectively, where it has since become naturalized in many places.
The study team plans to encapsulate the phenolic extracts for use in health food products. They say the extracts could be turned into little beads and used to make a refreshing drink.
Professor Adhikari explained, "Phenolic extracts oxidize easily, so not only does encapsulation extend its shelf life, but it lets us control how they are released and absorbed by the body. If we don't encapsulate the extract, it could break down in the stomach before we can reap its benefits."
The study findings are published in the peer reviewed International Journal of Food Science & Technology.
https://ifst.onlinelibrary.wiley.com/doi/10.1111/ijfs.16269
The study is the first to assessed the potential of phenolic extracts and potassium hydroxycitrate, obtained from Hibiscus sabdariffa, to inhibit adipogenesis. The phenolic extracts were obtained using organic solvents (methanol, ethanol and ethyl acetate) and water individually. Human adipose-derived stem cells (hADSCs) were selected to study the impact of these extracts on adipogenesis. Results showed that phenolic extracts were able to reduce lipid accumulation by about 95% in hADSCs, while potassium hydroxycitrate did not show any reduction. All the phenolic extracts downregulated the gene expression of two key adipogenic markers (PPAR-γ and aP2). Ethanol extracts exhibited the highest downregulation of PPAR-γ and aP2 by 3 and 10 times, respectively. There was no improvement in the anti-adipogenic potential when the phenolic extract was combined with potassium hydroxycitrate confirming that phenolic compounds were responsible for the inhibition of adipogenesis.
The study findings indicate that phenolic extracts from H. sabdariffa have potential to regulate the expression of adipogenic genes and restrict the lipid accumulation in mature adipocytes. Hence, phenolic extracts from the roselle plant can be used in formulations intended to manage obesity.
For the latest research on herbs and phytochemicals, keep on logging to Thailand Medical News.