New Drug For H Pylori : Talicia Gets US FDA Approval, But Thailand Medical News Warns That It Contains PPIs
Talicia
, a new drug to treat
Helicobacter pylori
(
H pylori
) infections in adults that is manufactured by Israel-based RedHill Biopharma has secured the
US Food and Drug Administration
(
FDA
) approval.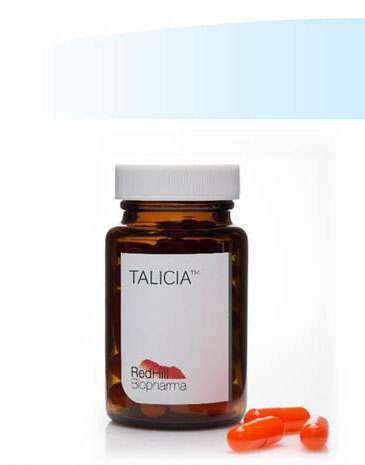 H pylori
bacteria infects more than 50% of the global population, including 35% in the US. Among the many digestive problems that it causes, it also leads to ulcers and in certain cases gastric cancer.
Typically,
H pylori
infections are treated by antibiotics such as clarithromycin. However of late the infections are becoming drug resistant. According to estimates, the resistance of
H pylori
to clarithromycin nearly doubled during 2009-2013.
According to
Thailand Medical
News, Talicia is a combination of antibiotics, amoxicillin and rifabutin, along with
proton pump inhibitor
(
PPI
),
omeprazole
.
Talicia is intended to address the growing resistance of the bacteria to the commonly used antibiotics in current standard-of-care therapies such as clarithromycin-based treatments.
FDA
approval supports positive results from two Phase III studies enrolling
H pylori
-positive adults with epigastric pain or discomfort in the US. Data from the Phase III confirmatory study revealed 84% eradication of
H pylori
infection when treated with RedHill's drug versus 58% in the active comparator arm.
In participants with measurable blood levels of drug at day 13, response rates were 90.3% and 64.7% with Talicia and the active comparator, respectively.
Trial data did not show any resistance to rifabutin, a principal component of the drug. Furthermore, 1% of subjects on RedHill's drug had adverse reaction-related treatment discontinuation.
RedHill Biopharma CEO Dror Ben-Asher said: "The
FDA
's approval of Talicia demonstrates our unwavering dedication to patients suffering from gastrointestinal diseases. We are working to expand our sales force to approximately 140 representatives who will promote Talicia, Aemcolo and other gastrointestinal-focused products in our basket."
RedHill expects to launch Talicia in the US in the first quarter of next year. The company noted that the drug's Qualified Infectious Disease Product (QIDP) designation provides market exclusivity in the country for eight years.
Thailand Medical
News points out however that the clinical trials did not point out how long a duration on the new drug was needed to clear
H pylori
infections and whether the
PPI
content in the drug ie
omeprazole
could create a situation that dependence on
PPIs
would result or a situation in which the post effect of the drug would create a situation where treatments on
PPIs
would be needed.
< br />
Thailand Medical
News states that it is clearly very irresponsible of the
US FDA
to clear new drug combos that contains
PPIs
considering the fact that there has been so many new emerging medical studies that link
PPIs
with a variety of complication and health issues including kidney diseases and kidney failure, cardiovascular incidences,
cholangitis
and a host of other medical issues.
The
US FDA
has also failed to issued package warnings on
PPIs
and also combo drugs or drug preparations containing
PPIs.
For more details about the negative issues associated with
PPIs
, look at the following past articles:
https://www.thailandmedical.news/news/more-bad-news-for-users-of-proton-pump-inhibitors-(ppis),-as-these-gastric-reflux-drugs-are-implicated-in-cholangitis
https://www.thailandmedical.news/news/more-studies-emerging-that-ppis-(proton-pump-inhibitors)-linked-to-increased-risks-of-deaths
https://www.thailandmedical.news/news/as-evidence-of-damage-from-long-term-ppi-use-mounts,-thai-medical-providers-should-rethink-strategies-to-treat-acid-reflux
https://www.thailandmedical.news/news/new-study-links-ppis-to-kidney-disease-and-failure
https://www.thailandmedical.news/news/acid-reflux-medications-and-proton-pump-inhibitors-(ppis)-linked-to--kidney-disease