Monkeypox Cases Rising Exponentially In UK With 303 Confirmed Cases Now And Thousands Under Investigation. Countries Should Raise Travel Alerts Fast!
Monkeypox
cases are rising fast in the United Kingdom and recovery levels and symptoms resolution also seem to be slower and longer than typically monkeypox infections seen in the African continent, puzzling local physicians.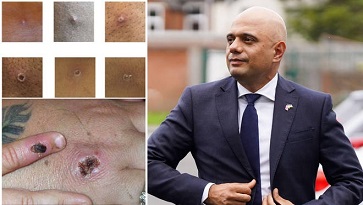 In the last 24 hours, another 78 cases of
monkeypox
was confirmed in the United Kingdom bringing the total now to 303 cases.
74 of the additional cases of monkeypox were in England, with two in Scotland and two in Wales.
The UK Health Security Agency or UKHSA said there are currently 288 confirmed cases in England, 10 in Scotland, two in Northern Ireland and three in Wales.
Thousands more are under investigation but local citizens are complaining online on various sites that the NHS response is total unprofessional and haphazard with some who suspect that they might have the disease not receiving proper advice nor physician consultations despite calling the various relevant hotlines.
It should be noted that currently, from suspecting a case of monkeypox to getting confirmation of the diagnosis is taking way too long ie about 48-72 hours or more in the United Kingdom!
Slow identification of cases means slow contact tracing results in delay in offering vaccination and also a delay in containment. Such an outbreak with such a situation is a recipe for disaster!
The UKHSA has warned that the virus can live on surfaces such as bedsheets, towels, clothes for a long time and that transmission is via physical contact and also via airborne modes.
Individuals are being advised to look out for rashes that are unusual to them or an ulceration or skin lesions especially around the genitals and back.
Data from the UKHSA said that more than 50% of cases in England have been found in men who are gay, bisexual or other men who have sex with men.
https://news.sky.com/story/monkeypox-more-than-half-of-infections-in-the-male-gay-community-new-ukhsa-data-shows-12625418
Also, it was reported that most monkeypox cases in UK have occurred in people aged 20 to 49 years old.
UKHSA's public health regional director Professor Dr Kevin Fenton told Thailand Medical News, "Monkeypox is a rare viral infection that can also be contracted by close physical contact, such as kissing, skin to skin contact, sex and sharing things like bedding and towels. People should avoid activities such as those and also take more preventive measures."
The global figures for monkeypox infections outside of the African continent has now risen to 1085 cases with tens of thousands now under investigation.
Spain now has 234 cases, Portugal 143 cases, Canada 89 cases, Germany 80 cases, France 51 cases, Netherlands 40 cases while the United States now has 28 cases. Monkeypox is now found in a total of 35 countries outside the African continent.
Researchers are warning that genomic sequences being uploaded form various countries shows that the virus still mutating and the fact that symptomatic manifestations in various geolocation show d ifferences, they are warning that the virus could be mutating to become more pathogenic and could cause more issues in those infected.
Despite assurances by the WHO that monkeypox is most unlikely to become a pandemic disease, considering the track record of the WHO including in how the SARS-CoV-2 was handled, its best to not take listen to anything that the WHO has to say and countries should start taking their own precautions.
Considering that billions of people worldwide now have a dysregulated immune system due to SARS-CoV-2 or are having COVID-19 induced immunodeficiency, its best that people and health authorities take more stringent measures to prevent the spread of monkeypox.
Raising travel alerts to the UK and also banning travelers originating from the United Kingdom should be the first initiative of any concerned government that is really concerned about its citizens and country.
For more updates on
Monkeypox
, keep on logging to Thailand Medical News.