Pzifer's Fragmin Drug Gets US FDA's Approval For Treatment Of Pediatric Venous Thromboembolism (VTE)
US FDA has approved the Dalteparin Sodium, (Fragmin) which is a low molecular weight heparin(LMWH) for the treatment of of symptomatic venous thromboembolism (VTE) in pediatric patients 1 month of age and older.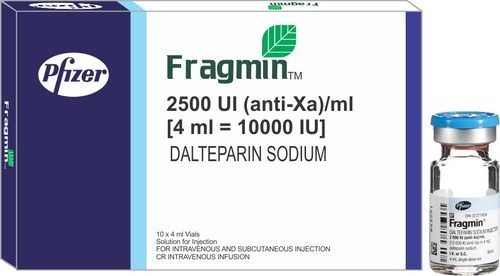 Venous thromboembolism (VTE) is a condition in which a blood clot forms most often in the deep veins of the leg, groin or arm (known as deep vein thrombosis, DVT) and travels in the circulation, lodging in the lungs (known as pulmonary embolism, PE).
Pediatric hospital acquired venous thromboembolism (HA-VTE) is an increasing problem with a current estimate of 50–88 events per 10,000 pediatric hospital admissions. Worldwide. Pediatric HA-VTE is associated with significant morbidity and mortality. The etiology is multifactorial but central venous catheters remain the predominant risk factor. Pediatric patients with cancers such as leukemia are also often at risk.
The approval of Fragmin for children aged one month and above was based on data from a single-arm, open-label clinical trial involving 38 patients with or without cancer and symptomatic deep vein thrombosis (DVT) and/or pulmonary embolism; patients were treated for up to 3 months, with starting doses calculated by age and weight. The primary endpoint of the study was the achievement of therapeutic anti-Xa levels by Day 7 of therapy during the dose adjustment period; efficacy was supported by the number of patients with lack of VTE progression or new VTE.
Results of the study indicated 21 patients achieved resolution of the qualifying VTE, 7 patients showed regression, 2 patients showed no change while no patients showed progression of the VTE. With regard to safety, the most common adverse reactions were injection site bruising, contusion, and epistaxis.
Fragmin has a boxed warning on the risk for epidural or spinal hematomas in patients who are taking low molecular weight heparins and are receiving neuraxial anesthesia or undergoing spinal puncture. Doctors are advised to consider the risk for these hematomas when scheduling patients for spinal procedures. Commonly reported side effects of Fragmin include hemorrhage, thrombocytopenia, hematoma, and transient elevation of transaminases.
The FDA advises doctors to be cautious when treating patients with an increased risk for hemorrhage and to monitor thrombocytopenia closely. The agency also warns that benzyl alcohol preservative multiple-dose formulations should not be used in infants, and clinicians should consider the combined daily metabolic load of benzyl alcohol from multiple sources, including the Fragmin multiple-dose vial and other drugs containing benzyl alcohol. Patients should undergo frequent blood count laboratory tests and be monitored for bleeding when taking Fragmin .
The original marketing application for dalteparin sodium, from Pfizer, was granted Priority Review designation by the FDA. Despite the noted concerns of heparin therapy, the approval is giving a proven therapy to patients facing serious illness, significant complications, and even death.
Richard Pazdur, MD, acting director of the Office of Hematology and Oncology Products in the FDA's Center for Drug Evaluation and Research,in an exclusive phone interview with Thailand Medical Posts said "Prior to this approval, there had been no FDA-approved therapies to treat VTE in pediatric patients, given the urgent need, we granted the Fragmin application priority review and we are now approving it as the first anticoagulant (blood thinner) indicated for pediatric patients. We remain committed to advancing treatments for children with unmet medical needs."